A Detailed Look Into the 2022 Toyota Tundra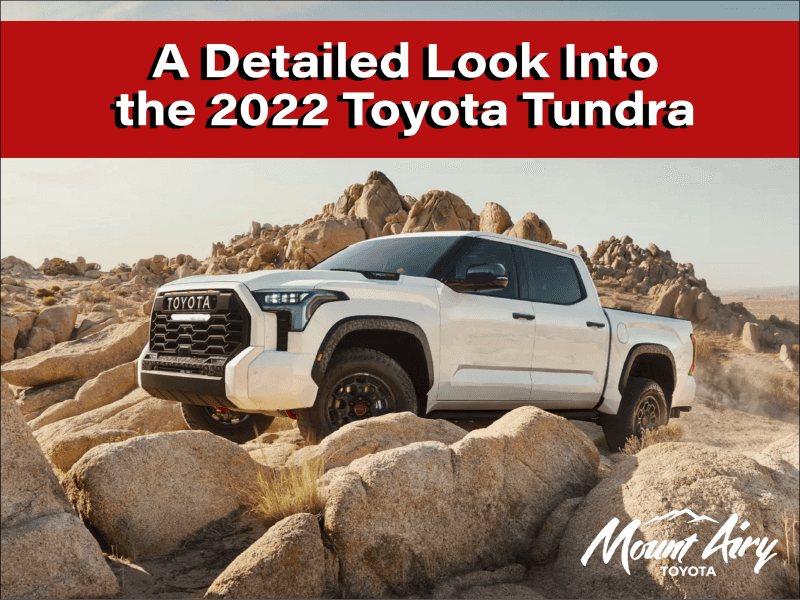 We've learned a bit about the upcoming Toyota Tundra models in recent months. We know that it's undergone a complete mechanical, exterior, and interior overhaul. But the details have been scarce until now. With new Tundra models scheduled to arrive at dealerships within the first few months of 2022, Mount Airy Toyota thought we would share some of the latest information we have learned about Toyota's new and improved full-size pickup.
We'll give you a hint—it's big, bad, and beautiful! From redesign details to performance features to cab configurations, let's take a deep dive into the 2022 Toyota Tundra!
What Has Been Redesigned?
As you know, an all-new Toyota Tundra has long been anticipated. The current generation first appeared in 2007 and underwent a minor update in 2014. Other than eliminating an engine option and making a few tweaks here and there, Toyota has not made any significant changes to the Tundra's design in the last 14 years.
All of the top full-sized pickups (e.g., Ram 1500, Ford-150, Chevrolet Silverado) have experienced at least two overhauls in the same period with regular upgrades along the way. But now, we can finally say that the Tundra is entirely redesigned for the 2022 model year!
The overall look of the Tundra is completely different, with many car enthusiasts claiming it draws closer to its domestic competitors. It is more brawny and elicits sharp styling. At first glance, you will notice a huge grille, and most grades have blacked-out bumper treatments. And the pickup offers defined expression via all-new lighting components.
Of course, that's only the beginning; much of the new Tundra's appeal rests in the details. Massive windows, black roof pillars, and chiseled wheel arches make for nice touches. There is no longer a Regular Cab offered, and drivers can choose between the CrewMax and Double Cab configurations. The CrewMax body styles are available in either a 5.5-foot bed or 6.5-foot bed, while standard Double Cab comes with a 6.5-foot bed. You can opt for an 8.1-foot bed on the Double Cab.
Working our way to the interior—the cabin is open and clean. Wide metal trim stretches across the dashboard, and drivers will sit comfortably in the wide, plush front seats, with a deep center console resting between them. You can easily sit three adults in the rear bench seat; however, know that you will lose a little headroom if you opt for the sunroof.
There are plenty of comfort features in the interior, including the in-door pockets, cup holders, and a wireless charging pad. Another outstanding quality of the Tundra's new interior is that the low-sitting dashboard provides better sightlines than previous models.
The 2022 Toyota Tundra has it going on in the tech department. Toyota's latest infotainment interface works through an available eight-inch touchscreen, and drivers get a 14-inch screen on the higher grades. A lack of technology was one of the biggest criticisms for previous Tundra models, but the all-new versions put the Tundra alongside its top competitors. Android Auto and Apple CarPlay compatibility, several USB ports, a Wi-Fi hotspot, and various sound system options come on all grades. And let's not leave out Toyota's industry-leading driver assist technology, which also comes standard across the board!
The Tundra no longer offers a V8 engine, making Toyota the first manufacturer to drop the option on its full-size pickups. The 5.7-liter V8 was powerful but outshined by the newer engines produced by competitors. New Tundras come with a base 3.5-liter twin-turbocharged V6 engine that produces 379 horsepower and 479 pound-feet of torque.
The 2022 model year also sees the first-ever Tundra Hybrid, which uses the same standard engine but incorporates a motor generator to boost power and push the pickup at speeds under 18 mph. A 10-speed automatic transmission pairs with all engines, and the Tundra offers a maximum towing capacity of 12,000 lbs, which competes with that of Ram, Ford, and Chevrolet.
Performance Features
So, that's the gist of the Tundra's redesign. Let's take a closer look at what drivers can expect regarding performance:
Powertrain
The 389-hp twin-turbocharged V6 and 437-hp hybrid are both exceptional engines. No matter what speed you are traveling, they feel lively and dependable, offering superb acceleration and power while passing or merging on the highway. Note that the hybrid will give you more "oomph" off the line, and you can expect the automatic transmission to provide a smooth and fast response for your shifts.
Ride and Handling
The Tundra offers composed handling with minimum body roll and responsive steering. The upgraded suspension quickly absorbs most road flaws, providing excellent ride quality overall. If you hope to take the roads less traveled, you'll love the Bilstein monotube shocks that come on the TRD Pro!
Towing and Fuel Economy
With the 2022 Tundra, drivers can tow up to 12,000 lbs and haul a maximum of 1,940 lbs. And you can expect decent gas mileage, with the base engine producing 18 mpg in the city and 23 mpg on the highway for the rear-wheel-drive configuration. Both ratings lose one mpg when you add four-wheel drive.
Interior Quality
Toyota has made vast improvements to the all-new Tundra's interior. Let's touch on the cabin materials, technology, and cargo space:
Cabin Materials
While lower Tundra grades combine some hard plastics and higher-quality materials in the cabin, the higher grades offer an array of soft-touch surfaces. Overall, the interior appeal and function rival the Ram 1500 and Ford F-150.
Comfort Tech
No matter what grade you choose, the 2022 Tundra will give you a world-class infotainment system that is both intuitive and easy to use. The touchscreens are easy to see, and all controls are convenient to access. Standard infotainment features include an eight-inch touchscreen, Android Auto and Apple CarPlay compatibility, a Wi-Fi hotspot, and satellite radio.
Double Cab pickups offer a six-speaker audio system, while the CrewMax models come with a nine-speaker stereo. Options include a 14-inch touchscreen, a wireless charging pad, and a 12-speaker JBL sound system.
All Tundra drivers get a power-retractable rear window in CrewMax configurations or a power-sliding rear window in the Double Cabs. Push-button start and automatic climate control come on all grades, and you can upgrade to a 12.3-inch digital gauge cluster, as well as a moonroof (standard or panoramic).
Cargo Space and Seating
The 2022 Tundra offers 8.1-inch, 6.6-inch, and 5.6-inch bed lengths, depending on which cab configuration you choose. Available features like an in-bed power outlet and lighting enhance bed function. Drivers will also get ample storage in the cabin, with roomy compartments under and behind the rear bench seat. However, the compartments beneath the back seat are not available for hybrid models since the battery is housed there.
Both the CrewMax and Double Cab Tundras will seat five adults. As expected, passengers have more legroom in the front seats, but the rear seats offer ample headroom. If you plan on regularly driving with adults in the backseat, you will benefit from the additional legroom provided by CrewMax models.
Safety Features
Crash test ratings have yet to come in for the 2022 Toyota Tundra. But suppose the model year 2021 is anything to go by. In that case, the National Highway Traffic Safety Administration (NHTSA) and the Insurance Institute for Highway Safety (IIHS) will rate the all-new Tundra among the top of its class.
The Tundra provides a plethora of standard driver-assist features, including adaptive cruise control, rearview camera, forward collision alert, forward automatic emergency braking, lane keep assist, lane departure warning, and more. Drivers can opt for blind-spot monitoring, rear cross-traffic alert, a head-up display, and a surround-view parking camera.
Grades, Packages, and Beds
The 2022 Toyota Tundra lineup consists of six different grades:
• SR
• SR5
• Limited
• Platinum
• 1794 Edition
• TRD Pro
Since all cab configurations are not available on all grades, you will need to choose whether you want a CrewMax or Double Cab as well as the bed length. From there, you can look at the details of each model to determine which one is the best fit!
While the base Tundra SR is a great pickup truck, stepping up to the SR5 will give you access to a couple of upgrade packages worth considering. The Limited grade is perhaps best suited for drivers who want a taste of luxury, and off-road enthusiasts will find the TRD Pro to be right up their alley.
All Tundra models come standard with the twin-turbocharged 3.5-liter V6, but you can opt for the same engine with an accompanying electric motor in any grade. Both engine options use a 10-speed automatic transmission; rear-wheel drive is standard, and four-wheel drive is available on all grades. The base powertrain produces 389 hp and 479 lb-ft of torque, while the hybrid yields 437 hp and 585 lb-ft.
Available Performance Packages
If you're purchasing a pickup truck to use off-road or at the job site, consider the optional performance packages for the 2022 Tundra. The TRD Sport package, for example, is available in the SR5. It provides 20-inch TRD wheels, several TRD styling touches, and a specially-tuned sport suspension system.
Step up to the TRD 4 x 2 Off-Road package, which you can do in the rear-wheel-drive SR and Limited grades, and you will get an off-road suspension system, skid plates, and special styling elements throughout the exterior and interior. The most rugged package is the TRD 4 x 4 Off-Road, available in the four-wheel-drive SR5, Limited, Platinum, and 1794 Edition. A locking rear differential, a terrain selection feature, a specially tuned suspension, and skid plates top the list of features.
Choosing a Bed Length
Deciding which cab configuration you need should be simple enough. If you want more legroom, the CrewMax is the better option. That said, the Double Cab suffices if you primarily haul teens and younger children in the back seat, and it even accommodates adults for shorter commutes.
The trickier choice comes with which bed length you need. You can get a 5.6-foot or 6.6-foot bed with the CrewMax, while the Double Cab offers a 6.6-foot or 8.1-foot bed. The width is the same on all beds, and you shouldn't have any problems hauling full sheets of plywood in any configuration you choose.
There is another factor to consider, however. The SR5 and Limited are the only grades that offer both cab options. All SR models come with a Double Cab, while the Platinum, 1794, and TRD Pro use the CrewMax exclusively. Because it's generally easier to maneuver a pickup truck with a standard-length or short bed, only drivers who frequently haul long items will benefit from the 8.1-foot bed. A CrewMax cab with a standard 6.6-foot bed is a happy compromise between mobility and function.
Conclusion
With the 2022 Toyota Tundra rolling into dealerships over the next several months, Toyota fans have a lot to be excited about! The wholly redesigned Tundra will give the Ram 1500, Ford F-150, Chevrolet Silverado, and all other competitors a run for its money. It's attractive, bold, and offers all the comforts drivers could hope for.
If you are eager to get your hands on an all-new Tundra model, or if you simply want to arrange a test drive, call Mount Airy Toyota today or visit our website. There's nothing like experiencing a new pickup truck firsthand!