Toyota Tundra iForce: The New Breed of Hybrids at Mount Airy Toyota
Toyota's 2022 lineup has something for everyone. Sedans like the Toyota Camry and Avalon refine and deliver on the very style of sedan vehicles. Energy efficiency is at the forefront of pioneer models like the Prius, implementing innovative measures along the way. And the GR Supra is guaranteed to scratch that more sporty itch, with speed and performance that's unmatched.
With those examples alone, it's clear, Toyota has a lot to offer prospective car buyers. And if you are in the market for a brand new Toyota from the 2022 lineup, Mount Airy Toyota is the dealership for you. Offering a stacked lineup of models that continue to impress.
Still, even more impressive is the new breed of hybrid Toyota has unleashed in its 2022 lineup — The Toyota Tundra iForce. The Tundra iForce has succeeded in merging fuel efficiency and sustainability with high power and performance, and the result is an iForce that does what no other modern truck can.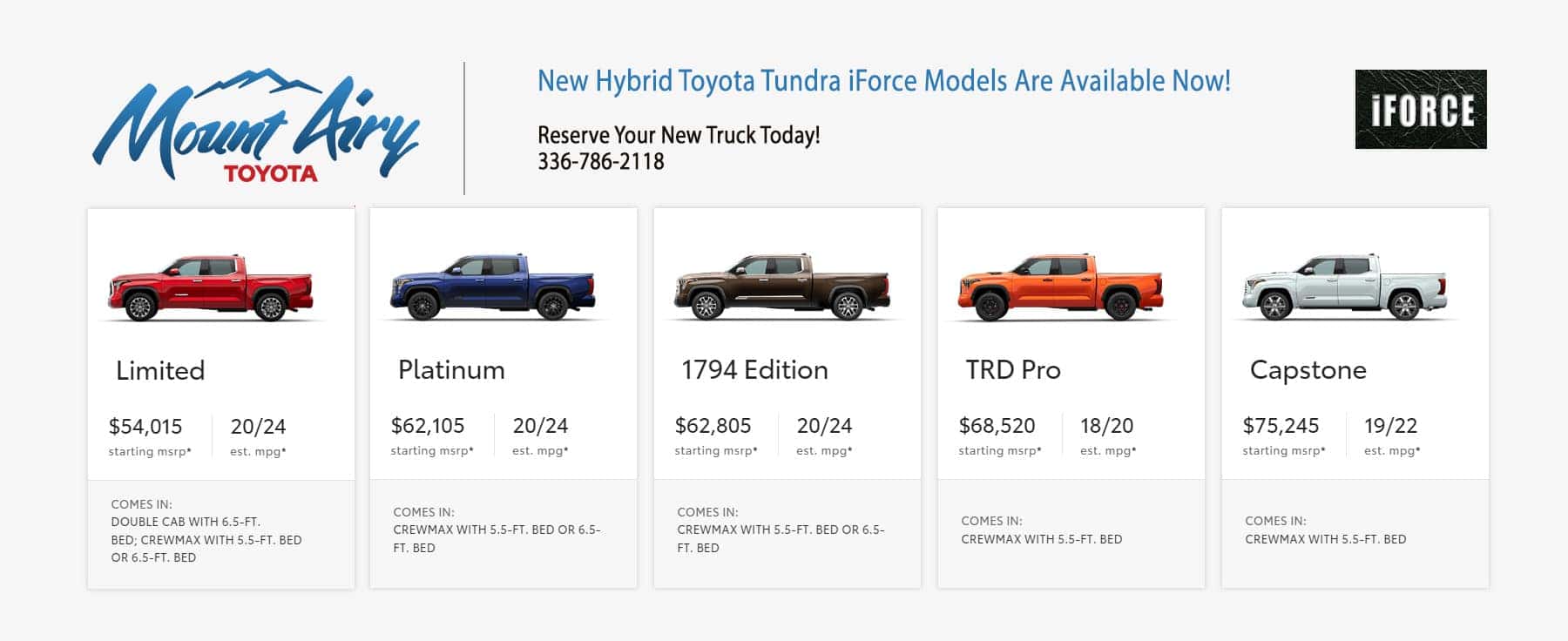 But don't take our word for it, let's look at a breakdown of the Tundra iForce and learn what sets it apart.
Toyota's Legacy of Hybrid Innovation
Only a few years ago, it seemed impossible that an electric truck could equal or be more powerful than traditionally powered trucks but today's Toyota Tundra surpasses expectations. Toyota has made investments in hybrid technology that has led to the creation of the Tundra iForce and made the impossible, possible.
This trailblazing of the hybrid world isn't unknown to Toyota. The Toyota Prius was the world's first mass-produced hybrid vehicle and revolutionized the entire automotive industry. For many, the innovation of hybridization was destined to stay with smaller vehicles. Though as the years progressed and the desire for hybrid vehicles grew, the questions centered on a hybrid truck only increased. Though just what that would look like was unclear.
Toyota was no stranger to building a vehicle that faced unknowns. Take for example the Prius' introduction. Toyota set the framework for what consumers wanted in a hybrid passenger car — and now they've done the same with a high-performance hybrid truck.
Our customers are smart shoppers. They know that they want, and they want electric options. The demand for hybrid trucks is high because our customers know these hybrid vehicles are great money savers and, as always with the Toyota brand, they hold their value. The Tundra iForce stands apart, exceeding expectations, and claiming its place as a technological breakthrough and it's ready to deliver for your family.
Powerful Design Features

The Tundra iForce reaches its unique level of power by utilizing an electric motor and V6 engine in tandem. This use of dual motors is what allows the Tundra to perform at such high levels, outpacing other trucks on the market and resulting in more power than a regular V8 engine. This setup is known as the i-FORCE MAX one-motor system and is certain to change the entire world of hybrids.
You can find the electric motor nestled between the traditional engine and transmission, a necessary placement to achieve the level of power Toyota engineers were seeking. The electric motor helps supplement the engine when required, and at certain times the motor will shoulder the whole power load, resulting in peak fuel efficiency. Most importantly, switching between the two engines is virtually unnoticeable to the driver, with the only result being a powerful and responsive driving experience.
The Tundra iForce puts its power to use, with 437 horsepower and 583 pound-feet of torque. It's capable of hauling up to 1,665 pounds in its payload and can tow up to 11,450 pounds with confidence.
To summarize, the powertrain system present in the Tundra iForce is a shining example of a vehicle that refuses to trade outstanding power and torque for better fuel efficiency.
A Look On The Inside
The Tundra iForce doesn't relegate its top qualities to the hybrid i-FORCE MAX, it also has a lot to offer drivers on the inside. Standard in every iForce, owners will find a system compatible with wireless apple or android play, an 8-inch audio touchscreen with a robust speaker system to boot, advanced backup camera technology, trailer sway control, and automatic climate control to keep you comfortable.
All of these features can be found in every Tundra iForce but aren't exhaustive of every bell and whistle that's standard, there are a few optional features that go above and beyond to improve an already impressive interior comfort suite.
Potential buyers will have these options to improve their interior; 14-inch multimedia audio touchscreen, wireless smartphone charging, multiple leather 10-way power adjustable seats, and 4-way power-adjustable lumbar support.
Regardless, if you decide to opt for a full suite of comfort features, or stick to those standards across the model, you'll be guaranteed to find a comfortable truck that is as dedicated to impressing with its interior as it is with its next-generation power design.
Where To Buy the New iForce
The 2022 Toyota Tundra iForce hit dealerships in December of 2021, so the trail-blazing truck has been on the market for some time. Though buyers may have to wait before they can get their hands on this model. Vehicle chip shortages, a delay in global shipping, and a huge demand for the revolutionary truck have all caused an increase in wait times, placing the iForce on some buyers' wishlists.
While it can't be guaranteed, we recommend you reach out to a certified Toyota dealership and place an order on the Tundra iForce if it's at the top of your list. You can expect some delay, but making the jump sooner, rather than later, will increase your chances of joining the Toyota brand ahead of the curve.
And when placing that order, any Toyota dealership may feel like a viable option, though there are some dealerships that stand out above the rest.
Mount Airy Toyota – Maintaining Toyota's Legacy of Innovation
While we touched on it earlier, it's tough to overstate the commitment the Toyota brand has to the green energy initiative in the automotive industry. Whether they're introducing the world's first mass-produced hybrid (Prius) or building one of the most powerful hybrid truck models the market has ever seen (Tundra iForce), it's clear that Toyota delivers vehicles that not only please consumers but adapt to a changing world.
Much like the main Toyota brand, Mount Airy Toyota has spent years trying to perfect the car buying experience, and they've been more than willing to experiment and innovate to get there.
Mount Airy Toyota has refined what it means to be a dealer. Here are just a few ways they seek to perfect buying a vehicle and joining the Toyota family.
A Large Selection of Specials
Mount Airy Toyota offers a huge selection of specials that make buying a car, new or old, easy and affordable. You can even find 2023 models for a deal!
A Helpful Finance Center
Mount Airy Toyota understands that financial status can often impact your ability to buy a car. They've streamlined a financing center and payment calculator to give you the answers to all your car-buying questions.
Unrivaled Customer Service
Mount Airy Toyota has been serving Surry County and beyond for a number of years, and throughout all that time they've only received praise for the type of customer support and service they employ.
So, when it comes to your vehicle, start the process early when buying and go with Mount Airy Toyota. Reach out today and see what you can do to get your hands on the new Toyota Tundra iForce and have professionals ready to help you along the way. Call 336-786-2118 to schedule a test drive.