Your Holiday Service Guide: Keeping it Safe on the Roads this Winter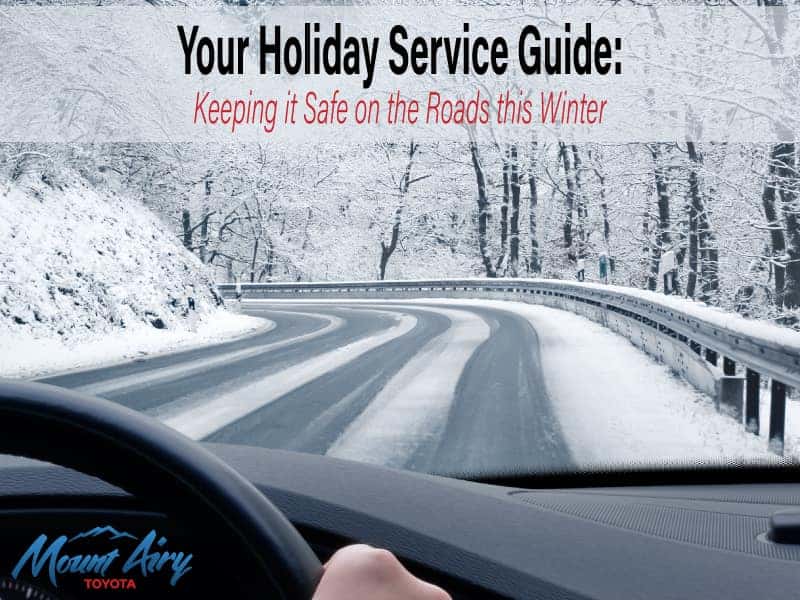 This holiday season give the gift that keeps on giving, winter service specials at Mount Airy Toyota! A gift for a loved one, a friend, or even for yourself, it doesn't matter. What does matter is keeping your vehicles in shape and prepped for the cold weather ahead of us. Come check out some of the unbeatable service special Mount Airy Toyota is offering this season.
The great thing about our vehicles, old or new, is that if you take the time to keep them maintained, they will last much much longer. Showing your car just a little love goes a long way, which is why we don't just encourage you to come see us for your service needs, we also offer the best prices in town.
Check out these deals:
Oil and Filter Change. When the weather gets cold, so does the oil in your car. And if the oil is not fresh and pure, it becomes difficult for your engine to work with which, in turn, can cause some major damage in the long run. Right now we are offering $29.95 regular oil changes and $39.95 synthetic oil changes.
Battery Replacement. Nobody wants to be left out in the cold due to a dead car battery. Extreme weather asks a lot of your car, and if your battery is old or corroded, it's simply not worth the risk of getting stuck out in the elements. This is why we are offering a battery replacement only at $95.95, which includes installation, a 60-month warranty, and an 18-month free replacement.
Wiper Blade Replacement. With cold weather approaching, you can count on icy roads, which results in salt and sludge. Nothing makes your windshield wipers work harder than dirt and grime buildup. Stop in today and we'll even install them for you! Act now and get brand new blades for only $19.95.
Brake Pad Inspection. Needless to say, your brakes are important. At Mount Airy Toyota, we can take a look at your existing brakes and let you know about how much longer you have until you will need new pads. And if you happen to need them right then, we can take care of that too. But act now to receive a FREE inspection! And if they are in need of changing, we have plenty of options to offer.
And there are even more specials running:
15% Off Tundra & Tacoma Accessories.
Touch-Up Paint  $9.95—ball-pen top for scratches requiring pin-point application and brush top for chips and scratches that need broader strokes.
Free Check Engine Light Analysis—free scanning by one of our professionally trained Toyota Certified mechanics. We can test to check for codes and code interpretation.
Free Tire Alignment!
Tire rotation for $9.95—includes checking and setting tire pressures, along with a visual inspection of the brake pads and rotors for wear.
As you can tell, we have amped our service specials for this year, and we're pretty excited about it.
Stay in Control: How to Drive in Winter Weather
Winter snow can be beautiful and a lot of fun. But when it comes to driving in it there are many potential dangers that, if prepared for in advance, can be avoided. This being said, it is shocking how many drivers do not prepare themselves for these possibly treacherous conditions. Here are two basic rules that can keep you safe while driving this winter season:
Anticipate what is ahead. Driving on ice and snow requires smooth, precise, and careful control of the steering wheel. Try and keep your wheels straight as much as possible, and when you do have to turn, slowly turn the wheel—this will require you to anticipate turns ahead of time so that you do not end up sliding into other lanes, or worse, off the road. Just remember, you want to avoid any sharp movements of your vehicle. Slow and steady gets you there safely.
Know your stopping distances. Slowing down, for upcoming turns or otherwise, requires much more distance when driving on snow or ice. Be sure that you have clear visibility of road signs, stoplights, and other cars so that you can break well before you reach them. When you do apply the brakes, keep your heal on the floor and softly press the brake peddle with the ball of your foot. Again, try and keep your steering as straight as possible to avoid any skidding. If you do happen to hit a patch of ice and feel the vehicle begin to slip, start pumping the brakes by letting off the peddle and pressing (softly) it back down over and over until you regain control of the vehicle. If this does happen, be sure to remain calm and keep your movements soft and slow.
With braking and steering under control, drivers can navigate through snow and ice in a controlled and safe way. A word to the wise though, beware of other drivers who do not know these two rules—you can recognize them by their jerky movements and inability to keep from skidding—and keep as much distance between you and them as possible.
Recently, AMCI conducted certified tests to see which vehicles operated at the highest levels while driving in the ice and snow. Many vehicles were chosen for these tests, but only a few were tough enough to make it to the top of the list. So who made it? There were a variety of vehicles that did well, but performing best in acceleration, traction, and handling in these treacherous conditions was the all-wheel-drive Toyota Rav4.
What really impressed the judges at AMCI was the Rav4's ability to go from 0 to 50 mph quickly on snow, and with minimal slippage. It was also able to stop short on ice while going 30 mph. But that's not all: the Rav4 continued to pique interest by showing top cornering performance on snow, as well as providing top of the line evasive-action performance.
These top markings for the Rav4 are due to Toyota's highly innovative AWD technology, which includes the intricately designed Dynamic Torque Control system. This system, along with the electric power steering mechanisms, helps enhance the driving experience by monitoring and controlling torque transfer between wheels—all four of the wheels—and uses input from a variety of sensors to keep the vehicle moving.
Care for Your Car, Care for Yourself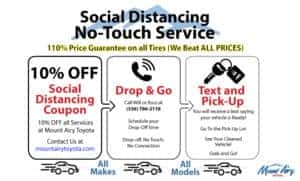 There's no doubt about it, taking care of your car, especially during the winter months, is crucial. But, at Mount Airy Toyota, we realize it is just as important that we take care of ourselves. When you come to us for any service need, we take every measure to adhere to social distancing by conducting our operations with no-touch servicing.
To encourage everyone to operate under these safe conditions, we are offering a 10% off social distancing coupon, which applies to ALL of our services offered.
Here is the procedure for safely dropping off your car:
Simply call us at 336-786-2118 and speak with Will or Russ (our service specialists) to schedule a time to drop off your vehicle. Once your time is set and arrives, all you have to do is drop off the car and wait for us to contact you when it's finished. It's that easy: no contact, no worries.
Picking up your car is just as easy. Once you receive a text from us saying your vehicle is ready, head to the pickup lot to find your clean, serviced vehicle waiting for you—simply grab and go!
At Mount Airy Toyota, we service all makes and all models of vehicles because we want everyone traveling safely this winter. Come see us, visit us online, or give Will or Russ a call today to get your car ready for the cold weather this season.