Performing your Toyota oil change at factory recommended maintenance intervals is a great way to keep your Toyota running great and maintain its value. At Mount Airy Toyota we use Genuine Toyota Motor Oil formulated to help protect against corrosion, prevent foaming and maintain proper application of oil on cylinder walls.
Need an oil change for your Toyota? Our Toyota-trained technicians right here inMount Airy at Mount Airy Toyota can quickly perform this service for you. Schedule an appointment with Mount Airy Toyota.
Why Choose Mount Airy?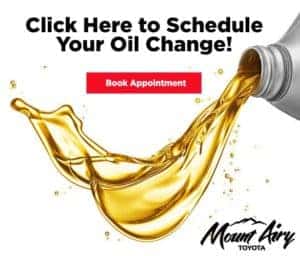 Here at Mount Airy Toyota, we'd be glad to help you understand the frequency of oil changes for your car.  You can make an appointment online for our Service Department . With our certified technicians and extensive knowledge, we're always here to help. Stop in to learn more about the Mount Airy Advantage, Smart Car Buying from Nice People.
Oil Changes are Necessary for Your Car's Performance
So how many times have you heard the old adage that says… Oil is the lifeblood of your car?"  Well, in this case, it happens to be true.  A car's engine cannot function without oil …and clean oil at that.  Oil services many critical functions in a car including acting as a lubricant under very hot temperatures for the engine.  Without a good lubricant, parts of the engine will rub together and wear each other out.
Synthetic vs. Conventional Oil
Toyota has these recommendations for synthetic oil:
Only Toyota vehicles in which 0w-20 synthetic oil is required(except for the 2TR-FE & 3UR-FBE Engines*) have been approved for extended oil change intervals of 10,000-miles/12-months. (However, you should continue to check the oil level regularly and top off if needed. That will help your engine get the full benefit of synthetic oil.)
Vehicles in which 0w-20 is an option to 5w-20 mineral oil, (or 5w-30), will continue to require 5,000-mile/6-month oil change intervals, even if 0w-20 oil is used.
In the case of vehicles with 10,000 mile oil change intervals, the 5,000 mile service interval has not been eliminated. The traditional 5,000 mile maintenance procedures (such as tire rotation) will continue to be required, and the fluid levels (such as brake fluid) will need to be checked and adjusted at this time.
If the vehicle operation meets the standard criteria for "Special Operating Conditions" such as: driving off-road, on dirt roads, towing a trailer, making repeated short trips under 32˚ F, or extensive idling; the engine oil must be replaced at 5,000 mile intervals, regardless of what type of oil is used.
*The 2TR-FE (4Runner / Tacoma) and the 3UR-FBE (Flex Fuel Tundra / Sequoia) are the exceptions to this new change interval program; these engines have not been approved for the 10,000 mile interval at this time. A 5,000-mile/6-month oil change interval is still required for these vehicles. Also, the Flex Fuel 3UR-FBE requires a 2,500 mile interval when operated on E85.
Signs You Need an Oil Change?
So with Oil playing such a critical role in the health of your car, how do you know when to change It out?  It's hard to very definite with the answer because there are so many variables including –how you drive, the conditions and age of the engine, the environment you drive in and whether you drive on highways more often than city traffic.
But generally speaking, we recommend an Oil Change every 5000 miles to make your engine last as long as possible.  You should consider changing your oil under the following circumstances: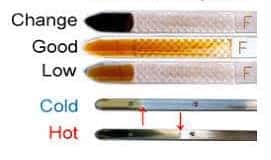 You regularly carry a heavy load,
The drive in extreme weather conditions – very hot or very cold temperatures,
You drive at high speeds often,
You drive on back dirt roads, and
Your engine is old and is burning oil.