Toyota's Highlander: Perfect For A Mount Airy Staycation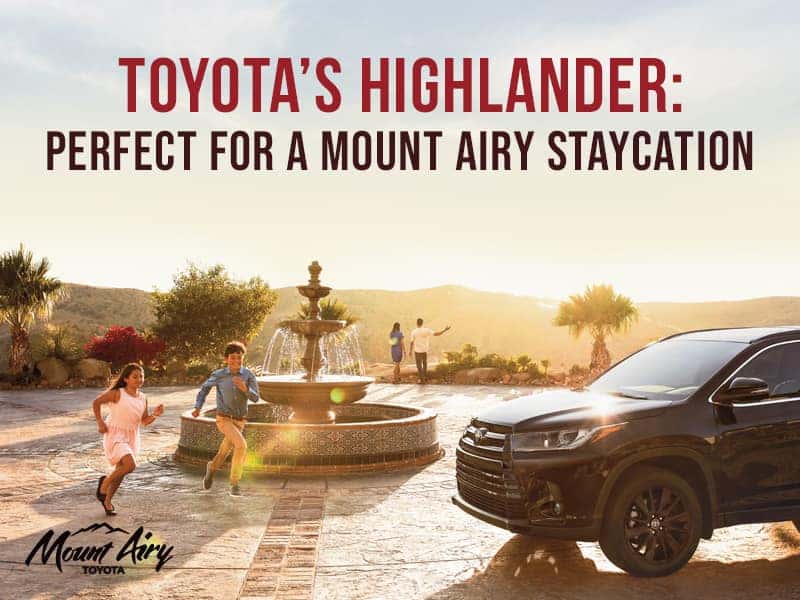 Toyota has made a commitment to producing family-oriented three-row SUVs for the modern era. The 2023 Grand Highlander is promising to do just that. It's capable of supporting travel, nearly any family activity conceivable, and even makes the perfect ride for a vacation at home or a staycation.
As of August 2020, 63% of Americans reported that they had taken a "staycation" recently.
Many more families are looking to their hometown and the amenities and attractions within it versus taking a long trip to the beach or across the country. Thankfully, you can get your hands on the new 2023 Toyota Highlander at Mount Airy Toyota, which positions you perfectly to stay in town and have a great time.
An Interior Built For Comfort
When planning any trip, you're likely planning on spending some time inside a car. For many, that may be the worst part of travel but for those with the Highlander, you can expect some comfort along the way. 
Capable of seating a maximum of eight passengers, the Highlander has the space necessary to prevent any of that crowded feeling you may be familiar with in other SUVs. That generosity in space also extends to the cargo and storage component, ensuring you'll be able to take along whatever you or your family needs on your trip, in-town or across the country. 
If you want to take a look at Mount Airy Toyota's models and everything within them, including interiors, check out the digital showroom. While the new 2023 models aren't quite out with that information, they'll be updated as soon as possible, letting you see the interior from the comfort of your own home.
Low Fuel Usage 
One model of the Highlander offers a brand new hybrid engine, adding to Toyota's growing inventory of electrical vehicles. Staying in town for a vacation while using an engine designed to save you money and be fuel-efficient creates a fun day for your family while spending little on getting there. 
This level of efficiency doesn't hamper practicality or performance, the 2023 Highlander is expected to be a highly capable SUV, ready to travel wherever, even if you're planning on staying in.
About the Non-Hybrid Model's Engine
The non-hybrid engine has overhauled the Highlander's previous model. Introducing a new turbocharged 2.4 liter I-4 motor making 265 hp and 309 lb-ft adding an increase of 17% in torque. 
This change in engine is still as efficient as the previous model's V6 while making huge strides in limiting the number of emissions the 2022 model was capable of producing. So, while the non-hybrid engine may not be as environmentally friendly as its hybrid counterpart, the steps made to provide efficiency rival other three-row SUVs and its measures to limit emissions results in a cleaner ride that's more affordable to keep on the road. 
Safety Features To Get You and Your Family There
Toyota understands that when you're driving your family you have the most precious cargo of all. Modern Toyota models all come with a standard suite of safety features and driving assistance technology that creates the trademarked "Toyota Safety Sense." This set of safety measurements along with top engineering is what makes Toyota one of the safest car brands of today. 
The Highlander as A Competitor 
While the mid-size SUV market is one that's becoming increasingly invested in, the Highlander is ready to compete and stand out. With 11 different trim options, the Toyota Highlander is home to more options than most, allowing you to get your hands on a Highlander geared to your needs, providing you've gone to the right dealership.
Pricing is another huge benefit. With many mid-size SUVs, you'll likely be breaking the bank to get your hands on a new model. The 2023 Highlander is an affordable option, starting at $35,000, a price range nearly unheard of for a new SUV of its size and capability. Good dealerships, like Mount Airy Toyota, can also work with you on financing, which makes getting your new ride even easier. 
Where To Take Your Highlander in Mount Airy
Once you have your Highlander, you'll likely be excited to see just what activities it can support. And, if you purchased from Mount Airy Toyota, there's good news. There are a lot of places close to home and to the dealership that make the perfect destination for an in-town staycation.
Shelton Vineyards –
Shelton Vineyards is a gem tucked away in the Yadkin Valley close to Mount Airy. One of the largest vineyards on the east coast, the land shares many of the similar traits of climates notorious for vineyards in Europe.
The winery has received significant attention for its craft, winning numerous local, state, regional, and national awards. The page for their awards is so long you'll wonder why you haven't taken the trip to see what the excitement is about for yourself.
Unlike other vineyards, Shelton offers full dining and room rentals, providing the perfect opportunity for a weekend away, close to home. 
Downtown Mount Airy –
Downtown Mount Airy has more than most towns its size. Chock full of history, fun, unique restaurants, and regional attractions, you may be surprised what you can find so close to home. Antique stores galore, the Andy Griffith Museum, and the Mount Airy Museum of Regional history are all places you and your family can get lost in.
Testing Your Highlander on the Outdoors – 
One of the best ways to test your new Highlander while also enjoying all that the Mount Airy area has to offer is to explore the outdoors. Being so close to the Blue Ridge Parkway or Pilot Mountain gives you the ability to have some fun outdoors.
The Highlander's fuel efficiency is good enough to support a cruise along the Parkway, stopping at every overlook that piques your interest along the way. The spaciousness of the Highlander allows you to relax in comfort while adventuring along the parkway's turns and bends.
For those looking for a more involved outdoor activity, a hike up Pilot Mountain is also an adventure well suited for your new Highlander. The space in the Highlander's cargo and interior allows you to load up with whatever hiking gear you may need. And, as an added bonus, the comfort of the interior will be a sight for sore eyes after a strenuous hike. 
Whichever outdoor location you choose to take your Highlander, you'll have a modern car suited to any of your adventuring needs. 
Perks of Being Close To Home
Using your new Highlander as a ride to support your staycation has more benefits than you may realize. The hybrid's gas-saving nature and the design of the traditional engine are oriented around efficiency, so whichever you end up with, you'll be able to save money at the pump. That efficiency, coupled with a staycation, and you'll be surprised how much you can have fun for so little. 
Helping business in your community means you're helping your neighbors and local economy. And on that note, there's a dealership that's perfect for you if you're planning on supporting local….
The Local Dealership With The Most
Mount Airy Toyota is a local dealership that's been committed to providing the best car buying experience for the entire region, with staff and customers from parts all around the area. People from Winston-Salem, Elkin, Dobson, Galax, VA, and Banner Elk know and trust their experienced team.
For those planning a staycation in town, alongside plans for a new family SUV, Mount Airy Toyota is the best location around for just that. So, go with the dealer that keeps your purchase local, that's close to the hidden gems in town, and that has the experience and customer testimonies that give you confidence in your purchase.
Reach out to Mount Airy Toyota today and ask about the 2023 Highlander.