The Toyotas That Can Do Everything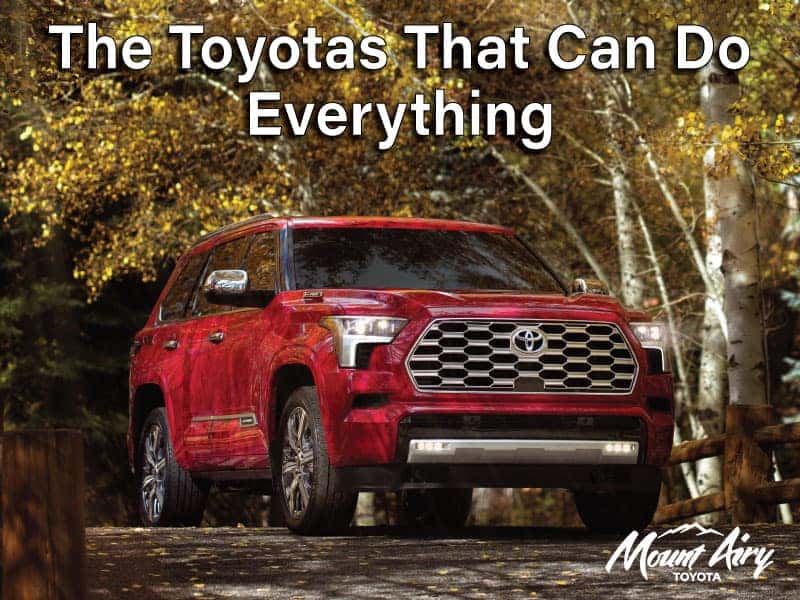 2022 marked the first time that a majority of consumers wanted a hybrid or electric vehicle. And while the imagined hybrid of old may seem stuffy, or lacking in features that inspire awe, Toyota's lineup of hybrid and electric vehicles has enough to make everyone happy. 
With rising gas prices, opting for a new electric car is more attractive than ever. While those gas prices are an element that can impact your decision when buying a car there may be some other driving forces. 
As you're shopping dealership to dealership you may be asking yourself, "Is it efficient?" "Will it work for my family?" "Is it reliable?" And maybe even, "Is it cool?" Well, look no further — Mount Airy Toyota is ready to provide an electric vehicle that can do it all. This isn't your grandma's Toyota, this is the Toyota lineup of 2022, prepared to outperform any competition on the road.
Toyota's Electric and Hybrid Lineup
Toyota's 2022 selection has a number of electric and hybrid vehicles that have solidified themselves as mainstays in the fuel efficiency realm. All of which offer advanced fuel technology, limit emissions and have top-of-the-line reliability. Those perks expand over compact, mid-size, and full-size sedans, all the way to mid-size and full-size SUVs — this means you're sure to find an electric vehicle that works for you. 
The Prius is among the most recognizable electric vehicles. The 2022 Prius has seen leaps and bounds in innovation and design. Creating a sleek, aerodynamic, body that'll catch eyes, all while dispelling the narrative of its early days, like that the Prius wasn't fast, high performing, or sought after.
The RAV4 is a perfect example of a versatile SUV that also prides itself on fuel efficiency. And while the perception of most hybrids and electric vehicles places them on the low-end of power, the RAV4's all-wheel drive and horsepower can conquer terrain and handle any family vacation. 
The Toyota Sienna has long been the go-to mini-van for countless families across the world. The center of so many family memories and vacations has now made a huge step into the world of efficiency, giving you the ability to go further with less. Rows of seating with options also give you room for the whole family and whatever cargo or storage you're bringing with you. 
2022 Toyota Tundra Pro i-FORCE MAX
The Toyota Tundra Pro shows just how powerful a hybrid truck can be. Delivering up to 437 horsepower and 583 lb.-ft. of torque, while also leading the way in trucks regarding fuel efficiency. You'll be able to haul, work, and ride as well, if not better, than competing trucks while simultaneously saving more on gas in the process. The Tundra also leads the way in truck design and technology, ensuring you'll be riding in luxury. 
The Toyota Camry is one of the biggest successes ever in the mid-size sedan market. Cementing itself as a consumer favorite for its design, reliability, and efficiency. The 2022 model has undergone some tweaks that create an all-around sophisticated driving experience. A lightweight frame and focus on aerodynamics propel the mid-size sedan ahead of competitors, letting you outpace everyone, on the road or in the school pick-up line. 
And while those models are by no means an exhaustive list of Toyota's new hybrid and electric vehicles, it does a good job at showing the range in which Toyota can provide a reliable, fuel-effective, sustainable ride. 
And while those covered are from the list of 2022 options, you'll likely be surprised with what's joining Toyota's hybrid lineup this summer. 
The 2023 Sequoia
Toyota has a redesign coming to the Sequoia this summer and seeing as it's the first major change to the model in 13 years, there have been some substantial upgrades and modifications. One of the most notable changes is that the new Sequoia is coming in a hybrid-only form. That energy supports the SUVs' twin-turbo V6 power and 437 hp and 538 lb-ft of torque, power which is nearly unrivaled by other hybrids of a similar size. 
The redesign spans more than just a move away from a traditional gas engine. It's been completely overhauled on both the exterior and interior, with a new rear-end, and complete streamlining of the interior for comfort being some of the most noticeable changes. Not to mention the technology that's become standard for modern Toyota's, like safety sense features, touchscreen displays, and multimedia support. 
Whatever the case, the launch of the Sequoia signals investment in a hybrid SUV never seen before, and that pays off because it's shaping up to be the peak of the modern SUV market. 
Perks Of The Hybrid – Hybrid Synergy Drive
While we've touched on the hybrids Toyota has to offer, we've only scratched the service on what exactly a hybrid can provide to your family and lifestyle. Toyota's Hybrid Synergy Drive is at the next level in hybrid technology. Combining a petrol engine alongside an electric motor, the vehicle can switch between the two as necessary. Here are just a few features that come with a car that makes use of the Hybrid Synergy Drive technology. 
A Quiet Ride: Vehicles that switch into hybrid mode result in one of the quietest rides on the road. Leaving you to focus on your driving in peaceful tranquility. 
Reduction In Emissions: For those seeking to limit their CO2 emissions, investing in a hybrid is the way to do it. With over a quarter of the United States' emissions being attributed to transportation, seeking to limit the impact of your daily driving is a key way to reduce your overall footprint. 
Capturing Energy: Hybrid synergy vehicles can, in essence, recycle energy. This means as you're going down hills, braking, etc. the vehicle can capture that energy and reuse it, resulting in peak efficiency. 
Saving On Fuel Costs: Arguably one of the most important perks, especially given gas prices, is what you can save at the pump. When in the electric mode you'll be using no gas at all, and, with some of Toyota's lineup, you can switch between the two at will. So, if you're going below a certain speed you'll be sure that you're not using a drop of gas while on the way to your destination. 
Riding In Style With Mount Airy Toyota
If any of the listed hybrids, or Toyota technology, piqued your interest you should heavily consider seeing some of them for yourself at a reliable dealership and Mount Airy Toyota is a perfect fit for just that. 
If you've ever worried about reliability, fuel efficiency, or even having a car that turns heads, investing in a new Toyota hybrid is the right decision.
Be ready to be the talk of the school pick-up line, the cause for turned heads at the marathon meet-up, or at the receiver of points and faces of awe as you drive through town because the sleek hybrid line-up was designed for just that. 
Schedule an appointment in person today, or take a look at their digital model showroom for an up-close look online. And, if financing is a problem, they've got you covered. In the same way, it's hard to go wrong when investing in a reliable hybrid, it's hard to go wrong when you partner with a dealership like Mount Airy Toyota. So, get ready to ride in style while saving money, and get your hands on a Toyota hybrid today.