Songs and Safety: Tips for Prepping Your Playlist and Car for a Road Trip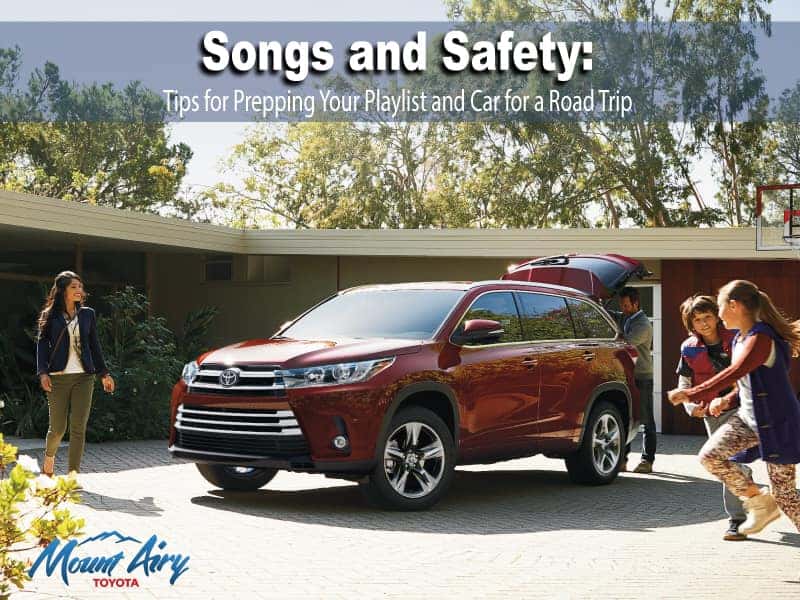 So, you've decided to take a family road this summer. You're excited to see wonderful sights, experience local foods and entertainment in different towns, and feel the breeze flowing through your car as you abandon the daily grind.
While there's nothing like going on a great road trip, ensuring your trip provides the fun and relaxation your family is hoping for will require you to make some preparations, and that includes choosing the right travel music and servicing your vehicle beforehand. Mount Airy Toyota wants to help your family knock out these tasks so that you can set the stage for the road trip of a lifetime:
Get the Tunes Ready
There are a lot of factors that go into planning a road trip, and the music often gets overlooked. But having the perfect playlist ready can help everyone enjoy the drive more, especially if the songs are easy to sing along to.
One thing to keep in mind is that you'll want all the songs on your playlist to be downloaded on your phone or iPod. That way, you won't have to use data on your phone or risk not being able to play music in a dead cell zone.
Now, to the goodies. Here are some of the best songs for a summer road trip (hint: there's a little something for everybody!):
All-American Songs
· Born to Be Wild — Steppenwolf
· Sweet Home Alabama — Lynyrd Skynyrd
· Living on a Prayer — Bon Jovi
· Born in the USA — Bruce Springsteen
· My Life — Billy Joel
· Nothin' but a Good Time — Poison
· Walk This Way — Aerosmith
· One of These Nights — Eagles
Classic Rock Songs
· Nutbush City Limits — Ike & Tina Turner
· Danger Zone — Kenny Loggins
· Here I Go Again — Whitesnake
· Don't Stop Believing — Journey
· Summer of '69 — Bryan Adams
· Dude Looks Like a Lady — Aerosmith
· Go Your Own Way — Fleetwood Mac
· Back in Black — AC/DC
Modern Songs
· All the Small Things — Blink 182
· Happy — Pharell Williams
· Can't Stop The Feeling — Justin Timberlake
· Shut Up & Dance — Walk the Moon
· Stupid Love — Lady Gaga
· California Gurls — Katy Perry
· Set Fire to the Rain — Adele
· Uptown Funk — Mark Ronson (feat. Bruno Mars)
Songs About Driving
· I Drove All Night — Roy Orbison
· Paradise by the Dashboard Light — Meatloaf
· Drive My Car — The Beatles
· Keep the Car Running — Arcade Fire
· Route 66 — Chuck Berry
· Mustang Sally — The Commitments
· Rhythm Made Me Do It — Shania Twain
· Pink Cadillac — Bruce Springsteen
Get Your Car Ready
Now that you have some songs to consider for your playlist, let's talk about how you can whip your vehicle into shape for the long drive!
First of all, you need to make sure you're secure where the rubber meets the road. Take your vehicle to a trusted mechanic, like the Mount Airy Toyota Service Center, to check your tires and replace them if necessary. If you still have plenty of tread, you may be able to get away with a rotation. Also, have your brakes checked, especially if you notice any grinding, screeching, or delayed functioning. Without having good tires and brakes, you increase your chances of an accident exponentially.
Another essential step in preparing your car for the road is to replenish all of the fluids that need it. Along with changing your engine oil and filter, fill up on transmission fluid, brake fluid, power steering fluid, and engine coolant. If you've had your battery for at least two years, get it checked by your mechanic. Batteries typically give no warning before they quit, and that's the last thing you want happening when you're driving in the middle of nowhere!
Finally, you'll want to check the hoses surrounding your radiator for cracks and damage, as well as the serpentine belt. And while you're at it, throw on a new set of windshield wipers to ensure you're well-prepared when it rains. Work it into your trip budget to replace any parts necessary for safe driving, and handle all of these tasks before leaving to avoid being thrown a curveball on your travels.
Conclusion
Making preparations before your road trip can help your entire experience go more smoothly. Remember to take time creating a killer playlist that the whole family will enjoy, and give your car a thorough evaluation. Mount Airy Toyota can handle all of your maintenance and repair needs! Just give us a call to schedule an appointment, and we'll get your vehicle ready for the open road! (336) 786-2118