Safety Features and Gadgets for Your New Toyota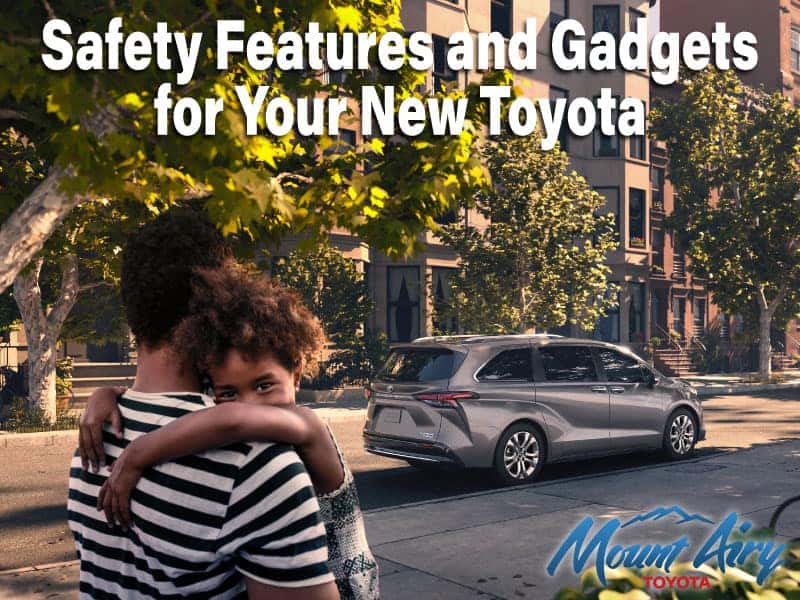 The safety features that come with a car have become increasingly important when consumers are considering what to buy next. Some reports say well over half of car buyers want features that assist with driving, blind spot recognition, backup cameras, and other features that help guarantee well-being. Mount Airy Toyota offers top-of-the-line Toyota products that lead the market in safety measures, made possible with state-of-the-art technology. This is because all Toyota products come with Safety Sense, a patented technology unique to the brand and designed to keep your family safe. 
For those with a family, keeping your children, pets, friends, and others safe is likely a driving force behind many of your decisions.
A safe car is the first piece, but there are other measures you can take and invest in that can better protect your loved ones.
Car Seat Installation
Crashes are a leading cause of injury for children from 1 to 13. Properly installing and utilizing a car seat for your children is a key way to protecting your child from injury in the event of a crash. A car seat alone isn't enough to increase safety, it's vital that you properly install the seat to minimize risk.
Tips For Installation 
While it may seem as simple as placing it in your backseat and clicking the buckle, you'd be surprised at what comes with your car seat. Here are some key ways to get the most out of your car or booster seat for your young ones.
Read Up
Car seats don't include an instruction manual for the sake of light reading, they include it because it's necessary to understand how it can help. Car seats need to be secure, using anchors or the seatbelt as a way to include the piece in its place. Making sure it's not moving side to side is a key way to tell if the installation is going correctly.  
Know What You've Bought
Car seats are varied, with differences between forward-facing and backward-facing seats, convertible seats, and booster seats, all with a wide arrangement of materials. Being aware of what you have and how to best aid its effectiveness is important. 
Make Sure the Seat Works For Your Child
A car seat that isn't designed for your child can prove more dangerous than you may expect. Seats not made to hold a child of a specific size, that secure your child properly, or that are compatible with your vehicle can all provide a false sense of safety when driving.
Knowing when to move your child to a booster, the number of straps necessary, or when to take them out of a safety seat altogether is another vital part of child safety. A good rule of thumb is that the harness needs to be snug and secure, and children should age out of car seats into boosters somewhere around age 8.
Innovation In Car Seats
Car seats are constantly evolving and tackling issues that are prevalent risks for children.
As the weather warms up headlines may appear discussing the tragedy of a child being left in a hot car. This isn't just a possibility, leaving a child in the car is a reality for some. Horribly, 37 children a year die from being left in a hot car. Hectic days and errands can leave a parent slipping from the car without checking the back seat and any amount of time spent in the car alone is likely too much. For instance, children's bodies can heat up around 3 to 5 times as quickly as an adult's. This means that even on cold days, heatstroke is something to worry about. 
Innovations in car seats have created alerts and sensors that can let you know if your children are still in the car. And while the measure may seem unnecessary, sometimes being safe is better than being sorry. 
A Nod To Pets
While we're on the topic of heat-related injuries, it's important to touch on our furry friends. Hundreds of dogs a year die from being left in a hot car. While some folks think that a cracked window or a cooler day will make the car a safe place for your pet, it's more dangerous than you may think.
On a 70-degree day, a car is capable of hitting temperatures of up to 100 within 20 minutes, temperatures well over the amount safe for every pet possible. The only real way to protect your pet is to leave the car running while occupied by another adult, allowing the AC to work its magic and keep your beloved pet safe and cool.
If your pet is a frequent ride-along, it's also necessary to teach them good commands related to exiting a vehicle. Parking lots can be dangerous for pets, making sure they respect wait commands and come commands can make it easier when you both hit the road.
Toyota As A Safety Leader 
For those who have read most of this article, you're likely truly dedicated to safety. While the tips listed earlier are a great way to improve safety, they're only as useful as the vehicle they're in. Vehicles with the highest safety ratings are rated that way because of diligent testing and numerous metrics that validate their safety measures. 
Toyotas consistently rank as some of the safest cars on the market. Scoring as leaders in surveys from multiple national leaders. 
Safety sense is a great example of a brand's commitment to safety as a core tenant of the product they provide. Safety sense is included in every new model of Toyota and boasts a few key ways to make driving as safe as possible.
Pre-Collision Detection: Camera and radar systems alert the driver of both cars and pedestrians, reducing the likelihood of countless collision possibilities.
Dynamic Radar Cruise Control: Cruise control that adapts to the car in front of you, maintaining a safe speed and distance away from others, preventing rear-ends, and making long drives easier.
Lane Departure Alert: Cameras help keep you in your lane and alert you when you've crossed too far, keeping your attention and your vehicle on the straight and narrow.
Automatic High Beams: Using cameras to detect the lights of vehicles around you, your Toyota can identify when to turn on and off your high beams, maximizing your vision during dark drives.
Lane Tracing Assist: Lane tracing assist can help you stay in the line by using tracing of your surroundings, helping you stay centered and away from danger.
Road Sign Assist: Your Toyota can detect the signs around you, displaying them for ease of your travel. This can range from speed limits, do-not-enters, yields, etc. Whatever the case, you'll know what the signage is saying. 
With all of these features being included in newer Toyota models, you'll have peace of mind in the safety of your new car.
Buying For Safety 
If you're planning on buying a safe vehicle, check out Mount Airy Toyota today. A leading dealership in providing some of the safest cars on the market.
As mentioned earlier, all new models come with the included safety sense features. And if you're still unsure about making the jump into the Toyota brand, just examine some of the few customer testimonials after buying from Mount Airy Toyota.
While at the end of the day, there's more to safety than just the car. Car seats, preventative measures, and attention to detail help create and build a robust safety experience. Still, a safe car is the most important foundation in the building block to safety. If keeping safety drives your decision in vehicle buying, consider joining the Toyota family today.