Why Regularly Servicing Your Vehicle Saves You Money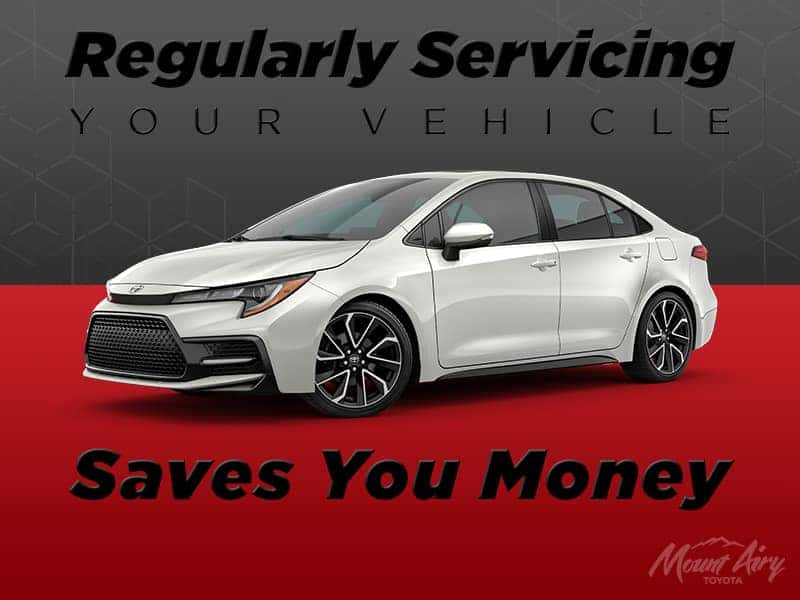 It's the beginning of a new year, which means it's the perfect time to begin scheduling your vehicle's regular maintenance with us at Mount Airy Toyota. Sure, maintaining your car might not sound like the most exciting resolution, but once you realize how much money regular service saves you, it gets exciting.
It doesn't take a car enthusiast or a professional mechanic to know that once you purchase a car, old or new, it will need to be regularly serviced—tires, brakes, radiator, etc. But despite this understanding, many people today drive their vehicles into the ground, forcing them into an early grave. The truth is, it takes minimal effort to keep your car maintained and it can save you thousands of dollars and many headaches.
From tire rotation to a quick oil change, you should follow the factory guidelines that have been laid out for your vehicle. These complicated machines we so dearly rely on need care and attention to keep them running well, and often—if not always—this care and attention costs money. A new radiator can be upwards of $500; tires and brakes each the same amount or more. Yeah, it's not cheap owning a car, but it doesn't have to break the bank if you plan ahead.
So where to begin? Start by grabbing the manual from the glove box and opening it up for once. Reading your manual won't turn you into an expert technician, but it will provide you with basic information about your specific vehicle that you need to know. Getting acquainted with your car is step number one in establishing longevity.
Six Reasons to Regularly Maintain Your Car
Beyond saving you tons of money by servicing your vehicle on a regular basis, there are plenty of other benefits. Check out these five big ones:
Increased Safety. Cars these days have incredible safety features. From Lane Assist to a constant 360-camera view of your surroundings, it's easy to see why drivers today feel pretty safe on the road. But what about when a tire blows when you're moving at 75 miles an hour? Or, out of nowhere, your car's temperature gauge shoots up into the red and your engine begins to smoke? What do you do then? Regular maintenance can keep these, and other, things from happening unexpectedly.
Top Performance At All Times. Keeping everything under the hood, beneath the car, and around the rear in check won't only keep your car running. It will keep it running well—like it did when you first bought it.
Lower Cost of Fuel. A well-maintained car savors every drop of fuel. A vehicle that is struggling down the road, however, tends to burn a bit more, as well as spill a little along the way. When everything's in its right place, doing what it was built to do, your car will run like a gem for as long as its combined parts continue to work together.
Your Time Saved. It takes time to open the hood and check the fluids; it takes time to drive to Mount Airy Toyota and have a technician check out your water pump. But no matter how long it takes you to figure out how to even open your trunk, or no matter how many miles you live from Mount Airy, the time lost during a breakdown is always worse. Stranded on the side of the road, trying to get your car started in your own driveway while you are late for work, these time wasters have added stress that makes them even worse.
Higher Resale Value. How can you tell someone buying a used car knows what he's doing? The first question he asks is, "So what maintenance has been done to this car?" And if all your paperwork is current—showing regular maintenance year after year—he will have no problem paying top dollar for it.
Cold Weather And Your Car
It is important to take extra precautions in order to make sure your car runs correctly this winter. Extreme temperatures of any kind can do major damage to integral parts of your car. And if these things are not checked regularly, you could end up stranded. Or worse, you could end up needing a new vehicle.
Here are four ways to keep your car alive and well during the cold winter months:
Have your battery checked. Cool air paired with the jolting vibration of a running vehicle can cause your battery harm if it's not up to par. Likewise, a car that sits in the cold weather all day can cause sluggishness and poor performance. And taking a long trip during any season can cause your battery to wriggle free from its connections. Once extreme weather is upon us, the best bet is to bring your car into Mount Airy Toyota for a quick battery check in order to make sure it is operating as it should.
Have your coolant flushed. Your vehicle's coolant fluid keeps the engine from overheating. You might not think it, but this is something very important during the winter. After long periods of time, the coolant can become contaminated and much less effective, and if you are driving long distances there is always the chance of your thermostat going bad. Once this happens, your engine doesn't know when to cool down, which can cause it to heat up enough to do some permanent damage. It's a good idea to have this fluid flushed and replaced with fresh coolant that can keep your car running smoothly.
Check all other important fluids. Your car runs the best when the oil, transmission fluid, power steering fluid, and brake fluid are all topped off. These are relatively easy to check and should be looked at about once a week. If you have trouble finding any of these, contact a service member at Mount Airy Toyota and he can tell you exactly what to do.
Get your heating system checked by a certified professional. Driving without heat in the winter is not comfortable—or safe. Even if you're heating system seems to be okay, it's a great idea to have it checked anyway. You never know when it could break down. And you do not want to be in the middle of a winter road trip when this happens.
Avoid being stranded this winter by scheduling a maintenance appointment at Mount Airy Toyota today.
Mount Airy's Service Specials
As we have seen, if you keep your vehicle maintained, it will last longer—years longer. This simple act of keeping things current can save you money and frustration, which is why we at Mount Airy Toyota are always offering service discounts. This winter, we have some extra special discounts that can keep your vehicle ready to handle even the toughest driving situations.
Check out these deals:
Oil and Filter Change. When the weather gets cold, so does the oil in your car. And if the oil is not fresh and pure, it becomes difficult for your engine to work with which, in turn, can cause some major damage in the long run. Right now we are offering a $29.95 regular oil change and $39.95 synthetic oil changes.
Battery Replacement. Nobody wants to be left out in the cold due to a dead car battery. Extreme weather asks a lot of your car, and if your battery is old or corroded, it's simply not worth the risk of getting stuck out in the elements. This is why we are offering a battery replacement only at $95.95, which includes installation, a 60-month warranty, and an 18-month free replacement.
Wiper Blade Replacement. With cold weather approaching, you can count on icy roads, which results in salt and sludge. Nothing makes your windshield wipers work harder than dirt and grime buildup. Stop in today and we'll even install them for you! Act now and get brand new blades for only $19.95.
Brake Pad Inspection. Needless to say, your brakes are important. At Mount Airy Toyota, we can take a look at your existing brakes and let you know about how much longer you have until you will need new pads. And if you happen to need them right then, we can take care of that too. But act now to receive a FREE inspection! And if they are in need of changing, we have plenty of options to offer.
The service department at Mount Airy Toyota wants to keep your used vehicle running as it should. Whether you need a part, repair work, or just someone to find and fix that clunky noise that won't go away, our team can take care of you.
At Mount Airy Toyota, a technician will run diagnostics on your vehicle to make sure everything is working and running properly. And if something is not, he can pinpoint the exact issue and fix it immediately.
But what if the vehicle wasn't purchased from Mount Airy Toyota, will they charge me more to work on it? Absolutely not. As a matter of fact, if your old ride still has a factory warranty, you could actually save even more.
Setting up an appointment is easy. Simply go to the dealership's website navigate to the service department link, and click on the "Schedule Service" tab. From there you will be asked a few questions about your vehicle and availability to stop in. It's really that easy.
What sort of things will your service technician look for? Anything that is not performing properly. He or she will also look for things that could go wrong in the near future. Intricate pieces like engine belts, hoses, and plugs. These all need replacing every so often, and if you wait until they completely malfunction you could be left stranded. And even worse, they could cause damage to other parts of your engine.
So don't wait until something breaks. It's time to head into Mount Airy Toyota's service department now. Let a professional look over your vehicle so that you can keep it running for years to come.
There are plenty more rebates and discounted services currently being offered at Mount Airy Toyota. Check out our service website and find the discounted services you need before they expire!