Toyota … What's Next?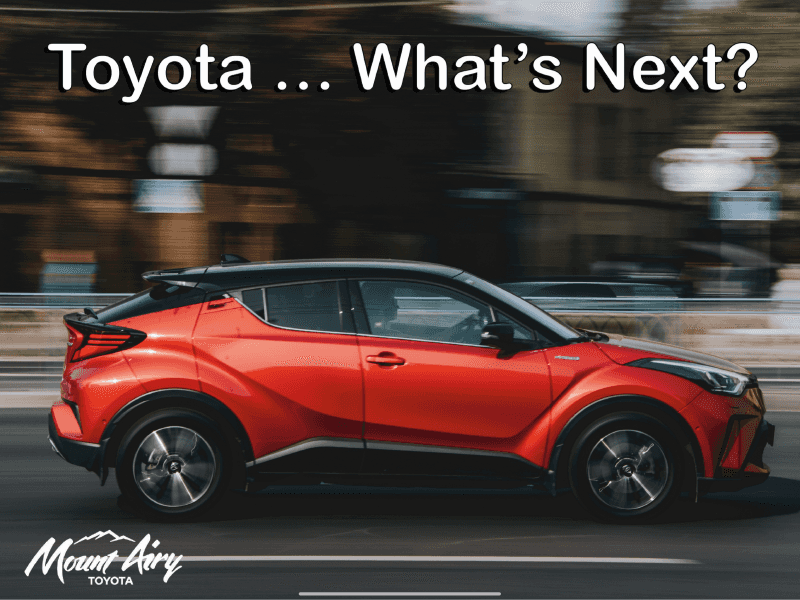 Change is in the air, and Toyota is not resigned to letting the times pass them by. 2022 has been home to some impressive news and advancements regarding the whole Toyota brand.
New models and technology continually impress and deliver for customers; with some Toyota designs celebrating countless years of performance.
Whichever way you look, there has never been a better time to be a part of the Toyota family. And, if you've been looking for a sign to purchase your first, or replace an older Toyota, this article may be just that. If that's the case, take a look at Mount Airy Toyota. They've served the Mount Airy area for years, garnering a track record of excellent customer service and the ability to provide any potential customer with a car that'll fit their lifestyle.
If you're still hesitant about making the leap to a Toyota, that's natural. Though wait and read about all that's next for Toyota and that hesitation is likely to slip away!
New Manual Transmission Patent
Toyota knows how important it is for some to have the manual option. As they continue to change, improve, and introduce a wide array of vehicle models, they want to make sure that everyone will find something they love. Manual purists will be pleasantly surprised to hear about the patents Toyota has recently filed that signal an increase in investment regarding manual transmissions.
Coming To The GR Supra
The GR Supra has only been around for a couple of years and it's already solidified its place in the hearts of many. The model embodies the joy of driving while also having racing and high-performance capability built in from the ground up. Now, the upcoming 2023 GR Supra has two editions that will scratch the itch of driving manual while also keeping you in the familiar Supra. You'll find this change in transmission on the 3.0, 3.0 Premium, and a limited A91-MT Edition model. So, if you want a car that blends function, form, and beauty, that's whole design is made for the perfect driving experience, and also want that feeling of a manual drive, that possibility is right around the corner.
You can read more about the GR Supra and pricing options here, through Mount Airy Toyota. With some additional information and details on trims, color, and cost, you're a lot more likely to make a move on the sleek Supra.
Innovation in EVS
This news is less concrete than an upcoming launch like the GC Supra, though its potential to impact the vehicle industry is unbelievable.
Recently, a slew of patents has been filed by Toyota for electric manual transmissions. As it stands, EVs marked a possible end to the option of manual in modern cars. And while the details aren't all released it stays in line with the Toyota legacy of innovation. The patent shows a "pseudo clutch pedal" and a gear shift built to emulate and capture the feel of a traditional manual vehicle. And for those less enthused about manual options, the vehicles with this planned addition will have a regular EV mode they can make use of as well.
So, for the manual purists, know that an EV from Toyota will soon be able to deliver on every aspect. Stay tuned to Mount Airy Toyota for updates and continual news related to this exciting new development. And, if an EV has been on your mind, check out Mount Airy's EV lineup here.
Continual Innovation in Safety
Toyota has long been a leader in safety innovation. This year is no different, with most Toyota models coming with a suite of safety features that'll protect you and your entire family.
Safety Sense Improves
Safety Sense, Toyota's patented line of safety features, continues to be a mainstay in all modern models. You can count on these features and more in every modern Toyota —
Pre-Collision Systems can detect pedestrians, cars, and other potential hazards, reducing the rate of crashes across the board.
Dynamic Radar Cruise Control provides cruise control that adapts to the cars around you, giving you a driving experience that has never been easier.
Lane Departure alerts monitor where you're at on the road, letting you know if you've drifted out of lanes or onto the shoulder of the road.
Automatic High Beams detect the darkness around you, switching in between high beams and low beams to keep every driver protected and keep your visibility clear.
Road Sign Assist reads the signs around you and projects them onto an interior display, helping you navigate in a multitude of weather conditions.
Safety Features To Protect Your Children
Toyota understands that when it comes to a vehicle's safety, customers want to make sure that their little ones are protected first and foremost.
While the Safety Sense suite has placed Toyota at the top of ratings regarding vehicle safety, they know that you can never do too much to protect little passengers. This was the driving force behind the new tech Toyota recently announced, Cabin Awareness.
Cabin awareness is designed to monitor everyone who is sitting in the car, letting you know if someone is still inside the vehicle after turning it off.
Alerts are sent to your phone to then warn you that a passenger is still inside, preventing any possibility of an accident.
This feature is slated for the future so we can't announce the exact timeline of its release but we can promise you that it will lead the entire auto industry in additional child safety features and technology.
But, before that technology hits the market, you can rest assured that current models of Toyota have your children's safety in mind too. All modern Toyota's come with LATCH connection, made to secure car seats safely. That feature, alongside the advancements in technology and the Safety Sense suite, make Toyotas something worth considering investing in.
4runner Turns 40
Another exciting development is that 2023 marks the 4Runner's 40th anniversary, which Toyota is keen on celebrating.
The 4Runner stands out as an iconic SUV with off-roading capability and power that is reliable and impressive and has served as a mainstay in thousands of families since 1984.
Now, Toyota has found the perfect way to pay tribute, announcing the 2023 4Runner 40th Anniversary Special Edition. Based on the 4Runner's SR5 trim the anniversary edition will have both luxury and performance to boot.
It's a limited edition, has a unique colorway complimented by small emblems and details, and, if you end up getting your hands on the anniversary edition, you'll have one of 4040 models – something truly astounding. Pricing has yet to be announced but it's certain to go on sale later this year. Stay up to date on Mount Airy Toyota's digital model showroom here to make sure you have a chance at securing your own.
Finding What's Next
All of the news and upcoming releases surrounding Toyota can be a bit overwhelming. Even more daunting, we never know just what the future holds. There is one way, however, you can eliminate some of that uncertainty, and it's by going with a car dealership with experience.
Mount Airy Toyota has been long committed to providing the best car buying experience for every customer. Whether you're looking for a new and improved Supra, an electric vehicle that pushes the boundaries of EVs, or getting your hands on a limited edition model like the anniversary 4Runner, Mount Airy Toyota has you covered.
So, now that you've found out what's next for Toyota, reach out to Mount Airy Toyota today to see what's next for you in your car buying journey.