The Toyota Highlander Hybrid: Packs a Punch and Saves You Money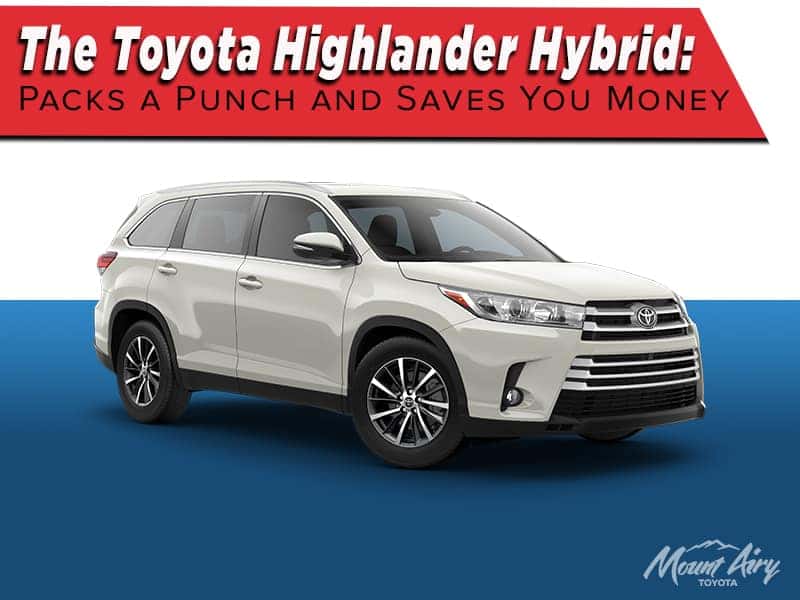 As hybrid technology advances, so does the popularity of hybrid crossover vehicles. The Toyota Highlander Hybrid is no exception to this growing trend of big-bodied, fuel-efficient, eco-friendly vehicles. As one of Toyota's top-selling vehicles, and its recent addition to Kelly Blue Book's Best 12 Cars of 2019 list, the Highlander Hybrid confidently marches into 2020—and at Mount Airy Toyota, we can't wait to showcase the all-new Toyota Highlander Hybrids on our lot.
Thanks to innovative vehicles like the Highlander, stereotypes of hybrids are changing. Once seen as pencil-pushing vehicles, slowly and silently sputtering down the road, the hybrids of today and smart and tough. And we're starting to see drivers of these types of vehicles as the same—smart and tough. We are finally getting to the point where "hybrid" doesn't equate to "less than." What's so great about the Toyota Highlander Hybrid is that it's a modern blend of a minivan and SUV, but without looking too large and bulky, thanks to its sleek curvature and design. It comfortably seats up to eight, but due to its long body, there is plenty of room to sit and move about.
The 60/40 split third-row seat allows for maximum room for passengers or cargo or both. Adaptability is the biggest feature of the Highlander Hybrid, as it offers something for just about anyone, and can fit a variety of lifestyles.
To add to the comfortable seating, the acoustic-type glass, insulated floorboards—along with an already-quiet engine—provide incredible noise reduction. This is great for long road trips when everyone in the back is watching a movie (on the 9-inch display screens!) or listening to music, or for those needed moments of perfect silence.
There is entertainment for everyone with those 9-inch display screens, Blu-ray Disc entertainment system, wireless headphones, USB ports, and tons more. "Bored" is never to be mentioned again—at least not while riding in the Toyota Highlander Hybrid.
How Hybrids Work
Hybrid vehicles combine an electric motor to a gasoline engine in order to create more power and better fuel economy. The Highlander Hybrid uses the following advanced technologies:
Regenerative Braking. This is a process of recapturing energy that is usually lost while the vehicle is coasting or braking and transferring it back to the engine.

Electric Motor Drive. This electric motor adds power when needed, such as when driving up a steep hill or conducting quick acceleration (passing cars or entering a highway).

Automatic Start/Stop. When the Highlander is sitting still—at a stoplight, stuck in traffic, etc.—the engine turns off. When it's time to move again, the engine quickly starts back up again at the touch of the gas peddle.
Reasons to Get a Hybrid
One of the best reasons to get a hybrid is the low service requirements due to less wear and tear on the engine. The electric component relieves the already-powerful Highlander engine, which keeps it running better and longer. Here are a few more reasons to go hybrid:
Low cost: one of the biggest draws to hybrids is their incredible fuel economy. With the Toyota Prius leading the market in terms of fuel efficiency, it makes sense the Highlander Hybrid does so well itself—up to 36 mpg/city, and up to 35 mpg/highway. These extra miles mean less time at the pump, which saves you money.
Better rates: many insurance companies offer discounts to hybrid owners. Some even have hybrid insurance divisions, where there are specialized agents who are educated in various state-to-state discounts and offerings for hybrid drivers. One company in particular, Travelers Insurance, offers up to a ten percent discount for hybrids, as well as, other good-driver, multi-policy discounts.
· Incentives: Uncle Sam likes to see hybrid drivers on the road, and some can qualify for income tax credits. It's a good idea to check and see exactly what North Carolina's are by heading over to the State Legislator's website. There are quite a few listed and, when added up, hybrid drivers can end up with a substantial amount of savings.
· HOV Pass: one impressive North Carolina state credit is an HOV pass for hybrid drivers. There are even special parking passes offered for certain cases.
Though Hybrids may cost a bit more initially, through a plethora of mini-savings, such as dollars at the pump and various incentives and paybacks, coupled with the benefits to the environment, driving a hybrid is clearly worth it.