The History of Toast in Mount Airy
The next time you wake up in the morning, head into the kitchen, and pop a piece of bread in the toaster, you're going to think of two things that might surprise you — Mount Airy and Toyotas.
The small North Carolina town and the Japanese auto maker share an interesting connection when it comes to browned bread. As industrialism re-aligned the American food chain with sliced bread in every kitchen, Toyota exported its first automobile to the U.S. Twenty years later, Mount Airy — home to Mount Airy Toyota — became known as the Toaster Capital of the World.
A Short History of Toast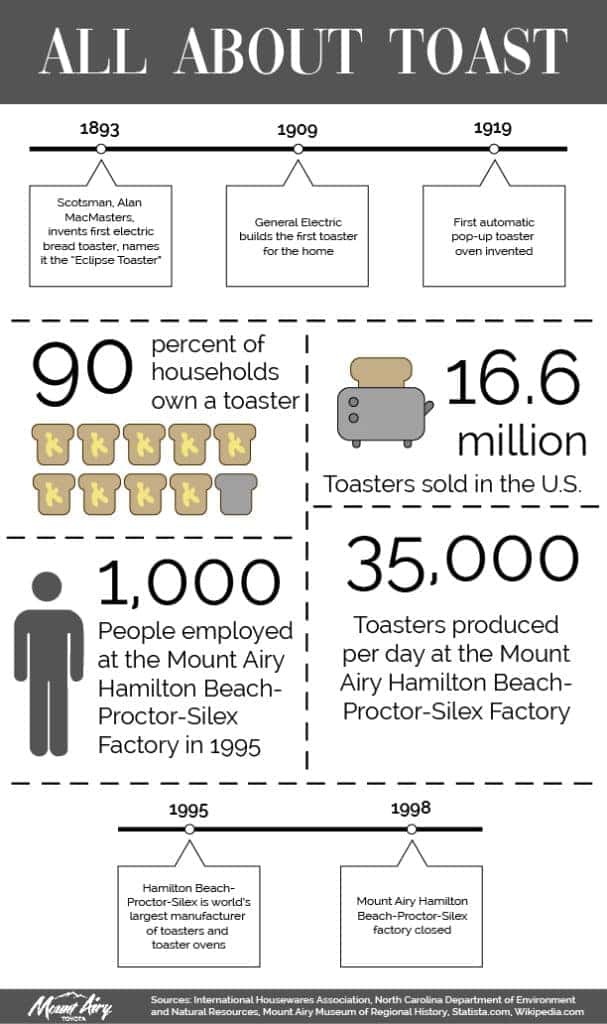 Toasters, first invented in Scotland in 1893, took quite a few years to catch on in domestic life. General Electric built the first toaster for the home in 1909, but toasters' signature pop-up feature didn't come along until 1909. What really turned up the heat on the toaster market was sliced bread. First sold in 1928 as "the greatest step forward in the baking industry since bread was wrapped," the new-fangled, pre-sliced loaves gave way to the saying "greatest thing since sliced bread." Wonder Bread took a big hunk out of the bread basket when the company started marketing pre-sliced bread nationwide in 1930.
World War II marked a turning point for sliced bread. Officials banned sliced bread in 1943 as a wartime conservation measure. The ban coincided with a 10-percent increase in flour prices and a presumed shortage of wax paper, which was wrapped around sliced bread to keep it from drying out. Americans were distraught, and a letter that appeared in the New York Times drove the issue home:
"I should like to let you know how important sliced bread is to the morale and saneness of a household. My husband and four children are all in a rush during and after breakfast. Without ready-sliced bread I must do the slicing for toast—two pieces for each one—that's ten. For their lunches I must cut by hand at least twenty slices, for two sandwiches apiece. Afterward I make my own toast. Twenty-two slices of bread to be cut in a hurry!"
After the war, as rationing had passed and pre-made, pre-packaged foods were a sign of prosperity, bread boomed. "Most consumers happily ate six slices of industrial white bread a day during the 1950s," according to a Salon article from 2012. Compare that to today's gluten-free menus and burgers wrapped in lettuce!
Six slices of bread a day gave way to a demand for mighty little toasters designed for each and every home, so in the late 1950s, the Proctor Electric Company served up a thoroughly modern plant built specifically to produce electric automatic toasters in a tiny town called Mount Airy.
During the initial excavation phase of the plant, a large Native American burial ground was found on the site, according to the Mount Airy Museum of Regional History. Newspaper accounts of the day report that archeologists believed the graves to be between 300-600 years old. Sadly, there was no oversight to protect these grounds and an open invite to "hunt relics" was even issued to the community at large.
Mount Airy's toasters shipped out across the nation. Just two years after the plant opened, it produced its 1,000,000 toaster. Close to 50 models were manufactured at the site and sold under the brand names of Sears, Montgomery Ward and Universal. In 1960, Proctor Electric Company merged with the Silex Corporation, and later with Hamilton Beach. A case study issued by the North Carolina Department of Environment and Natural Resources in 1995 reported that Hamilton Beach-Proctor-Silex was the world's largest manufacturer of toasters and toaster ovens. The company's Mount Airy facility employed 1,000 people and produced 35,000 toasters per day. By 1998 the plant was closed.
Not that toasters have fallen out of style. From early models with two slots, to four-slotted models with a variety of settings, to novelty toasters that brand an image of Hello Kitty or Darth Vader, toasters continue to be a kitchen staple. Whether for breakfast pastries or waffles, bagels or strudels, wheat bread or white, the toaster is a reliable friend.
Toyota's Toaster Connection
Just as Wonder Bread began selling sliced bread in the 1930s, Toyota started producing cars. A division of the Toyoda Automatic Loom Works was devoted to manufacturing automobiles in 1993. Toyota Motor Co. was established as an independent and separate company in 1937.
The changed economic and industrial landscape of the 1950s brought about the toaster craze and the first Toyota to be sold in the United States.
There's a saying in the automotive business — that certain cars look like "a toaster on wheels." Toyota's now defunct sister brand, Scion, was one of the champion makers of toaster cars with its Scion xB, introduced in 2004.
"The original xB is perhaps the most gleefully rational car design to come out in the past decade, and somehow that basic, unassuming design manages to be fun as well," wrote Jason Torchinsky in Jalopnik.
In 2007 the second generation xB, rounded out the five-door hatchback's boxy corners. Improvements earned the xB a Top Safety Pick from the Insurance Institute for Highway Safety for six years in a row. With a host of customizable looks and out-of-the-box boxy design, the xB appealed to a younger car buying market. Kia — a company with abysmal ratings in the mid-2000s — saw an opportunity. The Soul rolled out in 2009 complete with dancing hamsters who earned Nielsen's most effective automotive ad award two years in a row. The term "toaster car" even has been attributed to Kia Motor's chief designer's 12-year-old daughter.
The xB was discontinued in 2015 and, along with the Toyota Matrix, was replaced by the Scion iM. However, the Scion brand as a whole was scrapped and the iM turned into the Toyota Corolla iM for 2017.
Toyota has plans to develop a new box on wheels. These "e-Palettes" are described as "fully-automated, next generation battery electric vehicle[s] designed to be scalable and customizable for a range of Mobility as a Service businesses." Or in other words, cute cargo containers. The e-Palettes conception includes partnerships with Amazon, Pizza Hut, and Uber. Might a roving, autonomous box deliver breakfast with a side of toast? We'll see, as Toyota hopes to release the vehicles in time for the 2020 Olympics in Tokyo.
Mount Airy and Toyota Today
Though our town may no longer be the Toaster Capital of the World, we have other interesting claims to fame. Our address of 508 North Andy Griffith Parkway, Mount Airy, NC heralds the birthplace of Andy Griffith and his friendly town of Mayberry. Our dealership, Mount Airy Toyota, is Surry County's flagship dealer with an award-winning sales team. In fact, you Mayberry well find our selection and service is even better than sliced bread.