Happy Mother's Day: How To Gift A Toyota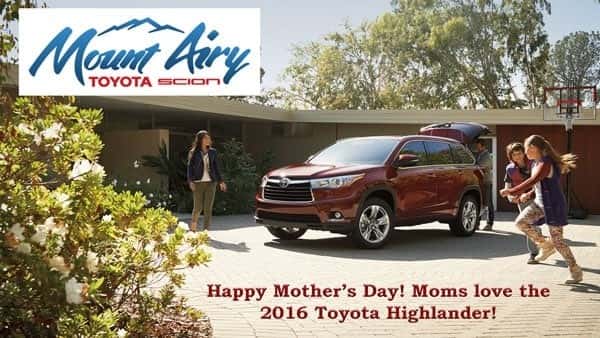 Mount Airy Toyota explains why gifting a 2016 Toyota Highlander to the mom in your life is the perfect Mother's day gift!
She's a great mom, right? And she hauls everybody around…all the time. Wouldn't she love a new 2016 Toyota Highlander? With the 2016 Toyota Highlander she could haul the whole crew, friends, pets, equipment, snacks and…maybe a few shopping bags – Mom would be awfully grateful if you bought her a car: You might score a couple of treats yourself!
The 2016 Toyota Highlander is inconspicuous and sensible, according to Car and Driver. They call it a "well-controlled ride…focused on interior niceties and storage." Nice! But again you ask: how would you gift a car?
Simple. The basic step involved in gifting a vehicle is simply to transfer the title of ownership. Once the paperwork is complete, take it to the Department of Motor Vehicles and complete the transfer. That's it! Gifting a car is yes, that simple. Now let's get back to that 2016 Toyota Highlander…
The latest generation of Toyota Highlander has driver-assistance features. It has pre-collision warning, blind-spot warning, lane-departure warning, and rear cross-traffic alert. Now, isn't this just what Mom needs? She's got you, your teammates, the dog, and everyone's cell phones all in the car, all ringing, all beeping, all barking…get the picture?
Edmunds calls 2016 Toyota Highlander "a top contender among family-friendly crossover SUVs" They go on to say "the three-row Highlander hits the sweet spot, offering front- or all-wheel-drive, a choice of four-cylinder or V6 engines, and five distinct trim levels, each with a successively longer list of features."
Seating eight, it's obvious that the 2016 Toyota Highlander is built to ferry passengers around. Shouldn't Mom do that in style? And with maximum guarantee of safety – especially with all that chaos in the back, right?
Ask your dealer today about gifting a 2016 Toyota Highlander for Mom, on Mother's Day. She's an exceptional mom; gift her an exceptional car. The 2016 Toyota Highlander: a family hauler with style, safety and a quiet, comfortable ride for drivers and passengers, alike. Call Today!