A Fall Drive in Mount Airy, NC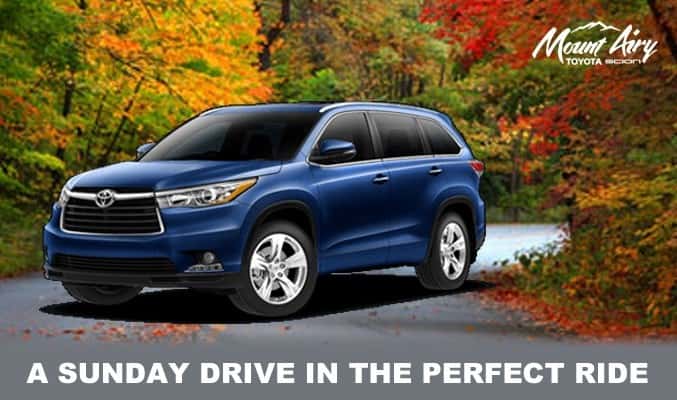 Mount Airy is vibrant this time of year. Bursting with fall colors, a drive through the North Carolina Mountains will take your breath away. At Mount Airy Toyota Scion, we love being able to take a Sunday drive to see fall foliage, buy apples from local orchards, have a picnic in the park or enjoy a wine tasting at a local vineyard.
Here are some of our top picks for a local Sunday Drive:
· Pilot Mountain- This local attraction can be seen for miles around and is truly one of our favorite spots to hike. Enjoy the bright fall leaves as you drive up the mountain to the stunning lookout point. Get out and hike around the knob (as locals call it).
· Blue Ridge Parkway- The Blue Ridge Parkway is one of America's Best Scenic Routes. A short drive down the parkway will lead you right to Marby Mill- located in Meadows of Dan. It is open seven days a week through the end of October (so hurry). It features demonstrations in molasses making, apple butter making, and emphasizes pioneer culture.
· Elkin, NC – A short drive away, Elkin is a quaint town near Mount Airy located in the rolling foothills of the Blue Ridge Mountains. Drive past well-maintained dairy farms or enjoy a walk through their local greenways.
· Apple Orchards- There are several local apple orchards near Mount Airy to visit during fall. One of our favorites is Ayers Orchards. You can plan a picnic or hike around the orchard. They also allow you to pick your own apples.
· Local Vineyards- North Carolina is becoming well-known for its wineries. Around Mount Airy, we have several from which to choose. We like Jolo Winery and Vineyards located in Pilot Mountain. The drive through the mountains is spectacular and their wine tasting is delicious. They also serve lunch and dinner.
· Riverside Park- Whether you want to walk along the greenway trails or fish in the river, a drive to Riverside Park will not disappoint. The park is a favorite spot for locals. The trees surrounding the river display all ranges of colors.
At Mount Airy Toyota Scion, we know Sunday drive wouldn't be complete without the perfect ride. We recommend the roomy, but sporty Toyota RAV4 for those who like to go off the beaten path or the Toyota Highlander for those with large families. Both vehicles are ready for a test drive. Call or stop by today to see which Toyota is right for you. We offer financing options to fit any budget.