The Super Supra – Race Classic Reimagined
The Supra is coming back. Everybody clap your hands.
A Little History
Toyota launched the Supra in 1978 and it had a good run until 2002. Its design was derived from Toyota's Celica, but in 1986 the A70 Supra was launched and distinguished itself from the earlier Supra version. Toyota's race car designs go all the way back to the 2000GT.
We saw the first generation A40, from '78-'81, followed by the A60 second generation that ran until 1986. The A70 hit the roads from 1986-1993, and its final run, the A80 and its fourth generation, saw the streets from 1993-2002. That was the last we saw of the Supra—until now. The fifth generation is on its way, and it will be all we could hope for.
The good news is, the new Supra will debut to the public in February 2019 in Daytona, where we will see what Toyota has landed on with its design, its capabilities, and its final look. We got a peek of the Supra at the Geneva Motor Show, but that was just that—a peek. NASCAR's Daytona race will show us what the Supra can really do. The racecar we will see at Daytona will translate into a driveable sports car for America in 2019. Let's look at what's coming.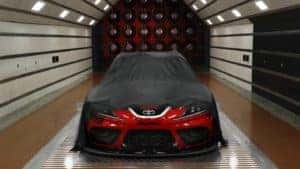 Supra Racing
Unveiled at the Geneva Motor Show in March 2018, and in partnership with BMW, Toyota's GR Supra Racing Concept racecar was modeled on the 2014 FT-1 concept. But what we can all drive (the 5th generation Supra, proper) will launch in its newest form in the Spring. The Supra still has as much mystery attached to it as what we do know. Details are going to be a surprise, but we can confirm that a four-cylinder will be available along with 6-cylinder, as one would expect for a sports car. And Toyota may offer a manual option on the Supra, in addition to automatic transmission.
In Madrid, Road & Track along with the Australian Car Advice asked assistant chief engineer Masayuki Kai about a manual transmission model. Kai told them "It purely depends on the reaction of the market."
So for those stick-shift enthusiasts that really want to put that horsepower to good use, we can only hope that we get that manual transmission. Kai assured that "If, for example, U.S. customers are demanding strongly that Supra needs a manual-transmission car, then we will plan for it." For those longing for the versatility and full control of a manual transmission, we can only hope that Toyota finds in the American market a solid demand for the stick.
What's Coming Next
They've been teasing America with the possibility of a new Supra for a few years now, but we are going to see it, finally. And it's going to be a sexy revision of what they had years ago. We will see a new model with sleek lines, a low-to-the-road ride, and 225 to 320 horsepower. It will have a tighter, smaller frame (length at 172.4 inches, 73 inches in width, and standing 50.8 inches high) with a low center of gravity. Lower, in fact, than most of the other sports cars on the market. As a matter of fact, its center of gravity is lower than the Lamborghini Aventador. The only thing out there lower that the upcoming Supra, for its CG, is the Porsche 911 GT3 RS.
The Supra will weigh almost 3,300 pounds and have a 97.2 inch wheelbase. With a pronounced nose and a ducktail spoiler, the Supra will breeze through air resistance and make for a dynamic driving experience. It has a 50:50 weight distribution. All in the package of a stiff A90 chassis.
It will have rear-wheel drive, a great bonus from the collaboration between BMW and Toyota. Since 2012, the two companies have worked together to work on things like rear-wheel drive in sports cars, lithium batteries, and revamped engines. And the Toyota Supra will come out blazing as a brilliant product of this collaboration. Those wheels will be driven by a turbocharged, 3.0 liter, inline-six engine. And the price? Around $40,000 for a smooth, zippy ride.
They are taking the vintage Supra of the late 1990s and revamping it. To hype up our sneak peek, they camouflaged it in their test drive reveal. The 5th generation of the Supra, when first revealed at its test drive, looked to battleships of the First World War for its camouflage design inspiration. Dan Beckett, Head of Art at Toyota Europe, said: "During our research we looked at the dazzle camouflage applied to battle ships in the First World War. The effect of these bold, intersecting geometric patterns was not to hide the boat's existence but disguise its shape and even the direction it was facing." The trick that the camouflage played on the eyes hid from us all that the Supra's shape and design will promise, but we will soon see it in its full glory.
Beckett continues, "But we also drew inspiration from the Toyota Gazoo Racing livery, which uses large black-and-red trapezoidal shapes set on a white background. And the most recognizable visual cue in motorsport—the waving chequered flag." The response on social media and among Supra fans has been to ask for a camouflage paint option, when the Supra becomes available in 2019 to the masses.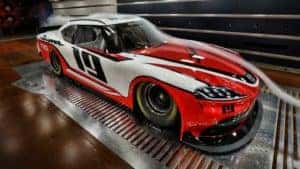 And Supra enthusiasts, who have moaned the loss of the model in 2002, can only cheer at its return. The Supra, historically, has been a more affordable sportscar positioned in contrast to the more expensive Italian rivals. So, the Supra's return fills in a gap missing in the car market—and its one that needs to be filled. And though it will debut to the public in 2019, it may not be available for purchase until 2020.
Those few privileged enough to test drive the protoype in Madrid have issued glowing reports. Botchi Santos at motioncar.com reports, "The Supra felt divine on all these roads. A quick spring to 240 km/h was indeed jail-baiting, but to my defense, I was simply keeping up with the general speed of traffic on the highway." Think of it: divine driving. Speed, ease of driving, a responsive wheel—all things we value in a sports car.
Santos still owns as 1996 Supra—a targa-top, twin turbo 6-speed model 2JZ-GTE engine—so what he says next should make us all really take note: "Neither does it feel like my Supra, which is heavy and somewhat sluggish in comparison. It feels alert, responsive and playful, without being frisky, edgy and nervous. You know it has your back." The fifth generation Supra will squeal past its predecessor with ease and speed.
Santos wraps it up nicely when he offers: "If there's one thing you should keep in mind when considering the MKV Supra, it's that you shouldn't think of it as a reboot. Instead, think of it as a reset."
Though they wrapped the Toyota Supra in camouflage when we first saw it, the reveal at Daytona in a few months is going to be worth the wait. At Mount Airy Toyota, we are ready.