2017 Toyota Rav4: Perfect For Family Road Trips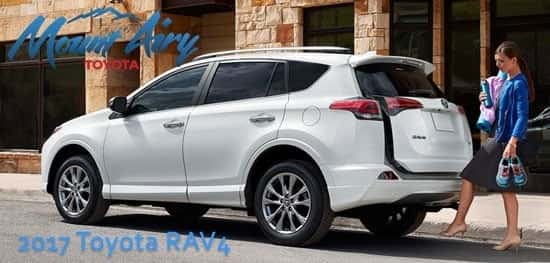 Looking for a family SUV in Mount Airy? Need a family car in Elkin? A compact SUV in Galax, VA? Mount Airy Toyota has a variety of 2017 Toyota RAV4 that your family will love!
The 2017 Toyota Rav4 is safe, roomy, and family friendly. A great choice for family road trips. What began as a small, sporty SUV, the Rav4 has evolved over the years into a respected family vehicle, all the while maintaining a sleek and modern feel.
There are a few important reasons to consider the 2017 Toyota Rav4 as your next family vehicle. For one, it's incredibly safe. With Toyota Safety Sense (TSS), you get a ton of safety features that come standard with the all-new Rav4. Impressive features such as a pre-collision system including pedestrian detection, lane departure alert with steering assist, dynamic radar cruise control, and automatic high beams, all keep you and your loved ones safe on every trip you take. And did I mention these come standard?
Another great reason the 2017 Toyota Rav4 is a perfect family driver is its roomy interior. The new Rav4 seats up to five people comfortably. Both front seats provide 57.3 inches of shoulder room, and the back seats allow 55.4 inches. Pretty impressive for a small SUV. And regardless of where you sit, the front or the back, there is plenty of room to stretch and relax. Is there anything worse than being cramped on long trips?
One of the biggest space users on any family road trip is luggage. And in the 2017 Toyota Rav4 there is room for that too. The back seats fold down if extra space is needed, but we're sure you will find the trunk to be very spacious on its own. With all seats in place, there is 38.4 cubic feet of storage area, and the cargo volume actually increases to 73.4 cubic feet when the seats are down. And due to the low stance and wide frame of the 2017 Toyota Rav4, there is easy access to every inch of the vehicle.
Come test drive the all-new 2017 Toyota Rav4 today. Bring the entire family and see just how comfortable and roomy it truly is.