2016 Toyota Tacoma: A Transformational Leader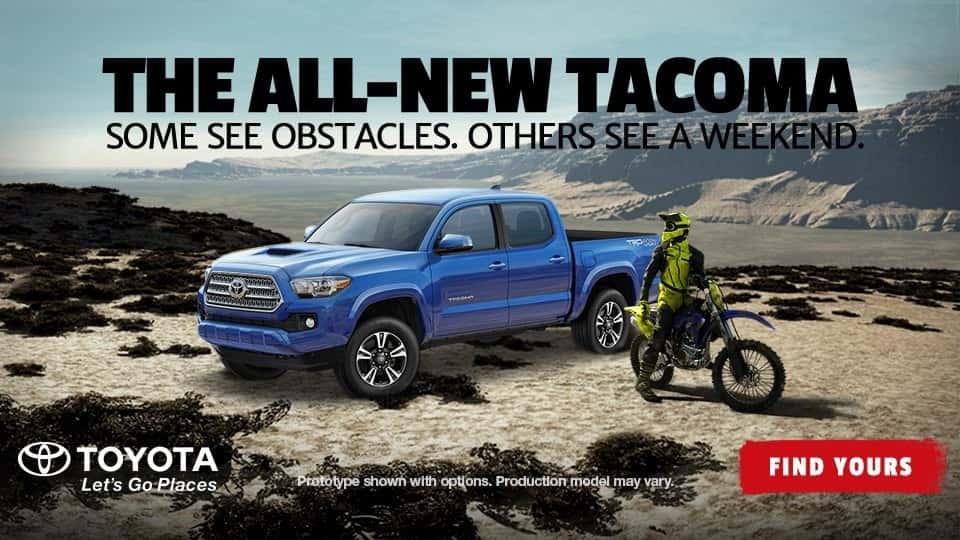 In Mount Airy NC, pickup trucks are a way of life. And the 2016 Toyota Tacoma is a prime example why we love driving trucks around here. At Mount Airy Toyota Scion, we have the 2016 Toyota Tacoma Limited V6 Truck Double Cab 4×4 and the 2016 Toyota Tacoma TRD Sport V6 Truck Double Cab 4×4.
It's not difficult to see why the Toyota Tacoma has so many loyal drivers. A vehicle with consistently sharp looks, advanced technology, and expert performance should have a cult-like fan base. And with over 170,000 trucks sold last year, it looks as though the arrival of the 2016 Toyota Tacoma will be well received.
The exterior size and shape have not been changed much for the 2016 Toyota Tacoma. The decision to keep the Tacoma's look the same is not one of laziness or lack of innovative thought, it is simply because there is no change needed. The iconic shape with its rounded sides that lead to a tough, toothy grille and oval-shaped headlights are recognized by just about everyone. Why change something that already works well? The few changes that do apply to the 2016 Toyota Tacoma are small. The offset wheelwell lips are gone, giving a more sophisticated, minimalist look. Also, the new model gets a three-piece bumper with resin side covers, and the incorporation fiberglass materials to reduce weight.
Since Toyota did away with standard versions of the Tacoma last year, there are now only two cab options, the Access or Double cab. The Access cab is a two-seater with two smaller fold-up seats in the back. This style is best for those drivers who need some extra room for gear or groceries, but not ideal for family off-roading trips. For more room, go with the Double cab. This style has a full back seat that comfortably holds three adults. The Double cab also has storage under the back seats and adjustable headrests. If there is such a thing as a family-truck, this is it.
In terms of performance and technology, the 2016 Toyota Tacoma is still on top. Its popular V-6 engine provides great fuel economy and packs a huge punch. And with a 6.1-inch touch-screen display, and Siri Eyes Free compatibility, it's easy to stay connected and tough not to be impressed.
If you are looking for a new pickup truck in Bristol VA or Abingdon VA, Mount Airy Toyota is a short drive away and we promise to make it worth the drive!