2016 Toyota Sienna and Toyota Highlander: This Year's Best Family Vehicles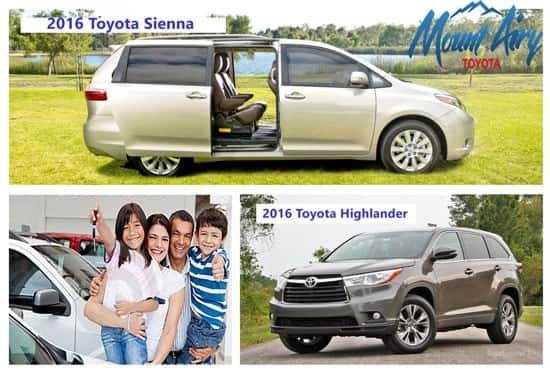 Mount Airy Toyota has great prices on two of Kelly Blue Book's Best Family Cars of 2016 list, the Toyota Sienna and Toyota Highlander. Both offer high marks in safety, performance, and comfort. And, the 2016 Toyota Sienna and Toyota Highlander both provide plenty interior space to fit you and your family comfortably.
Do you wish family drives through Floyd or Martinsville, VA could be fun again? Or even just to make a quick trip around town without feeling hot and cramped inside a vehicle your family has outgrown? Maybe it's time you joined the legions of minivan drivers by choosing the top-of-the-line 2016 Toyota Sienna. The all-new Sienna has more than enough room throughout its cabin. It seats seven- to eight-passengers easily, still allowing plenty of cargo space. And like the 2016 Toyota Highlander, the 2016 Sienna's back row easily folds and slides out of the way so that your family can pile in with ease. Plus, with its all-wheel drive and STAR Safety System, you can feel confident driving in all kinds of weather. The 2016 Toyota Sienna also has hands-free capabilities and comes with the Entune Infotainment system.
But, if you are not yet ready to make the move to the minivan, and need the roominess the family van provides, look no further than the 2016 Toyota Highlander. One of Toyota's larger SUVs, the Highlander has a tough exterior look with a soft and plush inside. With the 2016 Highlander, you have the choice of seven- or eight-passenger configurations. And the second row seats easily collapse and slide out of the way to make in and out traffic simpler. The back seats come with the option of a Blu-Ray entertainment system, which does well to keep everyone happy on those longer trips. The 2016 Toyota Highlander also comes with Toyota's Entune Infotainment system that streams music through its 6.1-inch touchscreen display.
Toyota has you covered whether your family is ready for a minivan or not. Stop in at Mount Airy Toyota today and see which is best for you, the 2016 Toyota Highlander or the 2016 Toyota Sienna.