Experience End-of-Year Savings at Mount Airy Toyota!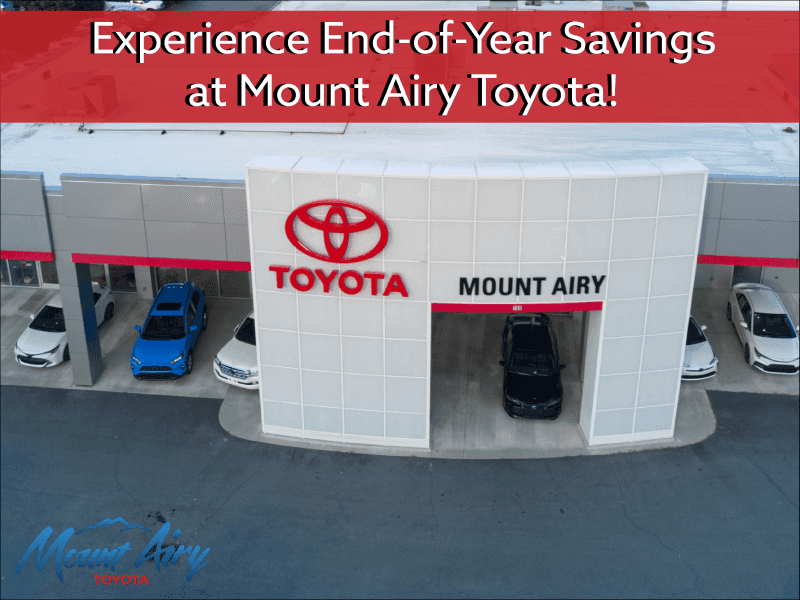 What a year 2021 has been. If you're like many other people, you're ready to welcome 2022 with open arms and get going on your New Year's resolutions.
But wait! Before you start looking ahead too far, think about some of the deals you can get at Mount Airy Toyota as the year comes to a close. We've got vehicles to move and quotas to meet, and we're not shy about it! Below, we'll talk about the advantages of purchasing a car within the next few weeks and provide some practical tips for maximizing your savings.
End-of-Year Incentives
If you are often running late to places and events, end-of-year car sales are the perfect opportunity for you! The deals you can get as December closes could turn your tardiness into an advantage. Mount Airy Toyota is one place where being late to the party could save you thousands of dollars!
You might know the best months of the year to buy a car are October, November, and December. That is primarily because dealerships hope to clear off inventory to open space for the following year's models.
What makes December such a special sales month is that all three dealership sales quotas (monthly, quarterly, and yearly) culminate at the end of the year. This triple deadline tends to add a little extra motivation for dealers to sell vehicles! It also means that you have more negotiating power when you walk into the dealership.
Deadlines may not always coincide with the calendar month, depending on the specific year. In some years, the deals fizzle out a few days before December 31, but they sometimes last for a couple of days after New Year's. The safest approach is to start shopping early and contact the dealership to get the exact dates.
Weekdays Savings
The day of the week you purchase a vehicle can also make a difference with what you pay. Generally speaking, Mondays are ideal because fewer people show up at dealerships to negotiate deals on a Monday. Tuesdays and Wednesdays can also be excellent days for saving.
The worst days to buy a car are Saturday and Sunday because that's when dealerships are the busiest. If end-of-year sales are happening at a dealership on a Monday, you can score big on your dream model!
General Car Buying Tips
Now you have an idea of why buying a car at the end of the year can be a smart move. Along with researching the specific deals you should prepare for, consider these strategies for boosting your savings:
Don't rule out a new vehicle.
If you have a strict budget in place for your car purchase, you may assume that you must go with a used model. In some cases, that might be true. But before you make a definitive decision, consider your options.
Going with a used car is not the only way to save money. If you purchase a new vehicle with excellent reliability, you could save more money in the long run. However, that assumes that you choose a suitable model, get the best price possible, and drive it for at least a decade. No matter how stellar a vehicle's reputation is for reliability, the more years it has been on the road, the sooner it will run through its life cycle.
Opt for a model that will last.
Without question, the wisest method for choosing the right car is to find one that will last you at least ten years. A vehicle's appreciation value drops the minute you drive it off the lot, and the only way to get the most from your investment is to carefully choose a model with high-reliability ratings that will fit your lifestyle instead of only considering the looks.
Don't bust your budget.
Whether you opt for a new or used vehicle, don't go over your budget with the purchase. You can bet that you'll have more to worry about than your car payment at some point! Make sure your budget is realistic, and leave room for the various unforeseen expenses that life tends to bring.
Conclusion
The end of the year truly is the season to buy a car! Take advantage of the fact that dealerships must move vehicles off the lot and fulfill several quotas. At Mount Airy Toyota, we have loads of new and used crossovers, pickup trucks, sedans, and more. Give us a call or visit our website to learn more information, and remember to schedule a test drive for your dream model!