Why You're Smart to Buy a Toyota Camry Now & Always
You have seen them out on the road, possibly owned one, and very likely have ridden in a Toyota Camry before, whether getting a ride from a family member, friend, or ride-sharing service —want to know how we know this? It is because the Toyota Camry is the best-selling sedan for the past 15 years in the United States.
The year of 2018 was no different for the steady Toyota Camry sales, and brought on the redesigned, stunning 2018 Toyota Camry, which reworked the sedan that America knows and loves from bumper to bumper. Here at Mount Airy Toyota, we can assure you that if you're considering purchasing a 2018 Toyota Camry, you're making the right choice.
Why is it smart to buy a Toyota Camry?
The reviews and ravings about the Toyota Camry speak for themselves, but we can cover the highlights. The Toyota Camry is one of the best vehicles in the midsize car class, and for good reason. It's a blend of practicality and dependability, alongside an edgy, sportier look outside and inside with great, new standard features across the levels. The sportier look blends into the driving experience as well, delivering an athletic, agile drive that will transform all your previous thoughts about the Camry.
The Camry still has the best combination of quality and value in its class, which is why US News Car Rankings named it their 2018 Best Midsize Car for the Money.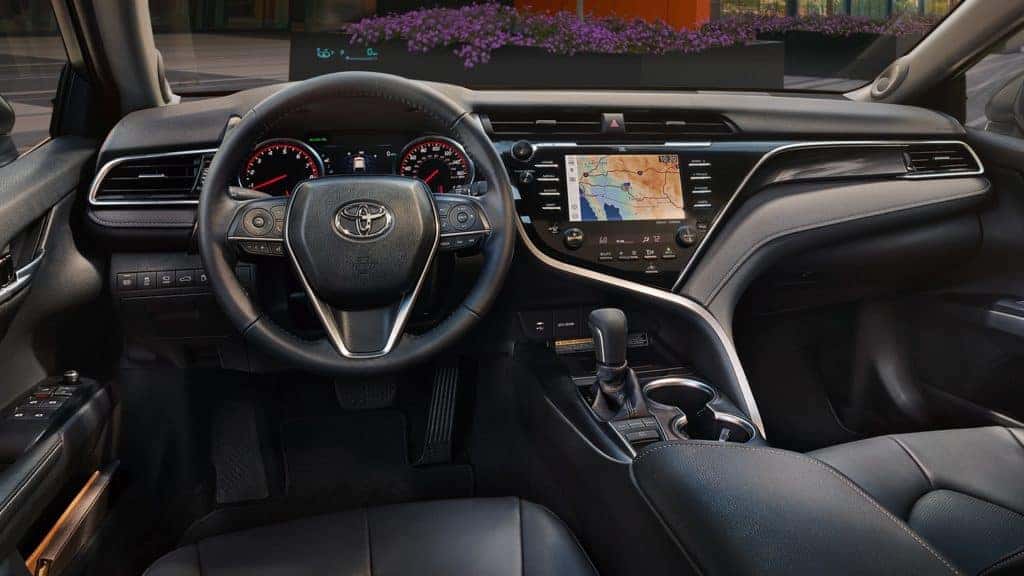 What are the trim levels and features?
Ranging from the least expensive, but far from truly basic L trim to the most expensive, all-out XSE trim, you will find the Camry that fits your wants and needs.
According to cars.com, the most important features per trim level are as follows:
Standard features (L trim level, $24,380 with destination):
203-hp, 2.5-liter four-cylinder engine
Eight-speed automatic transmission
16-inch wheels
Manual air conditioning
Backup camera with fixed backup lines
Bluetooth
Cloth seating
Six-way manually adjustable driver's seat; six-way manually adjustable front passenger seat
Adaptive cruise control (over 25 mph)
Single USB port
Tilt/telescoping steering wheel
7-inch touchscreen with Siri Eyes Free, Google voice controls, iPod connectivity and Scout GPS smartphone application compatibility to port navigation from your phone to the touchscreen
The LE trim level ($24,885) adds:
17-inch alloy wheels
Eight-way power-adjustable driver's seat
60/40 split-folding backseat
Overhead console with map lights and sunglasses storage
Anti-theft alarm
The SE trim level ($26,085) adds:
Single-zone automatic climate control
Sport SofTex-trimmed front seats (faux leather/cloth combination)
Leather-trimmed steering wheel with paddle shifters
18-inch black alloy wheels
Performance-tuned shock absorbers
Performance-tuned springs
Performance-tuned stabilizer bars
Rear spoiler 
The XLE trim level ($29,335) adds:
Standard suspension
Regular steering wheel without paddle shifters
Dual-zone automatic climate control with backseat vents
Blind spot monitoring system
Three USB ports
Backup camera with dynamic predictive backup lines
Seven-inch high-resolution gauge cluster display with vehicle vitals and options
Leather-trimmed upholstery
Eight-way power passenger seat
Heated front seats
Adaptive cruise control (all speeds)
Eco, Normal and Sport modes
Proximity keyless entry with push-button start
HomeLink
The XSE trim level ($29,885) adds:
19-inch black alloy wheels
Performance-tuned shock absorbers
Performance-tuned springs
Performance-tuned stabilizer bars
Steering-wheel-mounted paddle shifters
Smoked headlights and taillights
Rear spoiler
Dual-exiting exhaust with quad tips
The optional 301-hp V-6 engine on the XLE ($35,285) or XSE ($35,835) adds:
Panoramic glass roof with power tilt/slide moonroof
Qi-compatible wireless smartphone charging
Head-up display
8-inch touchscreen
JBL stereo
Efficient. Enjoyable. Excellent.
The trim levels of the 2018 Camry deliver different experiences, each that are far from boring. Many argue that the biggest changes to the 2018 Camry happened underneath the hood, with the new structurally enhanced chassis. The new design philosophy delivers architecture that uses ultra-high-tensile steel and unique construction techniques to improve rigidity, meaning that the vehicle is now literally strengthened from the ground-up. You can feel the difference during your driving experience, where handling and steering responsiveness, ride quality, and noise control are all seriously improved.
Engine options across all trim levels are new to the Camry, including the base 2.5-liter-four-cylinder engine with an eight-speed automatic transmission, as well as the optional 3.5-liter V-6 engine with D-4S direct fuel injection, and an eight-speed automatic transmission.
The Camry Hybrid meets 52-MPG EPA, with 208 total system horsepower from its 2.5-liter four-cylinder gas engine with a single electric motor. This Hybrid model provides a smooth switch between all-electric and batter-assisted driving, especially in Sport mode. The battery pack for the Camry Hybrid improves weight distribution to aid handling, and improves acceleration from boosted electric power, providing a ride equivalent to a traditional transmission with the hybrid efficiency of fuel economy.
Depending on the trim level, the LE has a lithium-ion pack, offering an extra six miles per gallon compared to higher trim levels, while the SE and XSE have a nickel-metal hydride that offers higher performance despite a heavier setup.
The new rear suspension in the 2018 Camry delivers an overall more composed ride-and-handling mix, particularly over bumpy roads.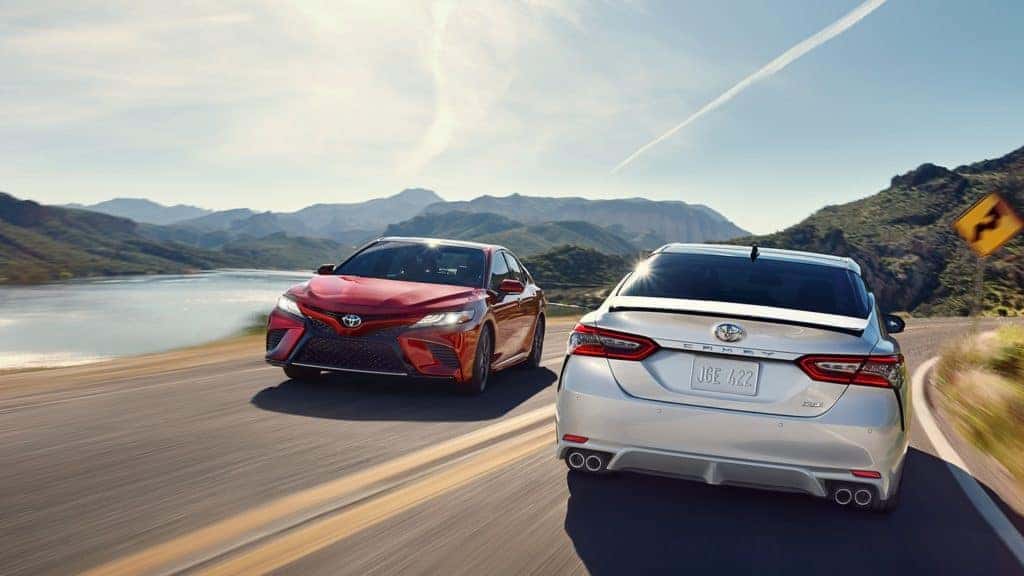 Not only redesigned, but styled for 2018.
What's new in the Toyota Camry? Well honestly, almost everything. The 2018 brought innovative new design and overhaul, making the most exciting Camry ever made. From outstanding fuel economy, the option of going Hybrid, to standard features, there's a lot of to love about the 2018 Camry.
Upon first glance at the 2018 Camry, there are noticeable changes from previous models. The Camry has undergone a pretty drastic styling makeover. The first aspect that stands out to the observer is the updated color palette with a two-tone black roof and sleeker overall body shape, creating a more attractive and aggressive profile and provides better aerodynamics. The Camry's body is actually lower, wider, and longer than prior models, and the wheelbase have grown 1.9 inches.
The interior matches the exterior, using high-quality materials throughout, with an attractive and functional design. You will find soft touch materials on the dash, console, and door trim, as well as accent stitching on the front and rear seats. Tasteful design and light leather brings the interior together into a modern, airy style.
Like previous models, the 2018 Camry seats five people, with roomy and supportive seats and a great, quiet cabin. Drivers over 6 feet tall will find more than enough head, shoulder and leg room in the vehicle, especially in the driver's seat where there is a great wheel-to-pedals ratio.
The intuitive infotainment system is a crowd pleaser, with bright menus and good overall performance. The SE model offers a wireless charging dock, which is a feature you're also a newer smart phone user. You also cannot forget about the cargo space either; the Camry offers about 15 cubic feet of trunk space, which is plenty for a dozen shopping bags or your luggage as you travel between cities.
Talk to me about safety.
Safety is a major selling point for those interested in a Camry. The Toyota Camry strikes a perfect balance between safety and cutting edge technology. It is important to note that every trim level of the 2018 Camry includes the Toyota Safety Sense Package. This package includes forward collision warning with automatic emergency braking and pedestrian detection, lane departure warning with lane keep assist, and high-speed adaptive cruise control.
The Camry toggles accordingly between high beams and low beams, detected by a windshield camera during nighttime driving that detects headlights and taillights of preceding vehicles. The 2018 Camry is an IIHS Top Safety Pick+ when equipped with LED headlights.
Everything aims to improve safety, as well as comfort in this vehicle, such as the re-styled dashboard and lowered beltline to improve outward visibility. The increased chassis, as mentioned previously with the Camry built from the ground-up, and increased body strength has led to improved occupant protection in an offset front of head-on collision. The Toyota Safety Sense Package bundles innovative features designed to protect you and your passengers from harm at no additional cost.
Who is the 2018 Camry marketed for?
Unlike the a powerful truck or minivan, the Camry is adaptable and does not fit into cookie-cutter market segment. It rides and drives as a shockingly sporty vehicle, with sharp steering and strong brakes, making it fun and exciting to drive. However, the Camry is also enjoyable and functional for its passengers, due to plenty of room in the front and back with both sets of seats engineered for improved ergonomics and increased foot room. The 2018 Camry also has an outstanding reliability rating of 4.5 out of 5, meaning this car will last throughout whatever phases of life you need it to.
Is it a family car?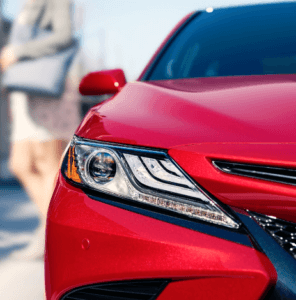 For years, families have remained loyal to the mid-sized sedan for its commitment to affordable and reliable transportation. While Toyota always follows through on their guarantee for excellence, the 2018 Camry is not simply a reiteration of previous Camry models. The 2018 is a new level of refinement and driving experience
According to IIHS vehicle ratings, the 2018 models include 2 rear seating positions with complete child seat attachments (LATCH), with 1 additional seating position with a tether anchor and the ability lower anchors from other seating positions. These anchors are easy to find, not too deep in the seat, and easy to maneuver around, making the Camry easily accessible for travelling with children in car seats.
Our customers are our family, here at Mount Airy Toyota, and this is a car we would absolutely feel safe and confident watching our family drive off in. The 2018 Camry is easily one of the most well rounded cars in its class, not to mention that it's easy to drive, fuel-efficient, loaded with technology, and so customizable between the multiple trim levels.
Why buy from us?
We, as well as our customers, love to brag on our excellent sales staff. Our staff has been with the dealership for years, and are not only well-versed in their field, but with our Mount Airy locale. Mount Airy Toyota has an award winning service department with excellent Google Rankings. After your purchase, you can rest assured that you have dealership with a service team behind you for any tune-ups your car might need.
Why buy now?
We know the holiday commercials can seem far off, but the season is upon us! Placing a shiny red bow on your family's new vehicle is not an impossible dream. In fact, around the holidays, and particularly, at the end of the year is the best time to buy a vehicle!
Your timing can actually save you thousands this November! End of the year sales are in full swing, and the holiday season is kicking off this Black Friday with deals you can't turn down! Outgoing models like the 2018 Camry are hitting especially sweet deals this time of the year, as it's time to bring the 2019 models into the lot.
What about resale value?
It's always smart to be in the know about the long-term value of your car. We all have experienced the feeling of driving off the lot with a new car and knowing it has dropped thousands in value. But, did you know that the 2018 Camry is rated #1 for resale value? Whether in a few years you're looking to upgrade or ready for a change, the Camry retains its value, carrying on the Camry legacy of reliability, longevity, and popularity for years to come. In fact, check out our pre-owned Camrys available now!
Come visit Mount Airy Toyota in Mount Airy, NC, shop online at mountairytoyota.com, or call 336.786.2118.
Com