A Used Pickup is a Good Pickup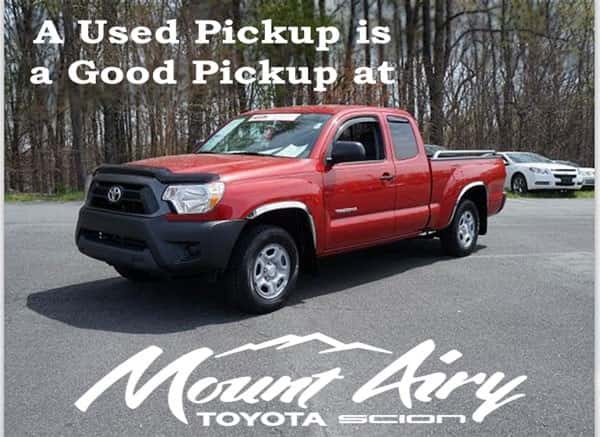 Choosing a pickup truck can be a stressful process, but it doesn't have to be. Whether you need a work truck or one for hauling the family around, I suggest you begin with the used options of a reliable dealership. A place like Mount Airy Toyota Scion has plenty of pre-owned pickup trucks to offer, and at low prices.
Truck brands such as Chevrolet, Ford, GMC, and Toyota are known for making pickups that last and maintain their value. These trucks are also easy and relatively inexpensive to maintain. This is why it's important to visit your local dealership and look at the used options first. You save money, time, and most importantly, you can stay stress free.
Before visiting the dealership, decide on a budget. Trying to work out how much you are willing to spend while shopping can prove difficult and often lead you to overspend. A quick tip if you are looking to finance is to use the 20 percent rule. You're monthly truck payment should not exceed 20 percent of your take-home pay. Also, if you are looking for a work truck, see if you can either write-off a portion of the payment or get your boss to cover some of the cost.
Choose the truck that is best for you. There is a big difference (literally) between a Toyota Tacoma and a Toyota Tundra. Do you need a family fun truck or a work truck? Knowing this will help determine if you need a light-duty, medium-duty, or heavy-duty pickup.
Once a truck is decided on, close the deal with a dealer you can trust. The sales associates at Mount Airy Toyota Scion are capable and ready to help get you the best deal on the best used truck. It's a great time to shop for a pre-owned pickup in Mount Airy. Get out there and see what you can find.