Mount Airy Toyota Salesman Michael Brinegar Among Southeast's Top
Michael Brinegar, better known as Mr. B here at Mount Airy Toyota, knows customer service. In fact, he's written the bible on it — at least when it comes to car sales. He keeps notes to help him remember not just what kind of cars each customer has purchased over the years but their special occasions like birthdays. He emphasizes that he's there for his customers even long after the sale has closed, always providing his customers with his personal cell phone number and email address. He keeps tabs on himself too, setting personal goals and tracking his success.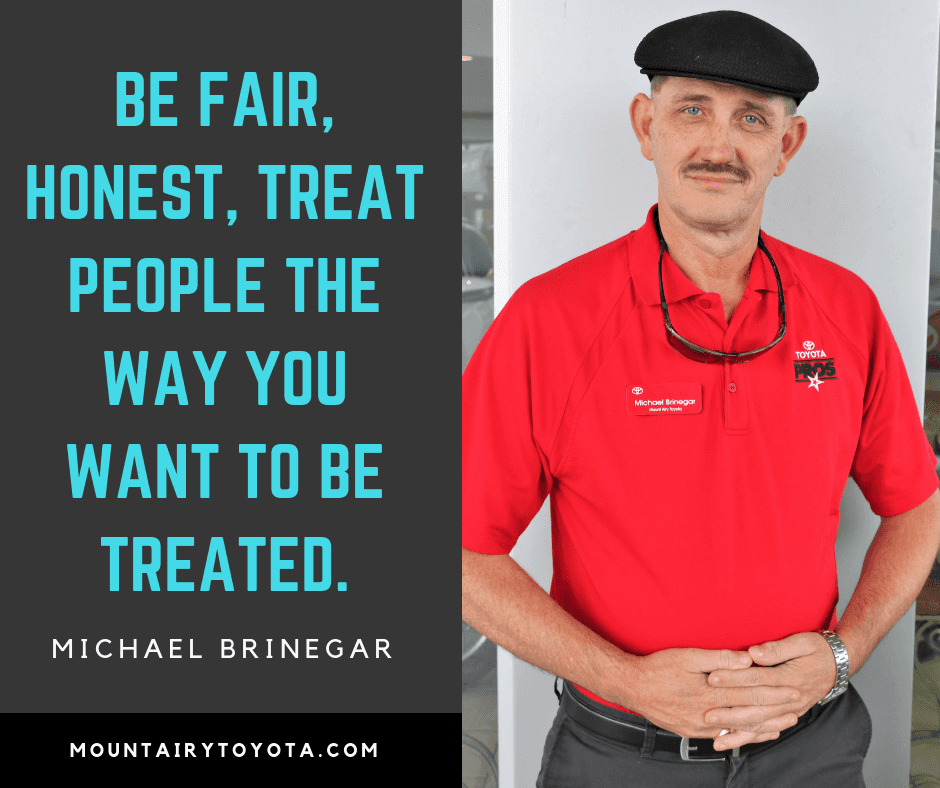 That success has led to being on top. Michael joined the Mount Airy Toyota team in 2016. In 2017 he was named a "Toyota PRO" (Professional Retail Outstanding Salesperson) — one of the top 10 percent of salespeople in the Southeast Toyota Region who also is Toyota Certified. That year he sold 215 vehicles. That year he sold 215 vehicles. With another month left in 2018, he's already beaten his own record.
"I'm a blessed man," Michael says. "I'm a blessed man in this business, I have good clientele."
Michael fondly remembers a young boy along with his family buying a car. The boy knew about Michael's "car bible" and asked what number where they going to be. In their case, they were number 198.
Another family has racked up several numbers, purchasing 11 vehicles from Michael.
"Be fair, honest, treat people as you want to be treated," Michael says. "Imagine you are on the other side of the desk."
Michael wasn't always a salesman. Self-described as an "old country boy," Michael was born and raised in Sparta, N.C. His previous career was in the music industry. He performed and recorded Southern Gospel music professionally for 14 years. In his free time now, you'll still find him playing and writing music. He plays the guitar, bass, piano, and drums.
He and his wife had four children — one of whom is a Marine — and are now grandparents to four. Four is a bit of a magic number for the couple. They also have four dogs — three Jack Russell Terriers and a French Bulldog.
Michael started selling cars in 2015 and has only ever sold Toyotas. It's a brand in which he believes — he drives a Camry and his wife drives a RAV4. Dealership owner, Scott McCorkle, asked him to join the Mount Airy Toyota team in 2016.
"Some of the best people I've ever met in my life I've met at this dealership," Michael says. Team members get to know one another, respect one another, and help one another. Their family dynamic carries over to how they treat their clients.
Michael enjoys taking the time to find the vehicle that meets a customer's needs and budget, whether it's new or used and whether they come in knowing exactly what they want or with no real idea at all.
"It does my heart good at night to know I helped someone," Michael says. "When a repeat or referral customer says, 'Here's Michael and I trust him,' it feels good!"
Come meet Michael at Mount Airy Toyota! We're open Monday through Saturday from 9 a.m. to 8 p.m. at 508 N. Andy Griffith Pkwy in Mount Airy, N.C. You can also reach us online at mountairytoyota.com or call us at 336.786.2118. We look forward to seeing you!