Toyotathon is Coming to Town!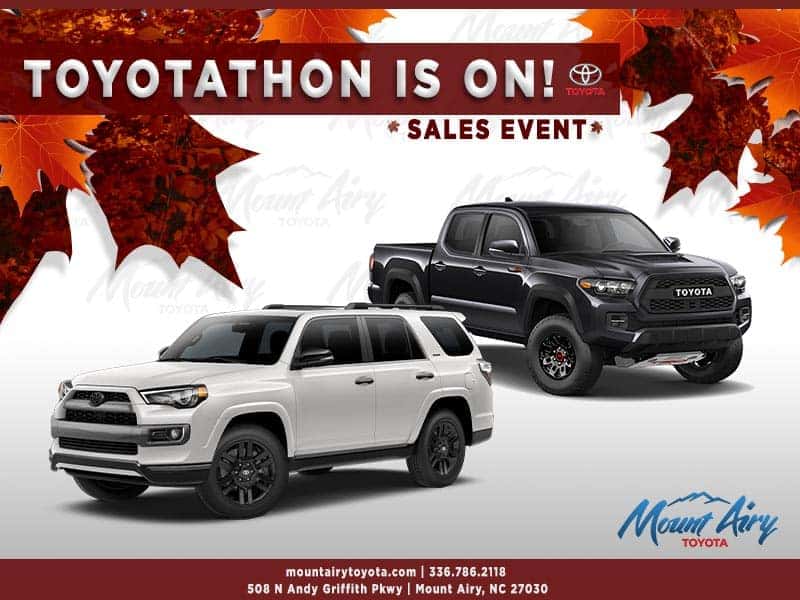 The most wonderful time of the year has arrived. 'Tis the season for—you guessed it…Toyotathon! While Toyota offers several impressive sales and savings opportunities throughout the year, none of them come close to the mega deals you can get through this end-of-year sale. 
Toyotathon is when inventory levels and factory incentives come together for one big blowout sale. And as one of the premier Toyota dealers in North Carolina, we've got the inventory here at Mount Airy Toyota. There are tons of new vehicles in our lot that have been waiting for just the right home. We also have big incentive. As more of the new 2020 models roll into our showroom, we must make room. This will inevitably result in hundreds of 2019 and 2020 Toyota models going home this Toyotathon at a steal.
Has the new Tundra been on your wishlist for some time now? We've got 'em. How about the new 4Runner or Camry? Or maybe you've been dreaming of getting your hands on the new souped-up Supra? Yes, we have all those too—and so much more.
As incredible as these Toyotathon deals are, however, don't expect them to last. Our inventory is whittling down as we speak, so make sure to come by for a test drive soon!
Now, to get some ideas flowing for what your next big gift to yourself could be, we'll take a look at the some of the top-selling Toyota models available today. But first, here's a brief background on the Toyotathon event:
TOYOTATHON EXPLAINED
Since 1957, when manufacturing began in the United States, Toyota has been leading the American automobile industry in many respects. This is largely due to their continued dedication to quality and innovation, which has resulted in one best-selling vehicle after another and many groundbreaking designs.
Another major way in which Toyota has been a forerunner in the industry has its origins in 1977, when the company launched its first Toyotathon event. The sales team posed the question: What if we held several minor sales throughout the year and ended the year with the biggest sale anyone has ever seen? Thus, the first Toyotahon was born—a 24-hour sales event that set new records.
Since then, Toyota has held the blowout sales event every single year, frequently crushing sales records and always thrilling customers. Many automobile companies now follow this format, but none of them quite match the magnitude of Toyotathon.
Without further ado, let's look at some of the Toyota models you can expect to see at his year's Toyotathon. We'll cover a few features of each, as well as what experts are saying about each model in general:
Tundra
The Tundra is Toyota's full-size pickup, and it comes in six trim levels: SR, SR5, Limited, Platinum, 1794 Edition, and TRD Pro. Rear-wheel drive is standard, but four-wheel-drive is available.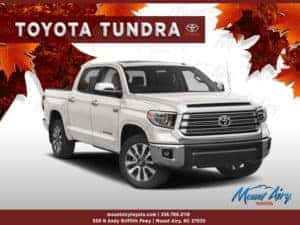 The Tundra's most powerful engine, which is available in the four higher trims, is a 5.7-L, V8 engine good for 381 horsepower and 401 foot-pounds of torque. Buyers of the 2019 SR or SR5 can opt for a 4.6-L, V8 engine that produces 310 hp and 327 lb-ft of torque, though this engine is not offered on the incoming 2020 Tundra.
"It pulls strongly off the line and there's a burbly exhaust note trailing in your wake. The six-speed automatic shifts smoothly, and always seems to be in exactly the gear I want."
— CNET RoadShow
Perhaps the most impressive characteristic of the Tundra is the size and storage space of the backseat, which is a cut above the competition—especially when you opt for the crew cab. It also has better standard safety features than others in its class (e.g., Ford F-150, Chevrolet Silverado, Nissan Titan), as well as some stellar off-road capability.
If you like the outdoors and/or need a solid pickup for towing, the Tundra will get the job done. And it'll look good doing it.
If you've been looking for just the right Toyota Tundra for sale, chances are we have it!
Tacoma 
Now for the Tundra's little brother—the Toyota Tacoma. The Tacoma is a midsize pickup also available in six trims: SR, SR5, TRD Sport, TRD Off-Road, Limited, and TRD Pro.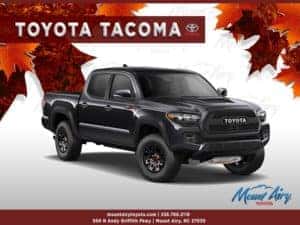 The SR and SR5 trims are stocked with a 2.7-L, four-cylinder engine that yields 159 hp and 180 lb-ft of torque. The other four trims come with a 3.5L V6 that produces 278 hp and 265 lb-ft of torque.
"The midsize pickup truck market has been growing, but it's fair to say that the Toyota Tacoma is still the odds-on favorite for a lot of shoppers. From its basic work-truck configuration to luxury-oriented or off-road variants, the Tacoma is simply one of the most well-rounded pickups on sale today."
— Edmunds
The Tacoma has been a leading compact/midsize truck since its advent in 1995, and it seems to evolve into an even better pickup each year.
If you've been looking for a Toyota Tacoma for sale in NC, look no further than Mount Airy Toyota. We also have a great selection of used Toyota Tacoma trucks for sale!
4Runner 
Built on the same body-on-frame construction as the Tacoma, buyers can find the Toyota 4Runner in seven trim levels: SR5, SR5 Premium, TRD Off-Road, TRD Off-Road Premium, TRD Pro,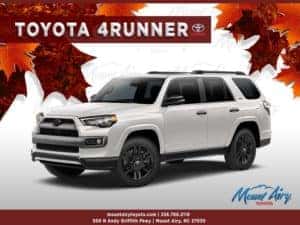 Limited, and Limited Nightshade.
A 4.0-L, V6 engine is standard on the 4Runner, and it delivers 270 hp and 278 lb-ft of torque. Paired with this engine is a five-speed Electronically Controlled Automatic Transmission with Intelligence (ECT-I). This combo makes for the best acceleration, power and stability yet in a 4Runner.
"Toyota's solid 4Runner remains one of the last truck-based mid-size SUVs and serves as a multitool on wheels. With a respectable 5,000-pound towing capacity and nearly 90 cubic feet of maximum cargo volume, the 4Runner blends capability and off-road prowess."
— Cars.com
Like many other Toyota models, the 4Runner has a well-established reputation and only gets better with time. To find the right Toyota 4Runner for sale in NC, simply come to our dealership!
RAV4
The 4Runner's smaller sibling, the RAV4, comes in five different trim levels: LE, XLE, XLE Premium, Adventure, Limited, and XSE Hybrid. Each one comes standard with a 2.5-L, four-cylinder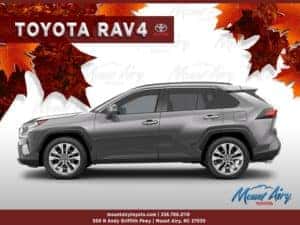 engine good for 203 hp and 184 lb-ft of torque, as well as, an eight-speed automatic transmission.
"Don't let the rugged styling of the all-new 2019 Toyota RAV4 fool you: Underneath that off-road-inspired design is a compact SUV that still offers a roomy interior, easygoing comfort, a slew of standard advanced safety features, good fuel economy, and is backed by a tradition of excellent resale value and reliability."
— Kelley Blue Book
Perhaps more than any other Toyota model, the RAV4 is consistently evolving in pretty much every area—from appearance to performance to comfort. Maybe that's why it was the best-selling SUV and fourth overall best-selling vehicle in the U.S. in 2019.
The best place to find the RAV4 of your dreams is at a premier Toyota dealer of NC like Mount Airy Toyota!
Camry
The Camry has been the best-selling sedan for so many years that it needs no introduction. It comes in five trims—L, LE, SE, XLE, and XSE.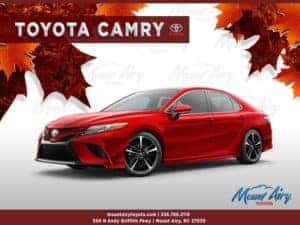 There are three different engines available on the Camry. The first is a 2.5-L, four-cylinder that produces 203 hp and 184 lb-ft of torque. Then there's a 3.5-L, V6 that's good for 301 hp and 267 lb-ft of torque. The available Hybrid system includes a 2.5-L, four-cylinder that exudes 176 hp and 163 lb-ft of torque.
"The new Camry offers sleeker styling, but it's the improved fuel economy and handling, plus standard advanced safety systems, that distinguish it among the crowd of midsized sedans."
— Consumer Reports
When it comes to all-around great vehicles for families, it's hard to beat the Camry. Since its major overhaul in platform, styling and dynamics in 2018, the Camry doesn't really have any weak spots. It's safe, it rides and handles great, it provides impressive performance, it looks awesome, and the list goes on.
If you're dreaming of a Camry as your Toyotathon purchase, we've got plenty of them!
Corolla 
As with the Camry, the Corolla has been a staple in the automobile industry for many years. It currently comes in six trims: L, LE, LE Eco, XLE, SE, and XSE. All of the trim levels come stock with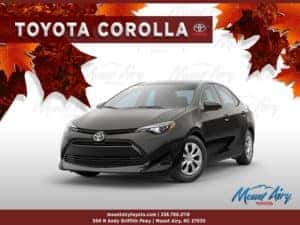 a 1.8-L, inline-four engine that boasts more than 30 miles per gallon.
"You should buy the Corolla if you are in search of a well-built compact car that's loaded with lots of safety and technology features."
— US News and World Report
It's extremely hard to beat the Corolla when it comes to overall quality in compact cars. Along with superior fuel economy and class-leading standard safety features, the Corolla holds the highest predicted reliability rating on the market. Plus, it has a lot of passenger space (especially the sedan models), and it looks really, really good coming and going.
Mount Airy Toyota is the place to come if you're looking for a Toyota Corolla in NC!
Supra
The first fifth-generation Supra is on the way, and there are three trim levels available: 3.0, 3.0 Premium, and Launch Edition. Like the rest of the car, the engine was built in cahoots with BMW; the B58 engine is a turbocharged beast. It's a 3.0-L, inline-six capable of 335 hp and 365 lb-ft of torque, and it's paired with an eight-speed automatic transmission.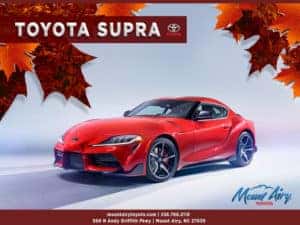 The Supra will have you at 60 mph in just 3.8 seconds, and you'll cover a quarter-mile in 12.3 seconds at 113 mph.
"This is a genuinely transcendent product, pushing the limits of what's possible in a competitive class … get behind the wheel and the end result is a product that far exceeds any preconceived notions."
— Motor 1
It truly is something to behold. For those searching for a Toyota Supra for sale in NC, roll on over to Mount Airy Toyota!
Indeed, there is a plethora of deals at our dealership this Toyotathon season. You can expect incredible offers on a wide variety of Toyota models, including more than we mentioned here! Some even include special financing and lease options, as well as military and college graduate rebates.
Along with new cars, we also have tons of new trade-ins that we need to move fast. For those in the market for a used vehicle, don't miss out on a deal of a lifetime—keep posted on our inventory, give us a call, and/or come in and meet one of our experienced team members. If you're wanting to trade in a vehicle, don't wait—value your trade and apply for financing online today.
There's no better time to buy a vehicle. Come by Mount Airy Toyota during Toyotathon to talk to our sales agents and take your dream car for a test drive. We're located at 508 N Andy Griffith Parkway, Mount Airy, NC 27030. You can also find us online at mountairytoyota.com or call us at (336) 786-2118.
Happy Toyotathon!