Toyota Starts 2023 Off With Innovative New Models
The new year always lends itself to the excitement of new beginnings. People everywhere are setting resolutions and goals they hope to achieve to bring about a better and happier year. To that end, Toyota is looking to 2023 as a year of innovation and taking its well-established legacy even further.
The year 2022 was home to many Toyota awards and milestones. In 2022 alone, the brand was awarded Kelly Blue Book's Best Resale Value, 5-Year Cost To Own Award, and Best Overall Truck Brand. These are just a tiny sample of the brand's achievements and don't encapsulate the awards Toyota's individual models have received.
Toyota stands ready to continue to be the automotive brand of 2023, and its new models exemplify that very mission. While we just ushered in a new year, Toyota's 2023 models have been on the market for some time, garnering praise and a positive reputation. Below, we'll take a look at Toyota's new 2023 models and start your year with the best vehicles on the market.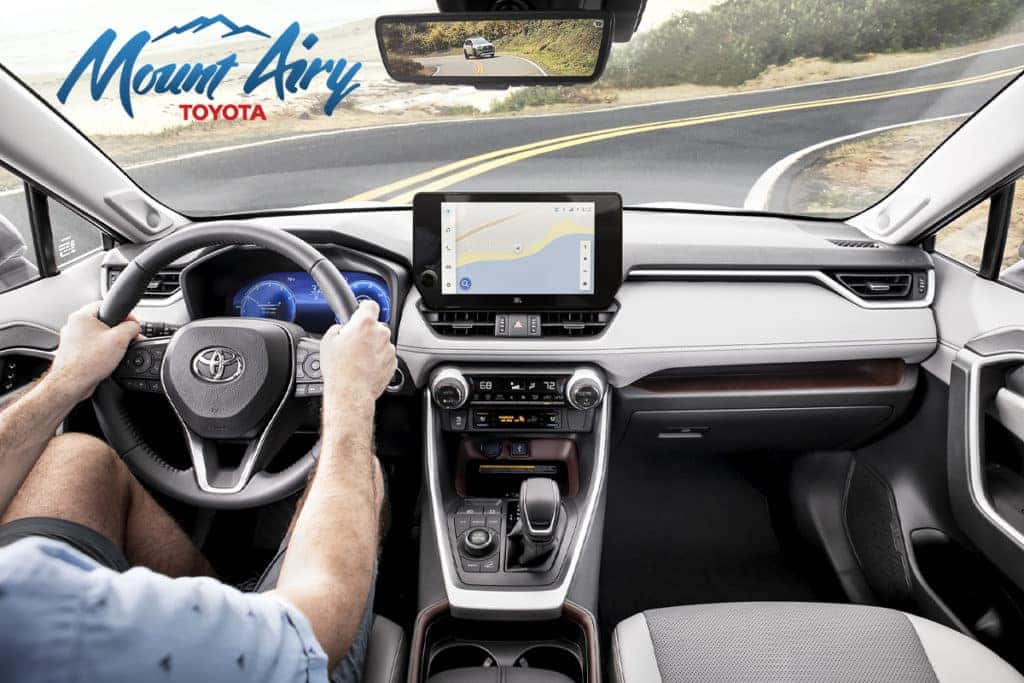 But hold on — to start your year off right, you'll need more than just the right vehicle. You'll need the perfect dealership to work with you to get your dream vehicle of 2023. You could say Mount Airy Toyota's New Year's resolution is to provide unrivaled customer service, though it's something we've been doing for well over a decade! Here's what Toyota's 2023 lineup has to offer:
Toyota's Cars and Minivans
Toyota's cars and minivans have long been the standard for the automotive industry. If you're looking for a model sedan or car, it's hard to find one that fits the bill better than the Toyota Camry. The 2023 Camry continues to stand out as the perfect sedan and has done so to critical acclaim. It was recognized with the Best Resale Value in Its Class award and as the Best Midsize Car for the Money.
The 2023 Camry improves on many of the characteristics that have made it one of the most recognizable sedans and implements the advanced technological suite that's common across Toyota's 2023 models. Outside the Camry, the Toyota Corolla, or Toyota Avalon, are excellent options.
Moving away from the family sedan to the classic minivan — Toyota's 2023 Sienna is one of the best minivans on the market in the new year. It has been recognized with Kelley Blue Book's Best Buy award among all minivans, an award that's not easy to come by! Those looking for a roomier family option will find the Sienna a perfect fit for all the adventures 2023 will bring.
Toyota's Trucks
As mentioned, Toyota was awarded the prestigious Best Overall Truck Brand in 2022. Part of the reason it was recognized for the award in such a saturated pickup market is the brand's 2023 lineup.
Toyota's Tacoma and Tundra stand out as clear leaders among trucks in the industry. The two models, while different in size and appearance, are sure to be loved by any customer who treats themself to one in 2023.
The 2023 Tacoma comes with three different distinct trims: the SR, TRD Off-Road, and Limited. Each is suited to a specific type of driver, but all trims come with unbelievable power, technological suites, and comfort. The 2023 Tacoma took home many awards in 2022, with its resale value and value for the price being highlighted.
The 2023 Tundra is more prominent than its Tacoma counterpart. And while the Tacoma is well-suited for towing heavy loads, tackling off-road trails, and rougher environments, the Tundra is built for uncompromising power from its very foundation. It won top honors at the 2022 Texas Auto Writers Association Texas Truck Rodeo, showing the vehicle's prowess (even if rodeos aren't your style!).
Toyota's SUVs
Demand for SUVs grows exponentially every year in the United States. More and more families look to SUVs for their size, performance capability, and versatility. Toyota understands what many car buyers want — family commuters — and its 2023 lineup reflects that with much to offer in the way of roomy, advanced, and affordable SUVs.
The Toyota RAV4 has been a staple SUV since the mid-1990s, well before the modern SUV craze. That's allowed Toyota to move the model toward the future, reflected in both their prior and modern designs. The RAV4 is the pinnacle of modern safety and value in a vehicle. It comes with everything a compact SUV buyer could hope for and is built for versatility. This allows it to off-road easily, providing a lot of space that keeps your family comfy and a suite of technology that keeps you safe and efficient on any drive.
When talking about classic SUVs, one would be remiss not to touch on the Toyota 4Runner, a fan-favorite since the 1980s. The 2023 4Runner continues to please car buyers and has been recognized as the best resale value SUV on the market by several automotive outlets. It has long been a peak SUV in appearance, space, power, and performance. And it fits right at home in the suburbs or on the most rigorous trails.
With the 4Runner's long-standing notoriety, it's clear that the model has impacted the overall direction of SUVs and the rise to their current demand. These two models aren't exhaustive of Toyota's SUV options, but they do an excellent job of displaying why anyone bitten by the SUV bug should reach out to a Toyota dealership today!
Toyota's Electric Options
Toyota is partly known for its role in helping bring hybrid and electric options to the automotive industry as a whole. Models like the Toyota Prius stand out as pioneers in the electrification of modern vehicles and give Toyota a lot of credibility as an EV manufacturer. Toyota has only expanded its electric and hybrid options since the days of the Prius's introduction, and the 2023 lineup demonstrates the growth and versatility Toyota still provides the EV industry overall.
The 2023 Camry hybrid is an eco-friendly and fuel-efficient option for lovers of the iconic sedan. It's an excellent mid-size option, and its resale value has stayed constant because of the increased demand for hybrid vehicles.
The 2023 Highlander hybrid is an SUV committed to fuel efficiency. It comes with all the power and size one expects from a modern SUV but packages it in an eco-friendly model. The Highlander also stands out as one of the safest SUVs on the market, meaning it's an excellent family option for more than just its ability to save money on gas during road trips!
We can't discuss Toyota's electric and hybrid options without touching on this year's version of the Prius. The 2023 Prius Prime continues to flourish as an innovator among hybrids. It's compact, provides second-to-none fuel efficiency, and is a genuine pleasure to drive. It continues to hold value, and despite its smaller size, it remains one of the safest vehicles on the market.
If we were to touch on every superior electric or hybrid option Toyota has, we'd run out of time and room! There are countless reasons the brand is considered the leader in EVs. If you're still curious to look at all the options Toyota has in 2023, we recommend checking out Mount Airy Toyota's digital showroom, where you'll find a slew of 2023 models that deserve their time in the spotlight as well.
Toyota as a Safety Leader
Safety is a common theme among all vehicle segments. And no auto brand tops Toyota's Safety Sense — a technologically advanced set of safety features found across all modern Toyotas.
Safety Sense employs a wealth of features to make your driving experience as safe as possible. Lane departure notices, pre-collision detection, dynamic cruise control, automatic high beams, lane and road sign assist, protective driving assist, and more all combine to create a 2023 Toyota befitting of its awards as a safety leader. With technology like that, it's no wonder the brand is consistently characterized as the safest on the market.
Starting Your New Year With Mount Airy Toyota
Getting your hands on a new 2023 Toyota can prove to be challenging, as demand for the models we touched on is quite high. But don't let that discourage you from your resolution of getting the perfect new car for the New Year.
Mount Airy Toyota has long been committed to providing customers with top-notch service while getting them the vehicle they've been looking for. So don't delay! Start your New Year off right and call Mount Airy Toyota today to get a vehicle ready for your next chapter!