Toyota Makes KBB's Best Family Vehicles List for 2015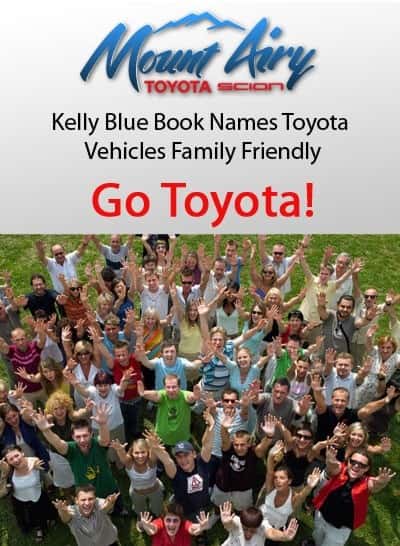 Kelly Blue Book recruited families and editors to test out selected vehicles for its annual list of the 15 Best Family Cars. This year, Toyota finds itself among some of the finest family cars to make the prestigious list. Actually, make that three Toyotas.
In order to make the cut, selected vehicles are tested in six essential categories: Comfort and Driving, Safety, Child Seats, Cargo Space, Rear-Seat Entertainment, and Extra Features. These all are tested by professionals, as well as families, ensuring that each of the vehicles recognized pass in theory and real-life scenarios.
Toyotas that made the list:
· 2015 Sienna. According to the report, "It came as no surprise that the 2015 Toyota Sienna made the family final cut." This is the second time the Sienna has made the list, so it really is no surprise. This year it wowed the judges with its newly redesigned interior—it seats up to eight passengers, provides ample head and legroom, and has excellent cargo space behind its third-row seating. And, the Sienna is still the only minivan to offer all-wheel drive.
· 2015 Camry. The new Camry is already a favorite amongst family car drivers this year. Its redesigned exterior shows curves and aerodynamics that have never been seen with previous models—giving it a sporty edge that most family sedans are too shy to even attempt. And its new features, such as the automaker's Entune system, USB device connectivity, and the wireless charging feature are just a few reasons it wins this year.
· 2015 Highlander. The Highlander's size makes it one of the most sought after SUVs on the market. It's not too big that it gets in the way, and it's not too small so that it cannot stow, pull, or haul like a sport utility vehicle should. On the road, it conserves gas, maintains an incredibly quite ride, and its many compartments and excess space allow for premium stowage. And one of its best qualities, the Conversation Mirror, allows for the driver to see what's taking place anywhere in the vehicle—even the very back.
I have to say it's really no surprise to see Toyota make such a list as this. But it always feels nice for us Toyota drivers to be reassured we are traveling in nothing but the best.