This Spring Mount Airy Toyota Gives Back
Mount Airy Toyota is pleased to announce our participation with local community partners in upcoming fundraiser events around the Charlotte and Mount Airy regions. Check out the golf fundraisers that we are playing in and learn more about what special programs we are supporting around our community.
11th Annual Pfc. Adam Lee Marion Memorial Golf Tournament
On Thursday, April 25th, Mount Airy Toyota is participating in the 11th  Annual Pfc. Adam Lee Marion Memorial Golf Tournament. This golf tournament has been held eleven years in a row in honor of Private First Class Adam Lee Marion.
Private First Class Adam Lee Marion was killed in Iraq on April 28, 2008 while serving in the military.  Adam was 26 years old when a rocket attack outside of Sadr City, Iraq claimed his life. He was deployed as part of a North Carolina National Guard unit tasked with performing route-clearance missions.
Family friends of the Marion's, John Lawson and Ralph Holt organized the golf benefit in Adam Marion's names and had the idea to put the proceeds towards supporting the Children's Center. The original mission was to raise about $10,000 a year for the center; this amount has gone above and beyond their expectations, growing each year.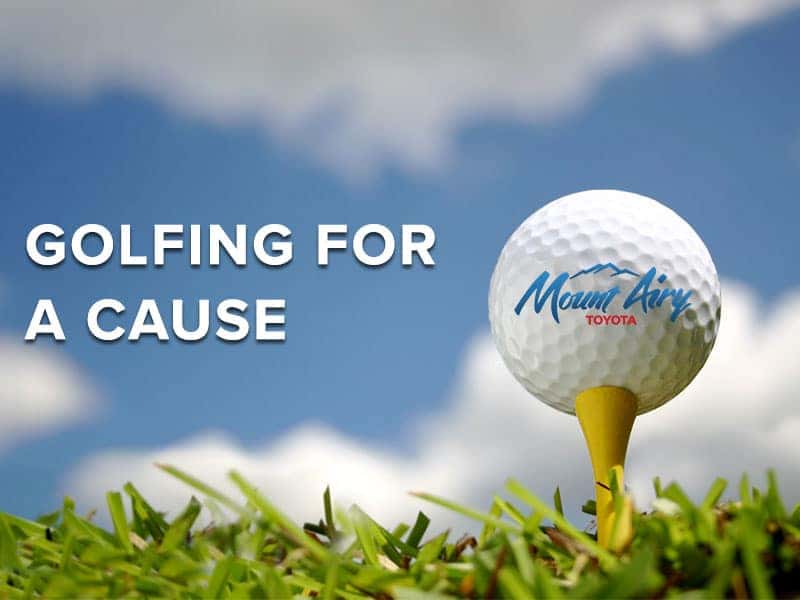 4th Annual Destiny Lives On Golf Tournament
On Friday, May 10th, you can find us out at the Cramer Mountain Club participating in the 4th Annual Destiny Lives On Golf Tournament.
This event includes a day of golf (the tournament will be a Captain's Choice format), followed by lunch and an awards ceremony with prizes and raffles.
The proceeds from the tournament go towards the Destiny Lives On Foundation. The tournament itself aims to honor and support families that have given or received an organ donation, and supports efforts to promote and educate people about the importance of organ donation.
Space to participate is limited, and we recommend that you register early to guarantee your spot. It costs $520 per foursome team, and this includes green fees, cart, swag bag, breakfast/lunch/beverages, and 4 mulligan packets per team. Cash prizes are awarded to the winning team. Player registration opens April 10th, 2019.
You can mail a donation or a sponsor payment to:
Destiny Lives On Foundation
4033 Avery Pl.
Gastonia, NC 28056
Or if you're interested in learning more about the event or have any questions, you can contact Kelly Stafford at (704) 913-4270 or at destinyliveson@hotmail.com. Check out their website at https://destinyliveson.org/.
Spring Golf Classic 2019 Matthews Chamber of Commerce
The Chamber hosts a golf tournament each year as a way for members and guests to promote their businesses, get to know their peers, raise money for the Chamber, and donate funds to a designated local non-profit. The title sponsor this year is Harris Teeter.
The Matthew Chamber Golf Classic is on Tuesday, May 14th at the Pine Lake Country Club at 5504 Lebanon Road, Mint Hill, NC 28227. The check-in begins at 11:00am, with a shotgun tee-off at 12:00pm. Lunch, dinner, beverages, and cart fee are all included. There will be lots of fun, giveaways, raffles, contests, and prizes, and dinner following the tournament. The event ends at 7:00pm.
This year, the non-profit receiving the funds from the tournament is Bright Blessings. Bright Blessings serves over 13,000 children every year in partnerships with local school systems and dozens of shelters, housing facilities and community support agencies across a five-county area. The mission of Bright Blessings is to bring joy, care, and hope to homeless and impoverished children by mobilizing volunteers of all ages. You can learn more about Bright Blessings on their website at: https://www.brightblessingsusa.org/
Registration is now open; you can click here to register. Each player receives 18 holes of golf, golf cart, range balls, beverages, lunch from Chic-fil-A, and dinner from Beantown Tavern. The $20 Mulligan package is optional.
Individual Player: $100 (fun golf attire encouraged!)
Foursome: $400
You can also take part in the sponsor opportunities:
Hole/Tee Sponsor: $150
Putting Green Sponsor: $500
Driving Range Sponsor: $250
Scorecard Sponsor: $250
Dinner/Awards Presentation: $20
If you are interested in learning more about any of these upcoming events around the Charlotte area, whether you want to donate, participate, or attend, feel free to come by Mount Airy Toyota and we would be happy to share more information. We hope to see you out at some of these events in April and May, and we encourage you to give back to your greater Charlotte community this spring!