The Toyota Yaris Hatchback: Resurrected and Ready for Action
The Toyota Yaris Hatchback managed to create a cult-like following due to its small, sporty design that slightly resembled that of a smart car—at least one that has been steadily hitting the gym. So when Toyota announced the discontinuation of the venerated hatchback, there was immediate pushback. Now, one year since sporty three-door sedan was silenced, it is slated to return.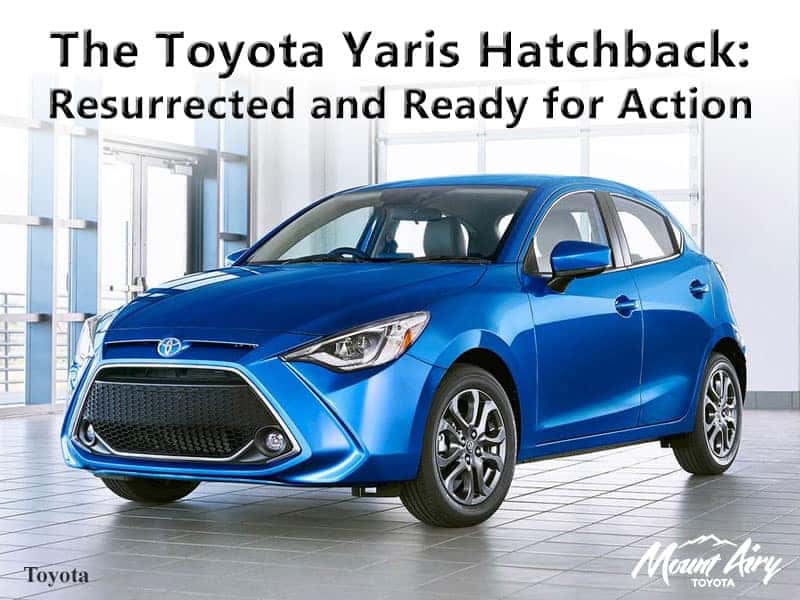 Towards the end of the 90s and into the 2000s, amidst a car market filled with SUVs, Toyota unleashed the Yaris Hatchback. It was small, a blast to drive, and practically ran forever (you can still see tons of these early models cruising the streets today). And with a price tag around $16,000, it was not difficult talking drivers into trying out a classic, three-door sedan. But in 2018 Toyota announced it would not be including the Yaris Hatchback in the 2019 lineup.
So now it's a year later and Toyota has some good news—scratch that, great news: the Toyota Yaris Hatchback is back and added to the 2020 lineup! Moreover, this three-door model has a few surprises up its sleeve. What brought about the resurrection? Well, it seems that Toyota's close relationship with Mazda (both companies have already partnered on a subcompact model) continues, as Mazda has taken the reins to help rebuild the Yaris Hatchback by repurposing the Mazda 2. But don't get the wrong impression. The 2020 Yaris Hatchback is fully a Toyota, and it's way better than ever.
So Why Go Hatchback?
If you are in the market for a new car, and are considering a hatchback—as many car buyers these days are—there are a few things to consider. In fact, we've come up with a list of five tips to think about before you get too far along in the process. Here they are:
They're for fun and family. Today's hatchbacks typically come in two styles: compact and midsize. The compact is closest in form to its ancestors, except that it has much more power and flare. These are sporty, fun-to-drive cars with two doors and the iconic scrunched rear. Though they're small, they are the perfect weekend ride with or without the family.
The midsize is a four-door wagon-like car that maintains the hatchback look (as it does have the hatch in the back), but it is considerably larger than the compact model and does not seem to maintain the same amount of zippiness expected in such a cool looking vehicle.
Is the new hatchback an SUV crossover? Not really, but some hatchbacks coming out are large enough to be considered a small SUV, or a large sedan. The 2020 Yaris Hatchback fits somewhere in the middle—not quite an SUV but not really a sedan either. It's unique, to say the least. Unlike the sport utility vehicle and the sedan, new hatchbacks still allow for the rear seats to fold down in order to provide even more cargo space. This might seem like a minor detail, but once you actually lay eyes on the space created from losing the back seats, you'll realize this is a big selling point, one that may be part of the reason the Yaris is back.
An easier drive. Since the hatchback integrates the trunk space into the rear of the car more so than any other, it is shorter in length. This means it is easier to park and maneuver around tight spaces. This is great for big cities and congested areas and can make your life so much better.
And the ease doesn't stop there. Take any modern hatchback and compare its turning radius to that of a typical sedan of the same price range and you'll notice a big difference. Hatchbacks make sharp turns simple, quick, and fun. And you can't help but feel a little safer knowing that.
Low cost is a big selling point. Because they are smaller in nature than a sedan (and definitely smaller than an SUV or crossover), hatchbacks don't cost as much. Not only that, but they also do better on fuel, and that's not even considering the hybrid and all-electric versions of the hatchback.
Rise in Popularity. Don't believe the naysayers who love to hate on the hatchback, whether old or new. The truth is, the American hatchback is on its way up!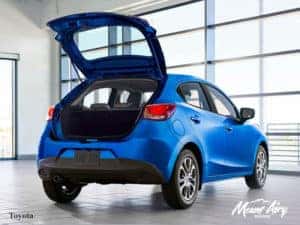 The New Yaris Hatchback at a Glance
Here is a quick look at what to expect in the 2020 Yaris Hatchback:
It has a 1.5-liter inline-four engine with 106 horsepower and 103 lb-ft of torque
It comes with a six-speed automatic transmission
It's close to ten inches shorter (161.6-inches) than the Yaris sedan, but somehow offers more cargo space behind the first row and on into the trunk
It offers an estimated 40 mpg highway
Comes in two trim levels: the LE and XLE
The starting price is around $19,000
A Bold New Look
The 2020 Yaris Hatchback has a different look from years past; as a matter of fact, it doesn't much look like any other hatchback on the road today. The biggest difference is that the Yaris looks tough. Cool, rugged, tough, these words do not usually describe a mini sedan, especially one with only three doors. But the new Yaris Hatchback is different.
Looking at the Yaris dead-on it resembles that of a bulldog with its legs and body hunkered down, ready to attack. The sharp headlights and flashy hexagon grille stare boldly ahead and project an unexpected confidence. And car-buyers have the option to add daytime running lights, as well as, a palette of vibrant colors to choose from: Stealth, Graphite, Pulse, Sapphire, Chromium, Frost, and Icicle.
Quality in a Small Package
16-inch aluminum-alloy wheels, body-color side mirror and door handles, and a chrome tailpipe tip all come standard on the new Yaris. In addition, the side mirrors are power-adjustable, heated, and house LED turn signals. Here are a few more standard features offered: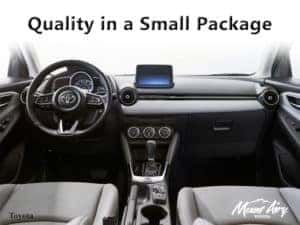 A first aid kit
Driver and front passenger sun visors with illuminated vanity mirrors
Chrome interior door handles
A tilt and telescoping steering wheel
A rear backup camera
Variable intermittent windshield wipers
Fog lights
Smart Key Entry with Push Button Start
Now, let's talk multimedia. The 7-inch touchscreen uses six speakers perfectly placed throughout the interior to blast your favorite music while you zip around curves and maneuver into tight spaces. And the Yaris Hatchback comes with both Apple CarPlay and Android Auto—as well as voice recognition and Bluetooth wireless technology. Also, the 7-inch screen can be operated by touch or remote.
With the purchase of the car comes a three-month All Access trial of SiriusXM Satellite Radio; this means commercial free stations and over 150 channels. Audio and phone can be operated from the steering wheel, so the driver can concentrate on things like, you know, driving. There are also plenty of USB ports throughout to keep everyone charged and connected.
One added surprise to the 2020 Yaris Hatchback is the inclusion, for both the LE and XLE, of a navigation system. All the car owner has to do is purchase the necessary SD card from the Toyota dealer and activate the navigation hardware.
And, looking only at the XLE model, Toyota adds leatherette-seating surfaces of either black or gray, as well as automatic climate control; a shift knob and parking brake handle; a leather-trimmed steering wheel; rain-sensing windshield wipers; and automatic climate control.
Big on Safety
One of the best qualities of the Toyota Hatchback is its commitment to safety. The 2020 model comes equipped with a Low-speed Pre-collision Safety System that scans the road ahead of you for potential collisions. And if danger is detected, an audio/visual and braking system is engaged—in conditions where a collision is certain and the driver does not respond, the Yaris will automatically apply the brakes.
Here are a few more safety features found standard on both trim levels of the 2020 Yaris Hatchback:
Dynamic Stability Control (DSC)
Traction Control System (TCS)
Anti-lock Brake System (ABS)
Electronic Brake-force Distribution (EBD)
Brake Assist (BA)
Brake Override System (BOS)
Plus, there are six airbags, including curtain airbags that help protect those sitting in the rear.
Other Hatchbacks Toyota Has to Offer
Can't wait for the arrival of the new 2020 Yaris Hatchback? Worry not, we have plenty to offer:
Corolla Hatchback:
Comes with a starting MSRP of $20,140
Offers 30/38 estimated miles-per-gallon
Has three trim levels—SE (L4 2.0L, 6MT); SE (L4 2.0L, CVT); and XSE (L4 2.0L, 6MT)
Available with a dynamic force engine; optimized suspension; leather-trimmed sport seats; 6-speed intelligent manual transmission; rear window spoiler; and wearable connectivity
It also comes with a chrome grille surround, LED taillights, LED fog lights, 18-inch alloy wheels, and piano-black accents and soft-touch materials throughout
Prius C:
Comes with a starting MSRP of $21,530
Has an estimated 48/43 mpg
Available in seven different colors—Tide Pool Pearl, Blizzard Pearl, Classic Silver Metallic, Magnetic Gray Metallic, Black Sand Pearl, Absolutely Red, and Blue Streak Metallic
Offered in an L or LE trim level
Features the following: pre-collision system with pedestrian detection; lane departure alert; automatic high beams; a sporty exterior shape; 15-inch alloy wheels; versatile design; 60/40 split rear seating; and a premium interior
And as far as technology goes, there is a standard backup camera, a smart key system with a push-bottom start, and a multi-information display
Come in today and test drive the all-new Toyota hatchbacks, and be sure to ask about the soon-to-come Yaris Hatchback. At Mount Airy Toyota we are confident you will be impressed with these blasts from the past and, as always, you simply won't find better pricing anywhere else. See you soon!
-Andrae Bergeron