The Return Of The Toyota Crown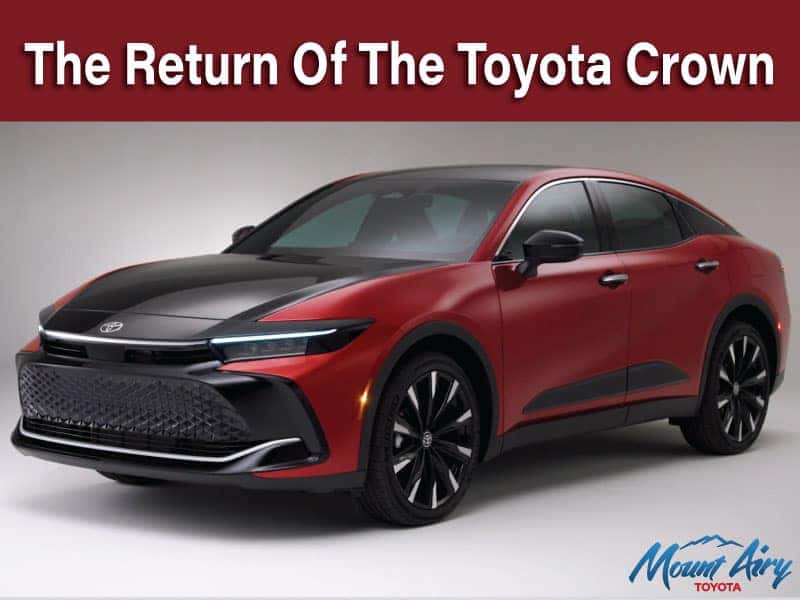 The Toyota Crown is one of the oldest Toyota models around. First introduced to Japanese markets in 1955, and in America in 1958, the full-size sedan was a staple in the Toyota lineup for a number of years. Still, the model hasn't been available to those in the United States since 1972! So it's likely a good portion of readers aren't familiar with the Crown and will need a full reintroduction.
A hiatus that lasts 50 years gives a lot of time for reflection — and that's exactly what Toyota has done. The Crown was tapped as a replacement for the now discontinued, fellow full-sized-sedan, the Toyota Avalon. The Avalon saw its final year on the United States market in 2022 and was discontinued because of the growth of EV and SUV sales domestically.
So while the Crown stands out as an unknown now, you'll walk away excited about its comeback. An innovative full-size sedan helps round out Toyota's modern lineup and it's ready to show why full-size sedans aren't just a thing of the past. Still, it's not the only standout — Mount Airy Toyota offers such a huge selection of Toyotas, you're guaranteed to find the vehicle that's perfect for you when you choose that dealership. So, you can wait for the Crown or take a look at some modern models today!
The Toyota Crown's Story
While it has been 50 years since a new Crown was released, previous models led the way in the innovation of their day. The Crown had seen 15 generations, all of which put extreme value into technology and progress. Initially hitting the market in post-war Japan, the very first intention of the Crown was to innovate and improve. It found widespread approval in nearly every facet of Japanese society, which is why it was exported to other countries three years after its introduction to Japanese markets.
One huge piece of the Crown's legacy is that its introduction to other countries marked Toyota's first intentional investment outside of Japan. Its appearance in the United States is notable as a pioneer, representing Toyota's passenger car potential in an unknown market.
A fourth generation of the Toyota Crown was introduced to American markets in the early 70s. And while it improved in comfort, modern design, and performance, it was received as less-than-favorable, leading to its discontinuation in 1973. For 50 years, that was the end of the Crown's story, until now.
The Toyota Crown of Today
Toyota knows that first impressions are everything, so they've completely overhauled the Crown to impress right away. Here are some of the major features the American market can look forward to that will come with the Crown's reintroduction —
Design:
The Crown's new design screams bold. Taking the best parts of a full-size sedan and including elements of an SUV, the vehicle is an intentional move to combat the shrinking demand for sedans. The Crown will have three different trim options, all focused on elements of luxury and performance.
The Crown's proportions break from the design that's typical of many sedans, with a tall roofline and other larger proportions. Overall the Crown is 3.7 inches higher than the Toyota Camry. This in turn gives the Crown higher seats and a ride that feels more comfortable. The tall seating options and ease of access and exit invoke the elements that make SUVs so attractive as family cars, while the trunk and body show the sleekness of an innovative sedan.
Depending on your trim level, you'll have access to a wide array of color and design options, with the Platinum trim, the highest trim level, giving you access to a copper bi-tone palette, the first introduced to a Toyota.
Performance:
All Crowns are built and centered around a hybrid powertrain but the Platinum trim has access to Toyota's Hybrid Max setup, pairing a turbocharged 2.4-liter four-cylinder with an electric motor on the rear axle — combining for a total of 340 horsepower!
Non-platinum trim owners get less power, with a respectable 236 horsepower hybrid system. Additionally, those non-platinum trims come with variable automatic transmission (CVT) while the Platinum uses a six-speed automatic.
That hybrid focus will also give Toyota Crown owners impressive MPG. And while we've yet to have all the information surrounding MPG estimates, Crown buyers can expect 38 mpg on the regular hybrid powertrains and 28 mpg on the more powerful Hybrid Max setup.
Finally, all trims will have all-wheel drive, something unique to a full-size sedan.
Comfort:
The Toyota Crown's uniqueness in size and height for a full-size sedan translates into a level of comfort unknown to vehicles of its class. Those in the driving seat will have a raised experience more akin to driving an SUV than a sedan, giving you the feeling of total control. And the eight-way power-adjustable seats in the front come with heating to continue to build on that feeling.
Outside of the front seats, you can expect dual-zone automatic climate control, and ambient interior lighting on all trims, extending comfort across the whole car's interior. Higher trim levels will have ventilated seats, a sunroof, and leather upholstery.
Technology:
As with most new Toyota releases, the Crown comes with an advanced software interface. Apple play and Android audio are completely fine-tuned to take advantage of the Crown's six or eleven-speaker audio system, depending on the trim level. Whatever the case, both trims will give you a top-notch auditory experience.
Technology is also employed in Toyota's top-of-the-line safety sense, meaning the Crown will continue to lead in safety features, just like other modern Toyotas. Modern elements of driver assistance technology have also been implemented, to provide the easiest driving experience imaginable.
Getting A Toyota Crown
If the quick summary of features tells you anything, it should be that the Crown is delivering on its legacy of innovation. Every design element employed is not only going to maximize the enjoyment and performance of the modern full-size sedan but it will also revolutionize it. The Crown of the past has never sat in rigid boxes and the 2023 Crown is no different from its predecessors.
So, you may be wondering, what you can do to get your hands on the 2023 Crown. As is usual with most news surrounding releases, a concrete date has yet to be announced, though you can expect it to hit dealerships in late 2022 — which is just around the corner!
A quick turnaround like that, coupled with all of the new information surrounding the Toyota Crown, could leave some scrambling. Though if you pick the right dealership, you'll have the support necessary to bring your dream car home, without the hassle.
Mount Airy Toyota shares a lot of the traits that make the Crown a landmark vehicle. They're innovative, with digital model showrooms, a full financial center with payment calculators, and offer top-of-the-line models. And they're both ready to make your family's next car-buying journey worth it.
Mount Airy Toyota has been serving Mount Airy and Galax area for years, with overwhelmingly positive reviews, the dealership shows that they're not only a dealership, but a business oriented around supporting its customers.
So, be ready to be reintroduced to Toyota's first landmark model, the Crown. And see what a full-size sedan can do when innovation is at the forefront of its design, reach out to Mount Airy Toyota, and join the Toyota family today!