The New and Improved Toyota Sequoia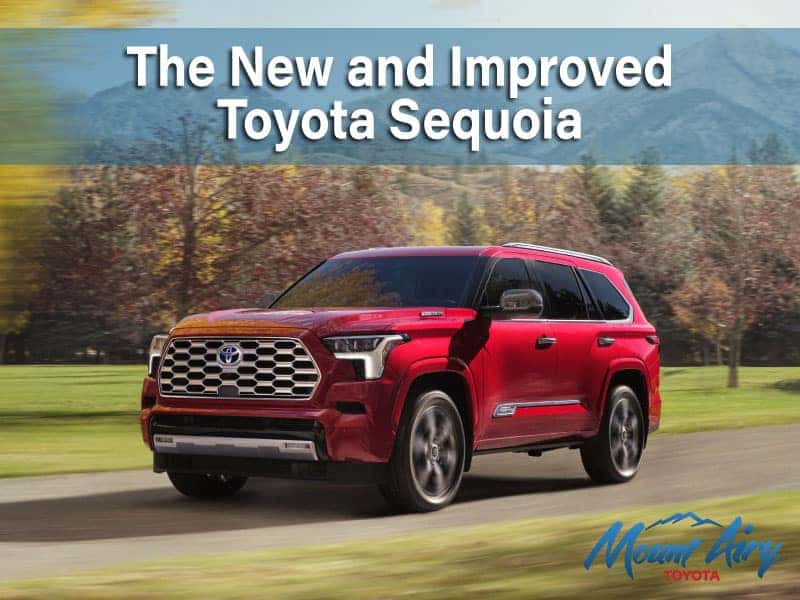 The Toyota Sequoia is ready to live up to its namesake. The Sequoia tree is the world's largest, grandest tree. The remarkable tree can live to 3,000 years, stands as tall as some 26-story buildings, and is an icon of nature's ability. Toyota is ready to capture that majesty in its own Sequoia SUV. The release slated for mid-2022 will do just that.
Toyota's new model of Sequoia is primed to make an impact on the world of modern cars. Boasting a complete redesign of previous iterations and coming with a slew of new features, the 2023 Sequoia SUV is certain to be a sought-after purchase in 2022.
This upgrade will replace the land cruiser in the lineup and be Toyota's solution to the desires of consumers for a modern SUV.
The full press coverage of the Sequoia has been fresh on our minds. With much of the detail coming on January 25th, 2022, following a shadowy and mysterious advertisement of the tail end of a sleek red SUV.
Three-row SUVs have been on the market for some time now. The current generation of Sequoias has remained relatively true since 2008. While that design has provided some great vehicles with excellent perks, still other SUVs have altered and shifted since that time. With competitors like the Ford Expedition and Chevrolet Tahoe shifting their design, Toyota has been looking to answer with their own change, and the Sequoia is the one to do it.

Perks
Toyota is well aware that fourteen years for a redesign is a long time. So they're looking to improve on every standard of the iconic model of SUV.
Aesthetically the modern SUV opts for beautiful simplicity. The front is reminiscent of the new Toyota Tundra design. In contrast, the back is a sleek conservative approach to an SUV that resembles many modern luxury SUVs on the market today. Creating more diversity in design, the trim levels of the Sequoia can impact the size of tires, ranging from 18 to 22 inches. It also comes in a wide array of very pleasing colors. Such as:
-White
-Celestial Silver
-Lunar Rock
-Magnetic Gray Metallic
-Blueprint
-Army Green
-Midnight Black Metallic
-Smoked Mesquite
-Solar Octane (exclusive to the TRD Pro)
Two premium paint colors are also available at extra cost:
-Wind Chill Pearl
-Supersonic Red
While you know the exterior is pleasing, you may be wondering what the view is like from the inside.
The new iteration of Sequoias boasts some of the most comfortable seating possible in a three-row SUV. With its back row being one of the few that full-sized adults could sit in without complaint, this level of comfort often sacrifices a level of visibility that makes a regular SUV difficult to drive. Not with the Sequoia, its tall windows and low beltline create a range of natural visibility that make you feel like you're driving a comfortable SUV, not a cumbersome tank.
Its frame, interior, and ride are all aspects that will come familiar to those who have seen or ridden in the new Tundra, taking many of the best aspects of the truck's interior and applying them to the Sequoia. It also boasts a 14-inch screen for Apple Play and navigation apps, framed in a sleek American Walnut trim. That 14-inch screen and technology allow for Wi-fi and 4G network connections, as well as full voice controls, ensuring you'll be able to enjoy the tech included without even having to take your hands off the wheel.
Energy efficiency is another key component of the new release, providing a bonus to the environmentally conscious and those looking to save on the ever-fluctuating fuel prices. The powerful twin-turbo V6 hybrid i-FORCE MAX powertrain is capable of 437 horsepower and 583 lb.-ft. of torque. That strength can be put towards the Sequoia's strength in towing, being capable of towing up to 9,000 pounds. (That's an over 1,500-pound improvement from the Sequoia's 2022 model.)
That power also offers a multi-mode 4wd, allowing you to feel as at home on untamed roads as you do in your own neighborhood. A shift of the dial allows you to conquer any mountain in front of you, literally. That flexibility, in addition to the Sequoia's frame, borrowed from the Tundra and all-new global Land Cruiser, makes the Sequoia the most suited SUV for the open road.
Safety is another focus, incorporating Toyota's Safety Sense 2.5, which includes automatic braking, forward collision warnings, and includes a general upgrade in the vehicle's ability to monitor its surroundings. Arguably the most exciting inclusion among its safety features is the new emergency steering system. The system allows the Sequoia to stabilize the driver's maneuvers in the event of an emergency. With those features and the Sequoia's sound engineering, you'll feel confident in your SUV's ability to protect you and your family.
With those exciting details, you'll likely be trying to figure out more about the new Sequoia.
The Sequoia will hit dealerships in the Summer of 2022.
Available in options like the SR5, Limited, Platinum, or Capstone trim.
Joining The Toyota Family
When purchasing a vehicle, you're making a financial investment that'll likely only be rivaled by your purchase of a home. This type of decision is understandably a difficult one, so you may be asking, "Why Toyota?" While the Sequoia is an impressive product, the brand it's sold under is just as vital as the details of the new SUV launch.
Firstly, Toyota offers reliability that's unmatched. Some research indicates that over 80% of Toyotas sold 20 years ago are still on the road. That level of reliability creates a brand that boasts the highest re-sale values out there, protecting your investment in a way that few other brands can.
Sign Me Up!
With the Sequoia being an exciting model, alongside a line of reliable vehicles, you may be wondering where to go for your next Toyota purchase. Mount Airy Toyota has all your bases covered in your car buying journey.
Even though the Sequoia isn't slated to be released until the Summer of 2022, you can explore options or may contact a reliable dealership in anticipation of the exciting release.
Buying from a local dealership is just a small way to support local and American businesses. The Sequoia itself is assembled right here in the United States, in San Antonio, Texas. Supporting Mount Airy Toyota is just another way to buy domestically.
Mount Airy Toyota isn't a stranger to big savings either. With special offers that offer savings of over $1,000s on new Toyotas.
Reliable sales and service hours from early in the morning to late in the evening and a perfect record of excellent customer interaction, Mount Airy Toyota has the experience and knowledge necessary to ensure you have a great car buying experience. Their website even offers a live chat bubble, removing the need to call or go in person to get instant feedback and guidance from a professional sales representative.
They also provide a robust set of financing tools and vehicle research that can help you navigate your next purchase. Mount Airy Toyota is not just dedicated to the sales portion but also to guarantee the customer makes the decision as informed and financially stable as possible.