The Future of Electric Cars at Mount Airy Toyota
Electric vehicles are growing in demand each year, and creating more and more buzz as the technology continues to become better and more efficient. At Mount Airy Toyota, we're interested not only in the overall automotive shift away from fossil fuels, but also in what that means for our dealership, our city, and way of life in Mount Airy. We wanted to know more about where Toyota fits into the electric vehicle market, when we might be seeing a full electric car release from Toyota, and what it means for Mount Airy Toyota in the future.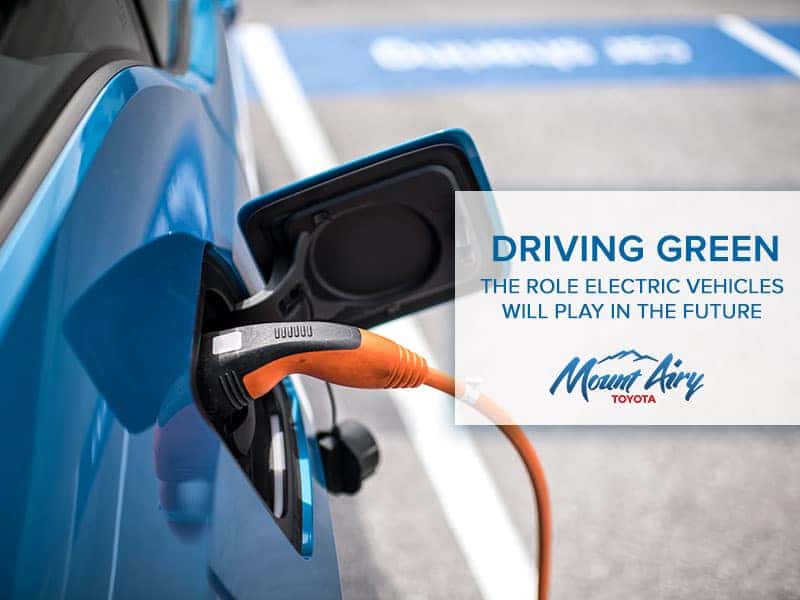 Electric cars are the future; it's a statement we have heard before, that we have seen come into reality, and seems to become more and more standard, albeit at a slow pace, every year. With every global climate report delivering the same message about limited fossil fuels and negative climate impact, electric cars are gaining more traction and popularity.
If you're 35 or younger, it's inevitable that you will be driving an electric car in your lifetime. The face of the automotive industry is rapidly producing new technologies to fill the needs of an electric driven economy.
What is an electric vehicle?
Electric vehicles are battery charged, and run at least partially on electricity. There are a variety of options to consider when you think about electric cars. Electric vehicles can range from plug-in hybrid electric vehicles, fuel-cell electric vehicles, hybrid electric vehicles that use plug-in rechargeable batteries, and there are pure electric vehicles.
How do they work?
Instead of vehicles running on gasoline like in internal combustion engine vehicles, electric vehicles run either partially or completely on electricity stored in a battery. Thus, electric vehicles don't produce tailpipe pollution. They also minimize wasted energy by turning the car off when stopped and by charging the battery when braking. Electric vehicles are more energy- efficient than gasoline or diesel powered engines, which explains why they are in such high demand.
Are electric vehicles clean?
Producing electricity isn't necessarily clean; electricity can produce heat-trapping gases, pollution at the source of the electricity generation, or in the extraction of fossil fuels. It's definitely worth noting though that battery electric cars charged off of the dirtiest coal grid still produce lower pollution than their gasoline-powered counterparts. If electric vehicles are charged by wind or solar energy sources, they are virtually emission free!
How do they charge?
As mentioned before, they can charge when braking as you drive, but mainly they are charged at home. With a 240-volt outlet (a power similar to what it takes to run clothes in the dryer), most electric vehicles can charge fully overnight. Once fully charged, electric vehicles can typically drive between 70 to 100 miles per day (which is within the average range of what most Americans drive daily). Fast-charging stations can provide 60 to 80 miles of range for every 20 minutes of charging.
Battery technologies will change, as we realize things such as the fact silicon batteries provide 30% more range, and as we find less expensive batteries.
Battery technology is progressing so quickly, and it's only going to get better. Between 2008 and 2014, the price of batteries dropped more than 70 percent. The development of larger and more powerful batteries means that batteries will also require larger charging systems and longer time requirements.
Manufacturers are now willing to put the money forward to develop more electric vehicles. But, the main issue manufacturers face is the cost-curve of having electric vehicles more competitive in the market place, versus demand actually pulling them out of the manufacturers. EV's are less than 2% of vehicle sales in America. In 2017, electric cars reached a global sales record with 1 million cars sold.
What or who do you think of when you hear about electric vehicles?
Elon Musk probably comes to mind, and for good reason. As recently as January 2019, the American-made company, Tesla, released their goal to have 400,000 new electric vehicles on the road.
In March 2016, the Tesla Model 3 was released, and has, since then, reigned as the electric car to turn the electric vehicle market mainstream. Starting at $35,000, the Tesla Model 3 is reasonably affordable, and comes in with 220 miles of range and all the equipment to drive autonomously. With software updates that increase the mileage and efficiency of the vehicle without taking a trip to the dealership, the Model 3 has ruled in the electric vehicle domain, and we can see why.
Tesla has put more electric cars on the road than any other company, but across the automotive industry, everyone has electric cars in the works for the coming years.
What are the hurdles automotive industries are facing with electric vehicles?
As battery-electric vehicles and hybrids become more popular, infrastructure everywhere will have to adapt. Beyond city hubs in California, and select other cities, the reality is that of fall 2018, there were an estimated 22,000 public charging stations between the US and Canada. Therefore, before most consumers can consider, or much less, commit to an electric car, they would have to consider the distances they want to drive in their electric vehicle, and if there are charging stations within reasonable distances.
Of course, automotive manufacturers have to be concerned about the charging stations as well. Automakers can either build their own charging networks or rely on third-party networks. Tesla has 1,344 Supercharger stations worldwide, with around 580 of those in the US. While they have discussed the possibility of opening their network to other automakers, the stations only currently serves Tesla. Volkswagen plans to install 2,800 charging stations in 17 US cities by June 2019. Other automakers rely on third-party companies, which can be cheaper, but more uncertain with a lack of consistency for coverage.
For example, Electrify America is installing charging stations at more than 100 Walmarts in 34 states. ChargePoint is increasing their charging stations 50-fold by 2025, building up from 53,000 charging stations.
Building electric charging stations can be a bureaucratic situation with lots of red tape in the way, whether that's finding real estate to build the station, or to negotiate with local utility companies. But the demand for charging stations is increasing, as more apartment and condo complexes are providing charging opportunities, and bus and trucking industries are also shifting towards electric power.
Fun fact: Just as a comparison, there are about seven times more gas stations than charging stations in the US and Canada—about 168,000!
What are the cons of owning or leasing an electric vehicle?
It is not a surprise to the average American that electric vehicles are more expensive than the average car. The average price of an electric vehicle is about $30,000-$35000. But, the savings in gasoline can average about $1400 on gas, costing about $540 a year to charge an electric car, in comparison. To break even and offset the fuel savings, you would have to keep the car for around 11 years, which is actually the average time that most US drivers keep a car before trading in or selling.
What are the pros?
Although there is not a lot of data on what the exact savings are on electric car maintenance, there is a lesser chance of breaking down, the service packages are cheaper, and the vehicles themselves are much better than gasoline alternatives at converting energy to movement from a standing start. They don't require oil changes or experience as much wear and tear on the brakes. Electric and hybrid vehicles can also enjoy discounts of up to 10% on car insurance, because they tend to be safer and less likely to break down. Some electric vehicles also receive tax breaks!
How do they drive?
For automotive enthusiasts, there's something about the control over the vehicle, the roar of the engine, the power behind the wheel… and it's enough to never consider making the switch to an electric vehicle. Electric vehicles do lack manual shifting, they are extremely quiet, and of course, there won't really be a reason to stop at a gas station unless you're needing snacks.
Any electric car you sit behind the wheel of is a totally different drive than any other car. They are quiet, smooth, and refined. They are high-quality and are equipped with the latest technology.
Why has Toyota not been seen in the electric car market yet?
Toyota does not offer any full-electric vehicle in the United States. Moreover, Toyota has almost conspicuously not been producing or teasing any line-up of full battery-electric cars to come, and the reason might surprise you. Basically, it comes down to Toyota believing that hybrids are a better option between internal-combustion vehicles and hydrogen fuel cell-vehicles.
There is a serious question about the range and capability of the electric car and what redesigns it will have to face in order to get adopted by the average American. Those challenges are being addressed with better batteries, larger range capabilities, and the implementation of charging stations.
In the mean time, Toyota has an astounding line up of hybrid options, and they're available at Mount Airy Toyota. Ranging from full-size sedans to sporty crossovers, these Toyota vehicles are all incredibly fuel efficient, cool, and provide ample battery capacity.
$22,950 starting msrp
53/52 est. mpg
$27,770 starting msrp
54/50 est. mpg
$21,530 starting msrp
48/43 mpg
$27,350 starting msrp
54/133 est. mpg
$28,250 starting msrp
51/53 est. mpg
$36,550 starting msrp
43/44 est. mpg
$27,700 starting msrp
41/38 est. mpg
$37.320 starting msrp
30/28 est. mpg
What's to come for Toyota?
Currently, Toyota is able to produce enough batteries for 28,000 electric vehicles each year, which equates to 1.5 million hybrid cars. The amount of gas-electric hybrid cars Toyota sells currently impacts the environment more positively than it would by selling far fewer electric vehicles due to the market.
Toyota has been more interested in hydrogen fuel-cell vehicles, but as the market slowly evolves in the U.S., Toyota is opening some of its patents to help hybrid car production. In total, Toyota has sold more than 13 million hybrids, globally dominating more than 80% of the market for hybrid vehicles.
Mount Airy Toyota: The Future is Here
Due to economic feasibility, battery efficiency, and the increase of Americans finding fossil fuel alternatives, electric cars are here to stay. Mount Airy Toyota has some of the leading hybrid vehicles on our lot. If you have never driven an electric vehicle before, we encourage you to come test drive and experience the difference. Give us a call today at (336) 786-2118, visit us online at mountairytoyota.com, or stop by and see us at 508 N Andy Griffith Parkway in Mount Airy, North Carolina.
Learn more: Charlotte Talks: WFAE with Mike Collins
If you're interested in hearing more about this topic, check out the local broadcast, Charlotte Talks on WFAE with Mike Collins, where last month they discussed the future of electric cars with Brian Jenkins, Ezra Dyer, and Matt DeLorenzo.