The Best Travel Accessories for Your Pet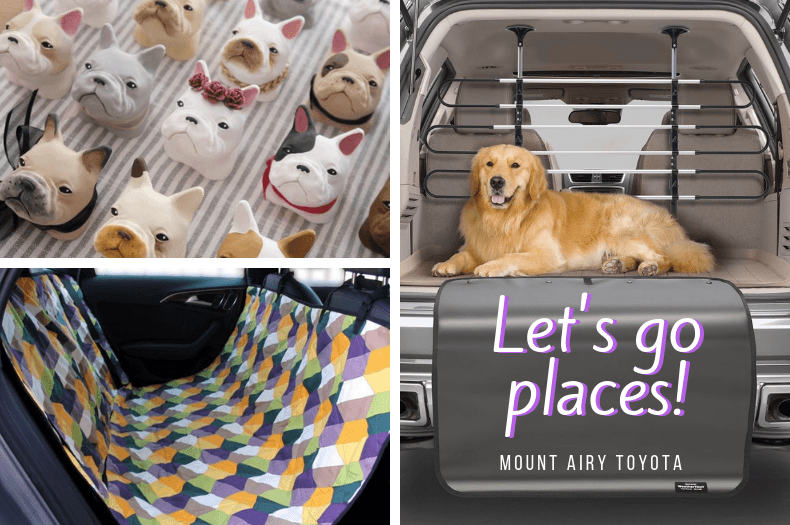 Do you travel with your pet? At Mount Airy Toyota, we love our four-legged companions. Whether you're headed to the dog park, vet's office, or further on down the road, check out these great accessories to make the ride more enjoyable for you both.
This trash can-on-the-go is designed with keeping your car's interior fresh in mind. The silicon holder attaches to the exterior of your car with super strong magnets, so that, in the event there's not another trash can nearby for your tied-off waste after a walk, you can stash away the mess until you find a more suitable receptacle. Be advised that the magnets are not designed to withstand the buffeting wids from high-speed driving, so unless you want to experience a justified act of road rage, don't drive down the highway with a can full.
Auto Grass
Is your dog the worst back seat driver? Keep Fido off the center console with this silicon mat that feels weird to most paws. The soft spikes of grass won't hurt, and you won't have to use a traditional horizontal screen to keep all four feet in the back seat.
Use your vehicle's regular seatbelt buckles to provide a secure harness that prevents Fido from jumping out the door when it's opened or climbing in the front seat while you're driving. This click in tether of seatbelt material clicks in and has a rotating carabiner that prevents getting tangled.
WeatherTech Mats, Protectors & Barriers
Sturdy, custom-fit design makes WeatherTech mats a superb addition to any vehicle — whether you have a pet or not! WeatherTech offers floor mats, trunk mats, seat back protectors, back seat protectors (for first, second, and third row seating), as well as pet barriers for behind second or third row seats, and pet ramps.
Chilly Dog Boyfriend Dog Sweater
You don't need a boyfriend for your best friend to put on this classy grey sweater with a dashing red stripe around the collar. Any dog would be proud to wear this sweater that limits the "cute" while also controlling some of all the shedding inside the car. Plus it's wool, so your hound will stay warm wherever your adventures take you.
Don't be boring! Molly Mutt's seat covers are versatile and available in a variety of patterns. Machine washable, the covers have adjustable straps and non-skid backing. Plus you can add embroidery to personalize the cover for your pooch in particular.
Ramps take up lots of room. Instead get these folding stairs built on a sturdy metal frame that rests on your vehicle's tailgate. The stairs are easy to unfold and fold back up for quick storage, and they will support dogs up to 100 lbs.
Chances are that Fluffy likes car rides much less than Fido. You can still bring along the feline spirit with these funky air fresheners. There are corgi butts and French bulldogs too, or you can get a customized freshener painted to look like your Frenchie, Golden Retriever, Maltese, Pomeranian, Shiba Inu, or shorthaired cat.
If you're the kind who tends to forget a fast food cup about half full of melted ice and watered down soda in the cup holder until the paper cup finally gives way and leaks, you need car coasters. Consider these tribal kitties as your cup companions.
Headed on a road trip? Pack this collapsible litter box with you, scoop out waste immediately after use, then simply toss the whole thing when the trip is over.
Perhaps a long ride in a carrier isn't necessary so long as kitty has some sunshine and a view. This bed suction cups onto any glass — like an RV window — that's at least 30 inches by 14 inches.
If your furry friend is ready to ride in something new, come see us at 508 N. Andy Griffith Parkway in Mount Airy or give us a call at 336.786.2118.