The 2020 Toyota Camry: Impressively Redesigned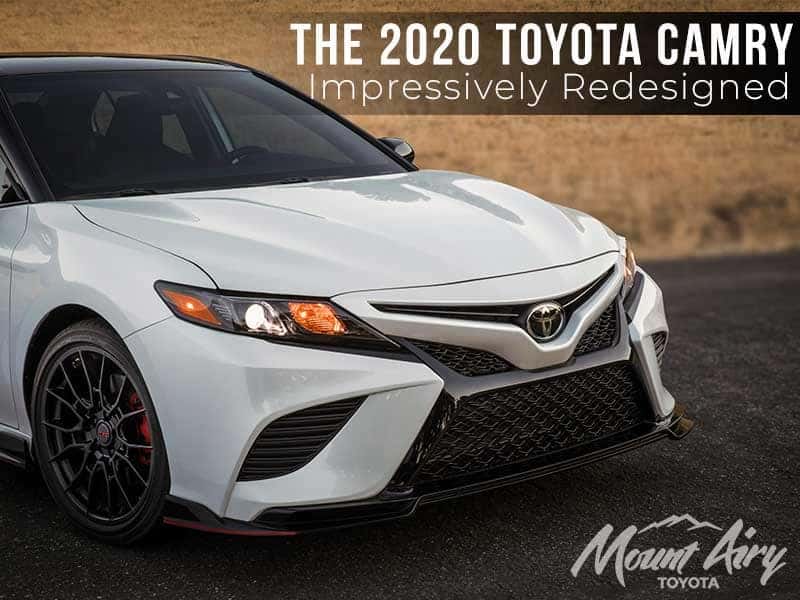 In a market flooded with SUVs, the all-new 2020 Toyota Camry comes fully equipped to give the sport utility market a run for its money. The impressive new Camry is something for everyone, from sporty and cool to a techy family-mobile. The 2020 Camry is here and it's not cowering to anyone.
Over the years both Camry and Honda, both respected kings of the road, have had to adapt to a modern crowd. They've become sportier and, especially in the Camry, more family-friendly by touting updated safety features and a quicker, peppier ride. This year, the Toyota Camry is at its very best.
Performance
The 2020 Camry comes in four different trim levels: L, LE, and XLE (standard levels); SE and XSE (sporty levels); hybrid levels; and the new Camry TRD.
What do all these letters mean?! It is good to note the following when researching which of the many options available is the best fit for you: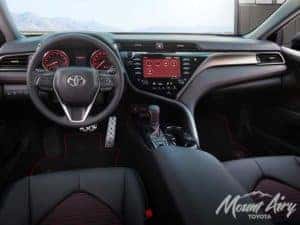 Any Camry with a trim level that has an L in it offers a soft ride with easy, accurate steering. These are the cruiser cars that roll into curves and float down the road—though they are not the sloppy, swaying machines of old.
Trim levels with an S and/or XSE tend to have a stiffer suspension and shorter ride height. They also have a bit more heft in the steering than an S. Though they are not considered sports cars, these are the more entertaining drivers, at least more so than most modern sedans.
Though this is not true with all other brands, Camry hybrids generally perform just as well as their non-hybrid siblings, due to their expert design and powerful batteries.
The base engine in the 2020 Camry is a 2.5-liter, inline-4 with 203 horsepower and 8-speed automatic transmission. There is also an optional 3.5-liter, V-6 engine that provides 301-horsepower with an 8-speed, automatic transmission.
The LE, XSE, and XLE trims have a 176-horsepower version of the 2.5-liter, inline-4 combined with an electric motor that allows for a total of 208-horsepower. Impressively, the acceleration for this trim is comparable to the non-hybrid engine. What's more, the base Camry Hybrid LE uses a lithium-ion battery, while the Hybrid XSE and XLE use a less fuel-efficient setup that is a bit heavier and substantial.
The Camry TRD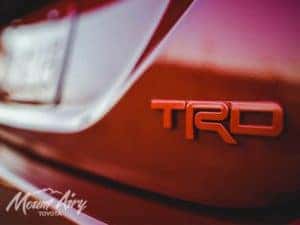 This fun new trim level is actually more of a package deal. It comes with a 3.5-liter, V-6 engine that has a cat-back exhaust and a tight suspension. This cool cat sits lower to the ground with solid sway bars and a muscular physique.
It also has larger brakes that do a better job of stopping the Camry TRD when running at low or high speeds. Also, the summer tires provide incredible grip, allowing drivers to hug tight turns and get a quick start off the line. The Camry TRD is made for those who want to have a little fun—to let loose every now and again. This is truly a fun car to drive, and one Camry enthusiasts are already going crazy over.
Features
If the four varying trim levels aren't enough differentiation for you, there's even more variety in the available features. Let's have a look.
Starting with the base Camry (the L), there is a 7.0-inch touchscreen with Apple CarPlay, as well as, Android Auto compatibility. There's also active safety tech, LED headlights, and for an extra $550 you can add a power driver's seat and alloy wheels. There is nothing very "base" about the Camry L, that's for sure.
The XSE and XLE both come with power-adjustable front seats—both beautifully wrapped in leather—plus JBL audio, keyless ignition, and plenty more.
Here are a few more innovative features the 2020 Camry offers:
Bird's Eye View Camera with Perimeter Scan
Intelligent Clearance Sonar with Rear Cross-Traffic Braking
Wi-Fi connectivity
Remote Connect
Smart Key System with Push Button Start
Rear-Seat Vents and Heated Front Seats
Pre-Collision System with Pedestrian Detection
Full-Speed Range Dynamic Radar Cruise Control
Lane Departure Alert with Steering Assist
Automatic High Beams
Blind Spot Monitor with Rear Cross-Traffic Alert
Ten Airbags (comes standard)
Star Safety System
No Cost Maintenance Plan and Roadside Assistance
The Camry has always been one of those cars that blur the line between mid and high- luxury sedans, oftentimes leaving only its low price tag as an indication that it is not a top-of-the-line Lexus. This year, the Camry comes with a new design, losing some of that drab bulkiness from the earlier years, as well as, a number of upgrades adding to the vehicle's comfort and performance levels, keeping it one of the most dependable sedans on the road.
More Reasons to Drive a 2020 Camry
We love the new Toyota Camry, and we know you will as well. Here are some more reasons you need to come to see Mount Airy Toyota's selection of 2020 Camrys: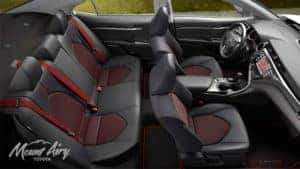 Plenty of Room for Everyone. Most car shoppers go straight to the SUVs because they want that extra room they provide. But the 2020 Camry offers plenty of space for the entire family. Its cabin is tall and wide, providing ample legroom and headspace—there's even enough space to bring your pet(s) along. The extra-large trunk is big enough to store plenty of luggage and groceries and sports gear, etc. If you are looking for roominess, be sure and check out the Camry before heading over to the SUVs.
One of the Safest Cars in its Class. When behind the wheel of the new Camry, you automatically feel safer. This may sound a bit ridiculous, but it's true. The tight steering (with assist!), the sturdy stance and structure and control of the road, this all quickly makes you realize you are driving a quality machine.
Though the safety ratings have yet to come out, we have high expectations, as the Camry has always received great scores in this area, and this year should be no different. One reason for the high expectations is Toyota's Safety Sense, which is a standard perk with the Camry that provides accident-avoidance technology that is about as advanced as it gets. The Pre-Collision Braking, Radar-Based Cruise Control, and Lane Departure Warning—with steering assist—give even more reason to feel confident about driving the Camry.
Eco-Friendly Hybrid. For the best possible fuel economy, you just can't go wrong with a Toyota Hybrid, especially the new Camry Hybrid. It easily hits the 50-mpg mark, while also performing extremely well with 208-horsepower.
An impressive base model. Whether you are paying cash or you plan on making monthly payments, expect to save. With an MSRP of just $24,000, this budget-friendly base model does not disappoint. With tons of features and excellent ride, and cool, new look—as said earlier—there is nothing "base" about the Camry L.
A Great New Look. It's no secret the Camrys of old have never been known for their exterior design; they were never the worst looking car on the road, but also not necessarily a head-turner. Well, that has changed with the 2020 Camry—seriously. The latest Toyota Camry is already getting second looks by younger generations, and those of us who have grown up with the venerated sedan are happy to see and edgier design. With 17-inch alloy wheels, twin exhaust tips, and striking curves and colors, the Camry SE is the sportiest sedan around. Check out the new Supersonic Red and Galactic Aqua Mica. These colors really make the Camry pop.
The New TRD Model! Toyota fans are pretty jazzed about this model. And for good reason. This supped-up Camry comes equipped with a sport-tuned suspension, track-worthy handling, TRD-tuned suspension, and wider performance tires. This is one you have to test drive, if for nothing else, just the experience. We guarantee you have not driven a Camry like this.
Strong Powertrain. The Camry has always done well in just about all areas, but drivers have noted a slight lack in performance in years past. Toyota took note and leaned-in to make a Camry that outshines its previous versions. The Dynamic Force four-cylinder engine is the answer. With 203-horsepower and an eight-speed transmission, the 2020 Toyota Camry has a much quicker response. And, best of all, this doesn't mean you will pay more at the pump. The 2020 Camry offers around 29 mpg in town and close to 41mpg (!) on the highway.
Practical and Reliable. As always, the 2020 Camry is just as reliable as it's always been. It drives like a dream, feels like luxury, but it's not above trips to the grocery store either. This is a perfect mixture of raw power and elegant design. Perfect for the frugal driver who wants a little something more in a sedan.
The Toyota Camry has gone through some changes over the thirty-odd years it's been around. Starting out as a compact car with its narrow, boxy body, it gradually grew—in 1991 the frame was made wider allowing for more interior room and exterior presence—into the larger sedan it is today. It went from a functional, very basic interior to one with many textures and colors packed with the latest technology and safety equipment. And with each year, no matter what model or trim level, Camry drivers have known that there is one thing that never changes: Reliability. Toyota has managed to lead the sedan family market, winning countless awards on multiple fronts such as safety, longevity, the best value, and best resale value for years.
Come see us at Mount Airy Toyota today and test drive the all-new 2020 Toyota Camry.