Tap Into Toyotathon Season and Save Big!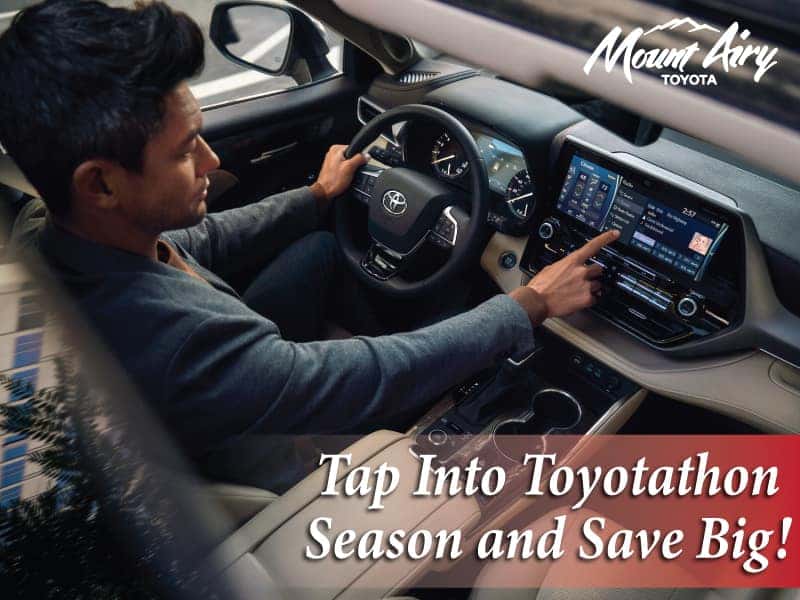 The season for saving is upon us! Rather than present special sales throughout the year like many other automakers, Toyota runs one major campaign at the end of each year—Toyotathon. And, boy, is it a big one!
When it comes down to it, no other campaigns can compare to the deals and incentives you will receive from Toyota during the Holiday season. If your heart is set on putting that bow on your Camry, RAV4, Tacoma, or other Toyota model, then this is the best time of year to do it. Let's talk more about Toyotathon, the new and recent models Mount Airy Toyota has on the lot, and more!
What Is Toyotathon?
When it comes to Toyota events, it doesn't get more popular than Toyotathon. Since its first run in 1977, this event has remained the single biggest sale in the auto industry. Rather than the 24-hour events of the early days, however, Toyotathon now stretches from November through the end of the year.
So, what makes Toyotathon so special? For one, there are top-notch finance and leasing rates offered during the campaign, and there is a wide inventory for buyers to choose from. And essentially all Toyota models are included in Toyotathon specials, instead of it only being a few models that dealers have had a hard time selling.
What Are the Benefits?
That was the skinny on why people love Toyotathon, but let's get into the details of why it is such a massive event every year!
Inventory Selection
First of all, dealerships like Mount Airy Toyota have a huge inventory of Toyota models eligible for deals and incentives during Toyotathon. This includes all-new as well as recent models. The idea is for dealers to clear out the current model year's inventory in order to open space for the next year's models. However, sometimes the next year's models are included in the sales event too. Therefore, you know you are getting an incredible deal on the exact vehicle you have been dreaming about!
Genuine Incentives
There are some serious incentives during Toyotathon, with each model determining how much you will save. Popular deals that customers have come to expect include 0% APR, 60 days of no payments, free maintenance programs, and low financing rates. There are also cashback opportunities on several models.
Good Trade-Ins
If you have ever traded in a vehicle at a dealership (or tried to), you know how difficult it can be to negotiate the price you are looking for. Mount Airy Toyota loves to work with our customers on trade-ins throughout the year, but during Toyotathon it's even easier to get a great value for your vehicle. All you have to do is email or call our dealership to schedule an evaluation. Then, you simply come to the dealership and allow one of our expert managers to evaluate your vehicle. Shortly after, we will email you with your evaluation results, price offer, and financing options.
Lease or Buy?
Toyotathon presents incredible deals for both leasing and buying vehicles. So, how do you know which opportunity will work best for you? It comes down to monthly and overall costs, as well as the flexibility you are looking for in your investment.
The Upfront Costs
Leasing a vehicle means lower monthly payments. This is because they are usually determined around a car's depreciation within the timeframe you drive it rather than the car's purchase price. In terms of balancing your budget, the lower payments could help you reach your personal and family financial goals, but remember that your payments will not result in ownership.
Also, consider that you might have to get both comprehensive and collision coverage when leasing a vehicle. And obtaining gap insurance is a good idea too. Most states require drivers to have liability insurance at a minimum, so just prepare for extra insurance costs if you choose to take on a lease. Some other leasing fees to consider include a security deposit, disposition fee, acquisition fee, and early termination fee.
It's essential to consider the overall costs when determining whether to lease or purchase a vehicle. For example, you will need to put a down payment toward your vehicle whether you lease it or finance it. This is typically 10% to 20% of the vehicle's total cost. However, if your credit score is below average, you might have to pay toward the higher side. If you do not have a great credit score, you can usually pay less money down by choosing a used car or a model with fewer luxury features.
Repairs and Maintenance
The older your car gets, the more money you will have to invest in keeping it in good mechanical and aesthetic condition. Most leases last for three years and are covered with a warranty for the duration of the lease. But depending on your particular contract, you still might be responsible for certain repairs and maintenance tasks.
All in all, if you tend to attract bumps and scratches to your vehicles, you might be well served to go with a lease with comprehensive repair and maintenance coverage. If you choose to buy a car, the good thing is that you can budget for regular maintenance from the beginning, and once your vehicle is paid off, you can use the cash that was designated for your monthly payment for maintenance and repair expenses.
Depreciation
Depreciation is another critical factor when determining whether to lease or buy a vehicle. In short, your car's value will reduce quicker the more miles you drive. That said, if you plan on driving more than the average driver, you could end up paying big on your lease. Most leases enforce mileage limits (usually about 12,000 miles a year), and you could be subjected to a penalty of around 15 cents per mile if you go over the limit.
Flexibility
If you are wondering whether leasing or purchasing a car provides you with more flexibility, the answer is: it depends. When leasing a vehicle, you can drive a new model every few years, meaning you always have a new car with up-to-date features.
But before you get excited about not being trapped by owning the same vehicle for more than a decade, consider that leases are not always as flexible as they would seem. Say, for instance, that your life circumstances or needs change, or that you simply grow tired of your leased vehicle. Breaking your lease early can result in overwhelming fees and penalties. In some cases, you may have to pay all of the remaining lease payments in addition to the fees and penalties.
If you own your car, you can get rid of it by selling it or trading it in. Of course, if you are upside down on your loan, this may not be the ideal option. But you can still have the freedom to sell or trade your vehicle and move on to new things.
Other Discounts
While it doesn't get any better than Toyotathon for scoring an incredible deal on your dream model, Mount Airy Toyota offers additional specials to service members and college graduates.
Military Rebate
To say "Thank You," Southeast Toyota Finance provides a rebate for eligible active or inactive duty, retired, and honorably discharged military members with a $500 rebate on any lease or financing on a new Toyota model. The Military Rebate Program also extends to household relatives and can be used in conjunction with other discounts, such as those you will find during Toyotathon.
All you have to present is verifiable proof of your or your loved one's military status when you come into our dealership to lease or purchase a vehicle. It's also worth noting that if you or a household family member has been called to active duty, you may qualify for other protections and benefits.
College Graduate Rebate
Mount Airy Toyota also loves to congratulate college graduates with a $500 rebate on any lease or purchase of a new Toyota model. In conjunction with SETF, this College Graduate Rebate may also reward you with benefits such as low or no down payment, deferred monthly payments for 90 days, no lease security deposit, low financing interest rates, and more.
If you have recently graduated from an accredited four-year college or university or will graduate within the next six months, or you have received a nursing degree from an accredited two-year college in the last two years, you may be eligible for the rebate. You can also qualify if you are or have recently been enrolled in an accredited graduate degree program. As with the military rebate program, college grads can use their $500 rebate alongside any other discounts they receive.
New and Recent Models
Hopefully, you have an idea of what Toyotathon is and whether or not leasing or buying is the right move for you! Now, let's touch on some of the new and recent Toyota models that we will have on the lot during the biggest savings event of the year!
Camry
If you are looking for a reliable and attractive sedan, look no further than the Toyota Camry. It looks sharp, and it will hold its resale value as much as any other vehicle in the world. It also comes with a spacious cabin and cutting-edge technology, making it ideal for families.
Corolla
Along with being one of the best-selling vehicles for decades, the new Corolla models are better than ever. Drivers get industry-leading advanced safety features, easy-to-use controls, exceptional fuel economy, and comfortable ride quality and cabin. Plus, its modern exterior design is something to behold!
Corolla Cross
As one of Toyota's newest additions to the lineup, the Corolla Cross is essentially what its name suggests—a Corolla turned into a crossover SUV. One can assume that it will carry the unmatched resale value of other Toyota models, and if you are looking for a compact SUV that looks the part, gives you great fuel economy, and serves as a top-notch daily commuter, the Corolla Cross could be the vehicle for you.
Tacoma
The Toyota Tacoma needs no introduction. It has long been a favorite among mid-size pickup consumers and it has garnered a spectacular following among off-road enthusiasts. The new Tacoma models are as rugged and refined as ever, making it the perfect truck for anyone who wants to use it for everyday activities while maintaining a rough-and-tumble edge.
Tundra
The 2022 model year sees the Toyota Tundra receiving a complete design and mechanical overhaul. The full-size pickup truck segment is one of the most competitive in the industry, but the new Tundra has been created to give Ford, Ram, and GM a run for their money. This truck has everything you need.
Highlander
Just like so many other Toyota models, the Highlander has come to be trusted by crossover fans for many years. This mid-size three-row SUV is ideal for families looking for adventure or a comfortable daily commute. It is incredibly safe, reliable, and practical. And it's one of the best-looking SUVs on the market.
4Runner
What can you say about the Toyota 4Runner? Over the years, this model has become one of the most trusted and loved mid-size SUVs in the world. It particularly attracts off-road enthusiasts who are looking for ruggedness without sacrificing technology. It has great standard safety tech, tons of cargo space, and many different trim levels to choose from.
RAV4
Similar to the Highlander and 4Runner, the Toyota RAV4 has built a bulletproof reputation for itself. It might just be the most attractive, practical, comfortable, and fuel-efficient compact SUV on the market. And it also happens to come with abundant passenger and cargo space, and impressive safety and convenience tech.
Venza
Toyota has recently revived the Venza nameplate. This time around, the two-row mid-size crossover SUV is exclusively a hybrid. It doesn't get more comfortable when it comes to a daily commuter. Though it only has two rows, passengers have plenty of room and you can carry a lot of cargo with the Venza. Unless you have a large family, this SUV could be a perfect match.
Conclusion
Can you believe it's already that time of year? Toyotathon is the biggest auto sales campaign in the world, and we will be running it at Mount Airy Toyota from November through the end of the year! Consider the information above as you determine whether you should lease or purchase your new vehicle, and give us a call or come by our dealership to see what new and recent Toyota models you have to choose from!