Sibling Rivalry: the Toyota RAV4 vs. the Toyota Highlander—Which One to Buy the Family for Christmas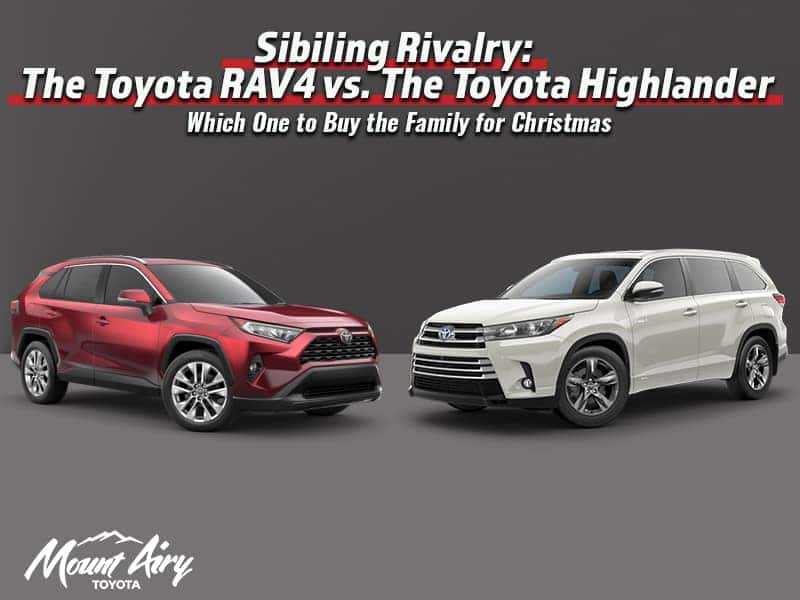 It's no secret SUVs have become the vehicle of choice for a wide variety of drivers. The popularity of sport-utility vehicles is largely due to the fact they are equally family-friendly, sporty, rugged, smooth, fast, comfortable, luxurious, and so much more. At Mount Airy Toyota, we have two of the best and most beloved SUVs on the market today: the Toyota RAV4 and the Toyota Highlander. Which one should you buy this Christmas Season?
Here is a quick comparison of the RAV4 and Toyota Highlander—our two favorite siblings! Both SUVs are equally formidable and fit for any family, and both come with varying features that are sure to wow anyone looking for a new car this Christmas.
Let's Talk Space
The most noticeable difference between the RAV4 and Highlander is in the category of size. Both are roomy and comfortable, but the RAV4 is a bit smaller than its big brother, the Highlander. The RAV4 easily seats five people, while the Highlander is capable of holding up to eight passengers.
Regardless of how many people you need to fit inside, both vehicles offer tons of space for an average-sized adult in the second row, while the third row (in the Highlander) is best suited for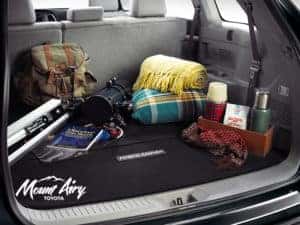 children and young adults.
Let's look specifically at the Highlander:
All three rows of seats sit upright and the total room offered in the trunk area is 13.8 cubic feet. This means there is plenty of room for groceries, sports equipment, school supplies, etc. even when the Highlander is at full capacity. And if you happen to need even more cargo space in the back, the entire third row of seats can be stowed to allow for a total of 42.3 cubic-feet of space—perfect for a long road trip or vacation. Wait, need even more storage space? Stow the second row, in addition to the third, to create 83.7 cubic-feet of open area.
The RAV4:
Though there is less cargo space in the RAV4, it's still plenty for the average family. With all five seats occupied, there is 38.4 cubic-feet of open room in the back. By taking away the second row, you can open the area up to 73.4 cubic-feet of cargo space, which is only ten feet less than the Highlander with all three rows intact.
A Look Under the Hood
A notable feature of these Toyota SUVs is their raw power. Both the RAV4 and Highlander pack a punch due to the caliber of engine resting under the hood.
Let's start with the RAV4:
The Toyota RAV4 comes with a 2.5-liter, four-cylinder engine that provides 176-horsepower and 172 pounds-feet of torque. This is just enough power to put this SUV ahead of the game and to allow for 23 miles-per-gallon city and 30 mpg highway. And if you need to use your new RAV4 for towing, it can pull up to 1500 pounds—that's easily a snowmobile or four-wheeler.
For those looking to go a little lighter on the use of fuel, Toyota offers a hybrid version of the RAV4 that has a 2.5-liter engine that gives 34 mpg city and 30 mpg highway.
The Highlander:
Big brother needs a bigger engine, and the 2.7-liter, four-cylinder engine gets the job done. It has 185 horsepower and 184 pounds-feet of torque that is paired with a six-speed transmission and Snow Mode, which provides improved handling for snowy and icy conditions.
The Highlander comes as front-wheel-drive only and gets 20 mpg city and 24 highway. And it can tow up to 1,500 pounds without a problem.
If you need more power in the Highlander, Toyota also offers a 3.5-liter, V-6 engine that has 295 horsepower and 263 pound-feet of torque. This model comes in either front- or all-wheel drive. To save money on gas, go with the front-wheel drive, which gets you 21 mpg city and 27 highway. And for towing, there is a capacity of up to 5,000 pounds.
Which Works for You?
The best thing about both the Toyota RAV4 and Toyota Highlander is their unmatched reliability. Through the years, both SUVs have won plenty of awards and have even been rated by U.S. News & World Report as two of the most reliable SUVs on the market today.
The Christmas season is the perfect time to buy a RAV4 or Highlander, and at Mount Airy Toyota, we can help you narrow down which is the perfect fit for you and your family. Come see us today!