Reliable Brands Make the Auto Purchase Decision Easy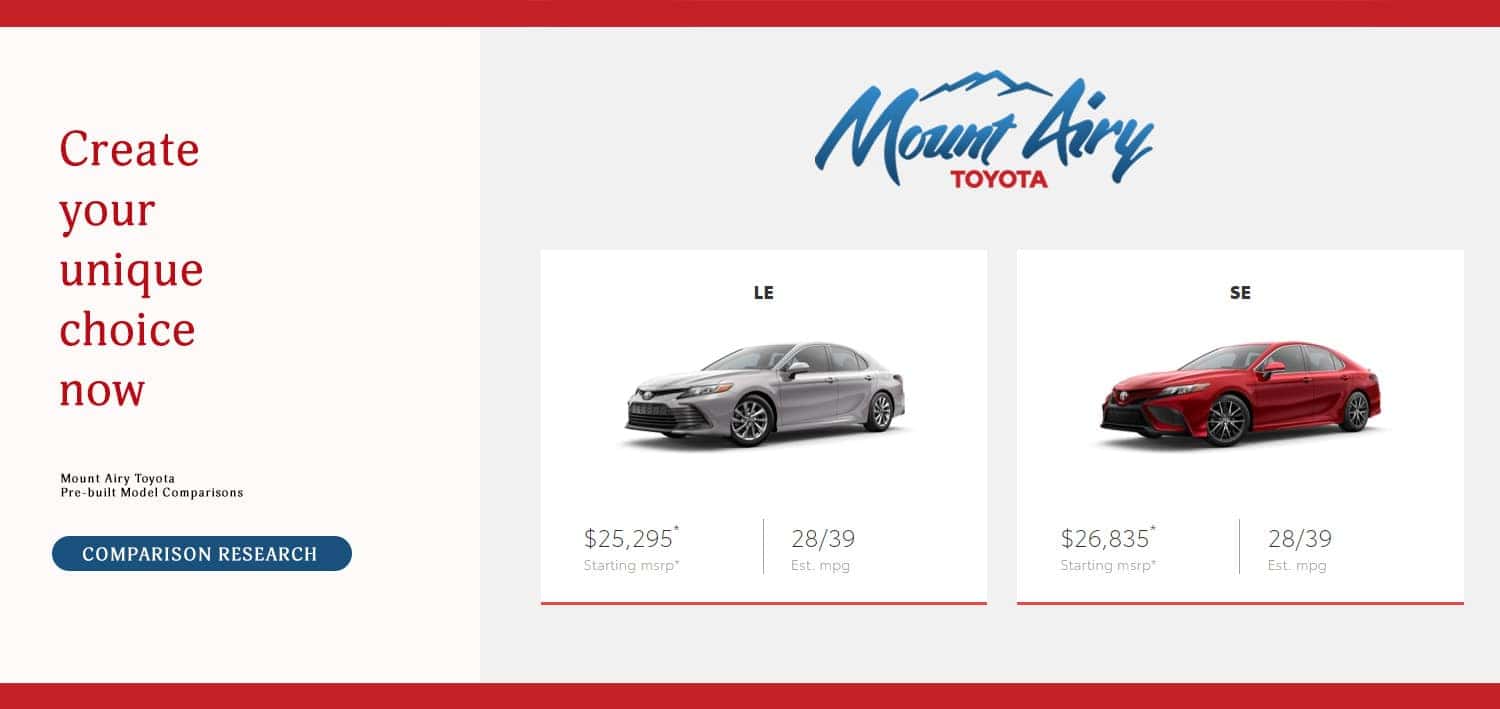 Today's buyers are inundated with options.  Car buying is particularly challenging with all of the digital offerings.  Prospective car buyers who can relate to this overwhelming feeling have likely experienced decision paralysis. We, at Mount Airy Toyota, suggest relying on the brand to help bypass some of the more complicated choices.  You can't go wrong with the Toyota brand. A Toyota is the best car to buy in 2022.
Few brands are as recognizable, reliable, or as solid of an investment as Toyota. In the same vein, few dealerships are reliable as Mount Airy Toyota. Much like the larger brand of Toyota, the dealership has been serving the area for countless years, with products and customer service that hold their value.  A glance at their Google reviews is proof enough that the staff at Mount Airy Toyota go above and beyond expectations every year.
Understanding the Auto Purchase Dilemma
As we mentioned earlier, the sheer volume of automotive options makes the process difficult. This relationship between more choices and buying heartburn is a well-known phenomenon in decision psychology. Before delving into the details, it's best to summarize all the information with a simple line: There's evidence that the more choices a buyer has, the unhappier they are with their final purchase.
This is known as decision paralysis, choice paralysis, or analysis paralysis. These paralytic experiences happen when someone faces difficult decisions, specifically between two options — such as A and B. The paralysis will eventually force them to pick C or engage in no action at all.
Further, after making a conscious decision, being faced with a hard choice exhausts the decision-maker into a place of inaction. This leads to a level of fatigue, exhaustion, or procrastination related to the decision as a whole.
American Psychologist, Barry Schwartz, has written at length regarding this phenomenon. Much of his writing falls in line with what we touched on earlier, but a simple quote from his book titled "Paradox of Choice" sums up the concept nicely:
"The fact that some choice is good doesn't necessarily mean that more choice is better."
So, how does all that psychological academia translate to car buying? It's fairly simple. Auto buyers now have more choices than ever in a market with ads telling you to buy — "Right now!"
One way you can capture and utilize the message behind Schwartz's quote is by limiting the choices you're working with when buying a vehicle. And you can do just that by focusing on brand reliability.
Narrowing your auto buying journey to one brand can eliminate feelings of decision paralysis and result in a happier, more fulfilling car buying experience. After all, Toyota's reputation is known and trusted worldwide.
Why Choose Toyota?
Why Toyota over all of the other car brands? With nearly 60 major automotive brands across the globe, narrowing your decision down to just one brand may seem risky. Still, Toyota does a lot more than your average auto brand, and it doesn't take long to see that for yourself when you consider Toyota's 2022 and 2023 lineup.
For those who are unfamiliar, we recommend checking out Mount Airy Toyota's digital showroom . Toyota provides easy comparison tools to help narrow your choices.  Pick two models and see the difference in mileage, price, and an assortment of features.
Toyotas Retain Value
Buying any vehicle is an investment. No prospective vehicle buyer wants to spend  money on a vehicle that will lose thousands of dollars in value every year. Toyota owners have more peace of mind in their investment than most. Kelly Blue Book even awarded Toyota the 2021 Best Resale Value Brand, and Toyotas made up a large portion of the best-valued resale vehicles on the market in 2022.
Then there's the fact that Toyota is backed and supported by top-notch dealerships across the country. For example, Mount Airy Toyota goes the extra mile to help customers trade Toyotas in at a fair and unrivaled price.
Toyotas Are Reliable and Easy To Service
Reliability is another thing to look for when buying a car. Everyone wants a vehicle that can stand the test of time — so much so that reliability is at the top of many buyers' wishlists. We can name awards and studies that support Toyota's claim to reliability, but you can see it in action by simply driving down the road. Because of the brand's reliability, you probably see multiple Toyotas of varying ages and models on your daily commute.
One of the many reasons Toyota's can last is that they are easy to service. Owning a vehicle that's easy and affordable to service and repair keeps it on the road for longer. The brand also offers ToyotaCare, a no-cost maintenance plan with 24-hour roadside assistance. The plan covers all of your Toyota's normal factory-scheduled maintenance for two years or 25,000 miles, whichever comes first. It's evident Toyota cares about keeping your vehicle in the best shape possible.
Take a look at Mount Airy Toyota's service and parts financing to see how affordable the brand makes it for customers to keep their cars running smoothly.
Toyotas Are Affordable
We already touched on the difficulty of decisions, but price is easily one of the biggest roadblocks in the auto-buying decision-making process. Many can relate to the sentiment of finding a vehicle that seems perfect but exists far outside their price range.
Toyota's affordability is the solution to that very problem. The brand offers customers innovative and top-performing vehicles at a lower rate than competitors, all while being more cost-effective to maintain and repair. So when you choose Toyota, you're not only getting a brand that outperforms most of its competitors, but you're likely to pay less!
Follow Mount Airy Toyota's specials page to see how affordable new Toyotas are and catch some of the dealership's unrivaled deals early in their listing. Also, consider visiting Mount Airy Toyota's financing page to see how easy the dealership makes it to buy your new Toyota.
Choice of Dealership
If Toyota has appeared as the answer to your car-buying dilemma, you may find yourself feeling relieved. Now you don't have to worry about the psychology of decision paralysis and its pitfalls.
For the most part, you're right! If you've narrowed down your car buying to a brand like Toyota, the entire experience should be so much easier. Still, the question of where to buy the Toyota remains. Some people look at classifieds pages, buy from the owner, or pick the dealership closest to them. Each of those options comes with some drawbacks to consider. Much like narrowing what you buy to one brand, going to a single dealership for your purchases can work in your favor.
Mount Airy Toyota stands out as the premier dealership for prospective Toyota buyers. With a top-tier customer service support staff, a commitment to providing a level of affordability in line with Toyota, and a dedication to enabling more people to join the Toyota family, the choice of where to buy from is as clear as what brand to buy.
So, don't let decision paralysis grip you any longer. Fight back on procrastination and exhaustion, and go with the right choice. Join the Toyota family today; it's as easy as reaching out to Mount Airy Toyota!