Mount Airy Toyota's Thomas Williamson and His Personal Toyota Tundra!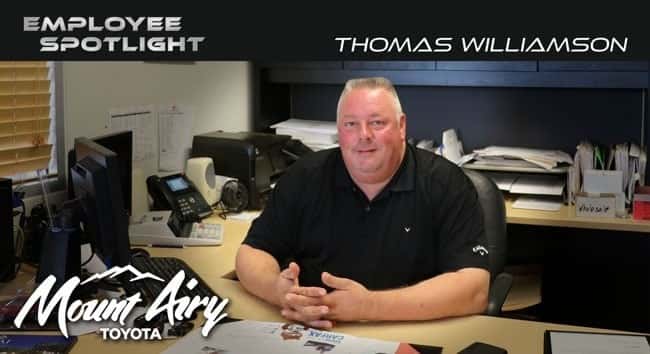 Thomas Williamson is the General Sales Manager at Mount Airy Toyota. He enjoys being able to work for the best Toyota dealership in the southeast. Thomas is a truck lover and drives his own Toyota Tundra. With a passion for cars, a love for trucks, and kind heart to help others, working in the car industry is the perfect fit for him.
Working with Scott McCorkle
Thomas has worked in the automotive industry for a couple of decades and has experienced many different environments. Before joining Scott McCorkle, Thomas worked at a Chevrolet dealership. He has been working with Scott McCorkle for three years and recently moved from Mount Airy Chrysler Dodge Jeep Ram, also owned by Scott McCorkle, to Mount Airy Toyota in November.
Thomas enjoys working with Scott McCorkle and values the different experiences he has gained from working at many different dealerships and with a lot of different people. He says that Scott McCorkle is the hardest working and the most involved dealer he has ever worked with. Mr. McCorkle owns several dealerships but works hard to stay involved with each one. Thomas enjoys weekly calls and monthly meetings with Scott McCorkle. Thomas says that Scott McCorkle is, "very straightforward, honest, and fair; he really takes care of his customers and that is why I was drawn to working for him."
Thomas's Family
Thomas Williamson loves his new position at Mount Airy Toyota. It has given him the opportunity to work with two of his sons. Thomas is happily married and has three kids and one grandchild. Working in management for the automotive industry runs in the family: Ryan Williamson works as the Business Manager and Josh Williamson works as the Finance Manager at Mount Airy Toyota.
Being a part of the car industry for many years has given Thomas the opportunity to drive many different vehicles. Thomas says, "Our top vehicle is Toyota Camry, it is a classic sedan vehicle that is well known and loved."
Thomas appreciates the classic Toyota Camry but his real love is his love for trucks.
The Toyota Tundra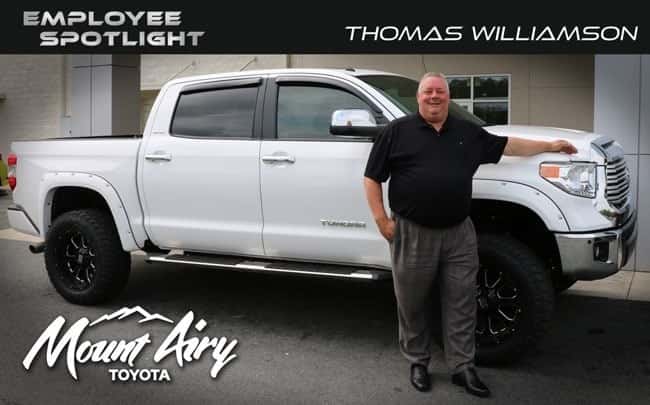 Thomas's favorite vehicle is the Toyota Tundra. He has his own personal Toyota Tundra that he drives and loves it, "I love the exterior design of the Toyota Tundra it gives the truck a bold look that I love, and it has excellent towing capability."
The Exterior
The Toyota Tundra has a bold exterior which is what differentiates it from other trucks. The new 2018 Toyota Tundra has a new Toyota Racing Development (TRD) Sport style. Toyota has a special in-house team that is dedicated to making sure every TRD vehicle is made ready to hit the roads. The new style includes:
New HoneyComb-Style Grille- The grille of a truck says a lot about the vehicle and the person who drives it. The new TRD Sport's Honeycomb-Style Grille will not disappoint.
LED Headlights- These lights are brighter and more effective than any model before. With Daytime Running Lights, it gives the truck an aggressive look and feel.
Sport-Tuned Suspension- The new suspension has TRD front and rear sway bars and Bilstein dampers. These neat aspects work to help the truck preform with excellence and give you a smooth ride and great turns.
Towing and Hauling
The Toyota Tundra at Mount Airy Toyota has it all. This truck is made for both work and play with an excellent payload and towing capabilities. The 2018 Toyota Tundra is built for towing and hauling. Whether you are hauling a trailer for landscaping or towing a boat for vacation, this vehicle will help you with its ability to tow up to 10,000 pounds. The Toyota Tundra's towing abilities are professional-grade with features like:
A Combination Meter- Staggered, outboard-mounted shocks, and a heavy-duty TripleTech frame. The truck also has a combination meter that features a voltmeter, coolant temperature, fuel, and engine oil pressure gauges.
38-Gallon Fuel Tank- Be prepared for long hauls with the 38-gallon tank. Don't waste time filling up the tank every day, this tank will last longer for longer trips and less time at the pump.
TOW/Haul Mode- The Toyota Tundra has a 4-/7-pin connector in the rear bumper, this makes it easy for you to hook up a compatible trailer and go. The TOW/HAUL Mode holds lower gears longer for increased throttle, pulling power, and engine braking.
The interior
Trucks are usually all about how the exterior looks and how the truck performs. So many brands forget how important and valuable a nice, luxurious, and comfortable interior is when finding the perfect truck. The engineers of the Toyota Tundra had comfort and luxury in mind when they developed the interior of the 2018 Toyota Tundra in addition to exterior and performance features. From comfortable seats to plenty of space, they nailed it with these features:
Platinum Interior– The inside of the Toyota Tundra is as bold and striking as the outside. With the Platinum CrewMax seating, every trip can be relaxing and comfortable AND stylish.
CenterConsole– The optional center console comes standard with the available front bucket seats. With the center console, you will have a covered storage compartment and a 12V auxiliary power outlet right within your reach.
Fold-Up Rear Seats– To provide more space in the back seat, both the Double Cab and CrewMax fold up. This setup allows for more room than folded down seats provide and is an easy way to load cargo into the truck.
Thomas Williamson loves his Toyota Tundra and would love to help you find the right Toyota vehicle for you. The Toyota Tundra is the best fall truck on the market. With a bold exterior, strong towing capabilities, and a comfortable and spacious interior, truck lovers can't resist the Toyota Tundra. For more information on the Toyota Tundra visit Thomas and his crew at Mount Airy Toyota or give the store a call at (336) 786-2118.
By: Grayson Collins
CCP Web Design