Mount Airy Toyota's Model Year End Clearance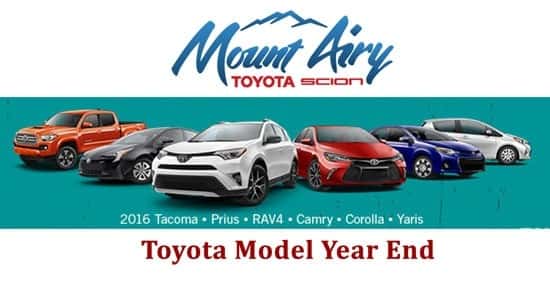 Mount Airy Toyota's Model Year End Clearance
Car shoppers from Bristol and Jonesville, VA are heading to Mount Airy Toyota in a hurry, and so should you. Why? Because it's Mount Airy Toyota's model year end clearance, which means you can find your favorite Toyotas at an excellent price.
The model year end clearance is a special time for the savvy car buyer. You have done all your research to find the best make and model for your needs. Finances are in order. And that special space in the driveway is clear and clean, waiting for the arrival of your new car. So, why exactly is this the right time to buy? Some believe December is best because it's the end of the year and sales quotas must be met, causing prices to drop. Others see spring as the time to buy for similar reasons. And though these are good times to buy, they don't match the deals made now.
Every fall, the car manufacturers introduce the next year's lineup. Toyota has already realeased some 2017 models. Mount Airy Toyota has over 70 of the new 2017 models on their lot now. And we are going to get more in the coming months!
And in order to make room for this large inventory, last year's models must be sold. Remember, these are 2016 model vehicles. Still brand new, shiny with the warranty intact!
The best part is the money you will save. Mount Airy Toyota is literally reducing car prices by thousands of dollars. And they still include warranties and package deals.
Not convinced? Have a look at this: at Mount Airy Toyota a 2016 Toyota Camry SE (five passenger, front wheel drive, 2.5-liter, 4-cylinder engine) is usually priced at $29,257. Not a bad price. But now, during the model year end clearance, it's only $21,270! That is a savings of over $7,000!
The time is now. Stop in to Mount Airy Toyota today. But you better hurry.