Mount Airy Toyota's 2016 Spring Fling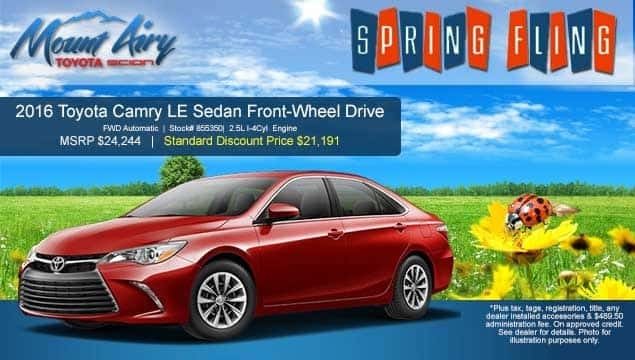 It is officially Mount Airy Toyota's annual Spring Fling. And this year the deals on Toyota models are the best ever. Whether you are looking for a family sedan in the 2016 Toyota Camry, the perfect college car in the 2016 Toyota Corolla, or something sporty and fun in the 2016 Toyota RAV4, you can find it at Mount Airy Toyota.
Right now, you can find a 2016 Camry with a 2.5-liter, 4-cylider engine at only $21,191. This luxurious four door sedan comes with a back-up camera, a plethora of audio capabilities, and keyless entry. It also comes with a 5 year/60 thousand mile warranty. With a suggested retail value at $24,244, Mount Airy saves you over $3,000!
Or, if you are looking for something classy, yet a bit smaller, you can't go wrong with the 2016 Toyota Corolla. Stop in to Mount Airy Toyota now and test drive an all-new 2016 Toyota Corolla with a 1.8-liter, 4-cylinder engine for only $17,261. The 2016 Corolla comes with a remote trunk release, child safety locks, steering wheel controls, and Electronic Stability Control. And the 2016 Corolla gives you 27 miles per gallon city and 36 miles per gallon highway savings on gas. This is the perfect car for long drives to and from college, or even fun road trips through the foothills.
And if you are looking for a fun SUV that saves on gas, Mount Airy Toyota's Spring Fling has you covered. Come in and check out the 2016 Toyota RAV4. Its 2.5-liter, 4-cylinder engine is surprisingly peppy. This small SUV keeps you on the road without interruption at 24 mpg city and 31 mpg highway. And it comes with a rear spoiler, privacy glass, and a Phone, Cable & Charge Package.
Regardless of the Toyota of your preference, now is the time to buy. With a variety in colors and features, you have to stop in to Mount Airy and take advantage of the incredible price cuts this Spring Fling.