Mount Airy Toyota Celebrates Fall With New 2017 Models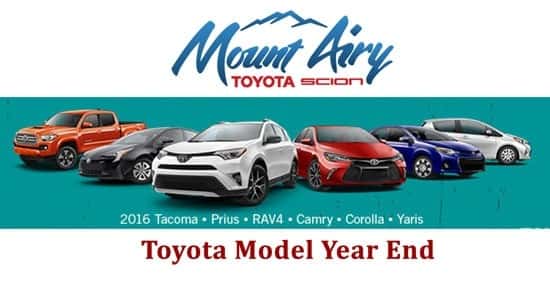 If you are in Galax, Va looking for a new Toyota, you've found the right dealership! Mount Airy Toyota is the best Toyota dealer in the region serving Surry County, Pilot Mountain, and Winston-Salem!
Prices on 2016 models are being drastically reduced at Mount Airy Toyota as we prepare for the new model-year. It's time to sell out of the old to make way for the new, and nowhere else will you find deals like these.
The smart car shopper knows every year at this time, dealerships mark prices on current model-year vehicles as low as possible. Not only do quotas on 2016 models need to be met, but room for the new 2017 models must be made as well. And what is the quickest way to move vehicles off a lot? You guessed it: model year-end clearance. This fall Mount Airy Toyota is having their best deals on new 2016 Toyotas ever. So no matter if you are from Charlotte, NC or Wytheville, VA you need to make your way over to our lot and have a look at the outgoing models.
Here are a few of the many great deals you will find in our inventory:
· 2016 Toyota 4Runner Limited SUV 4×2. Usually listed at $44,908, now at $42,346. Plus it comes with a financing offer at 2.9% for 72 months.
· 2016 Toyota 4Runner SR5 SUV 4×2 (also offered in 4×4). Usually listed at $35,822, now at $33,985. The 4×4 has a MSRP of $40,724, but has been lowered to $38,309. And financing is available for both.
· Looking for something more luxurious? Check out the 2016 Toyota Avalon XLE Premium Sedan with front-wheel drive. Usually listed at $36,740, now down to $32,302. And you can find financing of 0.0% for 6 months.
· We even have reduced pricing on hybrids! Check out the 2016 Toyota Avalon Hybrid XLE Premium Sedan with front-wheel drive for $34,539. Usually priced at $39,358!
And the deals get better:
· 2016 Toyota Camry for $20,611. 2016 Toyota Corolla at $17,419. And even the 2016 Toyota Highlander as low as $41,157.
There are simply too many to list. Come in to Mount Airy Toyota today and find the best price on your new Toyota.