How To Prepare Your Used Car for Trading In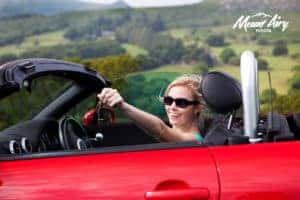 Used cars have been selling at unprecedentedly high rates. While the peak in the value we saw in the middle of 2022 is slowly falling, you can still trade your car for an extraordinary value.
Dealerships like Mount Airy Toyota have been working with car owners for years to make the trade-in process as easy as possible. Finding the right dealer is essential because you need professionals to give you the value your used car deserves. Not to mention, we have new cars that will make anyone think about trading in their old ride and getting a brand new 2022 or 2023 model.
Nonetheless, there is a lot you — the car owner — can do to maximize your trade and sail through the trade-in process. Here are some key ways to prepare your used car to maximize your trade-in value:
Clean Your Car and Clean it Well
Just like if you were selling your home, you need to go out of your way to clean and "stage" your vehicle. This doesn't mean a simple wipe down and vacuuming of the high-traffic areas; opt for complete cleaning and detailing, inside and out.
It's an objective truth — a clean and well-maintained car results in a higher offer.
You can choose to do your cleaning at home and save some money on your eventual trade-in. Or, if you're looking to save time and energy, you can get professional detailing for around $100. Whichever route you choose, you'll be amazed at the difference a clean car can have on its offer!
Address Small Mechanical Problems
To make use of the previous analogy of selling a house — you would never list a home expecting to get more than your asking price if the porch needed work or its windows needed replacing. That's true with your used car too.
Addressing minor mechanical issues, like that pesky check engine light, smaller cosmetic issues (e.g., scratches, chips, dents, etc.) in the body, and replacing lights will make a significant difference in your resale value. For example, small scratches or minor dents that don't impact the vehicle's paint can decrease value anywhere from 5% – 15%. Minor as it may seem, that number still results in you going home with less money than you deserve.
It's also essential to check for existing recalls related to your vehicle's make and model. Most recall issues can be fixed for free, and having the repair done can increase your vehicle's value. There's even a database for vehicle recalls, so the process is surprisingly easy. Check on your used vehicle through the National Highway Traffic Safety Administration database. Toyota owners can use Mount Airy Toyota's service center to get their vehicles in the best shape possible. EDITING HERE!!!
Obviously, you don't want to spend more money than your trade-in is worth — or break the bank doing it — so it's usually recommended that you focus on minor problems. You'll save time and money.
Time Your Trade-In
Trading your vehicle in sooner than later is generally best (instead of waiting), as it ensures that your car is as new as possible. That said, the time of the year can impact your trade-in value, especially for specific makes and models.
Take the Toyota 4Runner (#6 in resale value for 2022), for example. SUVs are always in high demand during winter months, where performance in snow and ice is a must. And car buying as a whole happens more often during the first two quarters of a calendar year.
Knowing your make and model, as well as when buyers are more likely to be interested in your used vehicle, will help you determine when you should make the leap and contact a dealership about a trade-in.
Know Your Trade-In
One of the most important things you can do to prepare yourself for the trade-in process is to research your vehicle to know its worth. Doing so will benefit you and whoever you're trading your vehicle in with because it allows you to begin the conversation on common ground.
Many websites allow you to plug in your vehicle's information and get a value back instantaneously, though sometimes automated websites aren't entirely accurate. Sometimes it's necessary to get a set of eyes on your vehicle to thoroughly evaluate everything — good and bad, not just the model year and mileage.
Mount Airy Toyota offers a trade-in tool that uses pictures and information that's then sent to a professional who will let you know your vehicle's value. So, especially if you're a Toyota owner, why wait for a professional evaluation? Utilize our trade-in tool today!
Other Factors That Impact Trade-In Value
Some factors outside of your control also affect your trade-in value. Being in the know about your car and where it falls within these factors can help you understand the offers you'll be receiving from a dealership.
Your Vehicle's Year
Maybe the most evident: The newer the vehicle, the higher its trade-in value. When a dealership knows they can sell your vehicle quicker, they're more likely to make a better offer.
Make and Model
The make and model can have a pronounced effect on the value of your vehicle. If the model is in high demand, it will typically trade in for more. Inversely, a less desirable model will probably sell for less, even if it's in good condition.
Mileage
The vehicle's mileage often plays a critical role in its trade-in value. The higher the mileage, the lower the value. Even if your car or truck is in perfect condition, a high number on the odometer is likely to drive down desirability, and with that, the value of your trade-in.
Desirability
The desirability of your vehicle is truly the ultimate determiner of your trade-in value. All of the previous factors have an effect on its overall desirability, so this encompasses everything we've talked about so far.
In 2022, the #1 ranked vehicle in resale value is the 2022 Toyota Tundra. It's a reliable make and model, a recent production year, and likely comes with low mileage because of its young age, resulting in the most valuable used vehicle on the market.
Where Does Trade-In Value Come From?
We briefly mentioned the necessity of knowing the value of your trade-in, but how exactly do we determine those prices?
All existing vehicles have trade-in values based on their market value. The market value you find online, like the Blue Book value, is usually only reserved for that model of vehicle in nearly perfect condition. So, with that, if your vehicle is in excellent condition, it will have a slightly smaller trade-in value than its Blue Book value. Obviously, if your vehicle isn't in the best shape, it will be valued at a considerably smaller rate.
The value of your trade-in is related to the purchase of your new vehicle from a dealership, which can sometimes translate to thousands of dollars in savings. Knowing the details behind the methods of trade-ins can help make the process easier
Why Mount Airy Toyota?
Where you choose to trade also influences what you get for your trade. We've mentioned that Mount Airy Toyota is the best dealership around regarding trade-ins, but you may be wondering, "Just why is that?" It's because of several things Mount Airy Toyota offers as a dealership.
First, we give customers unrivaled amounts for trade-in vehicles, which results in a more affordable new car for you and your family. Our values are so fair customers are driving across the state of North Carolina to choose Mount Airy Toyota as their partner in the trade-in process. Don't take our word for it, look at our customer testimonials like this one:
"We were very pleased with our overall car buying experience. We're from the Charlotte area but chose Mount Airy Toyota because they gave us a much better price and trade-in value than local dealers."
Even though the drive to Mount Airy Toyota from Charlotte can be quite the distance, the value customers receive for their trade-in makes the travel well worth it.
But receiving a high value, while important, isn't the only thing to look for when trading in a vehicle. Seek professionals who are committed to being courteous, kind, and helpful throughout the whole experience.
Having genuine help while trading your car saves you time, money, and countless potential headaches from a less organized dealership. Again, this isn't just something the folks at Mount Airy Toyota believe; certified customers have experienced it too.
A review from Sara shares that exact sentiment, emphasizing the professional help and kindness she received from Mount Airy Toyota:
"Richard & Josh were so great working with me on my recent trade-in of my Highlander for a Camry! They were courteous, punctual, professional, and friendly. Richard regularly kept me appraised of the shipment & delivery of my new car. Both he & Josh thoroughly explained each part of the trade-in process. I highly recommend both them & Mount Airy Toyota!"
The longer you wait, the older your vehicle gets and the more your vehicle's value decreases. So don't wait! Reach out to Mount Airy Toyota today to get the best price for your used car and the ultimate customer service experience.