Graduate Rebate Program—Our Thanks to You
Graduations from college are right around the corner, and that means gifts! And did someone say cold hard cash? How about a new car? Luckily, Mount Airy Toyota has managed a way to help you hang on to some of your savings this graduation season.
Just how do we plan to save you money? Rebates, that's how. Southeast Toyota Finance has rolled out a College Graduate Rebate program for recent or upcoming graduates. That means money off your next purchase of a Toyota—$500 off, to be precise!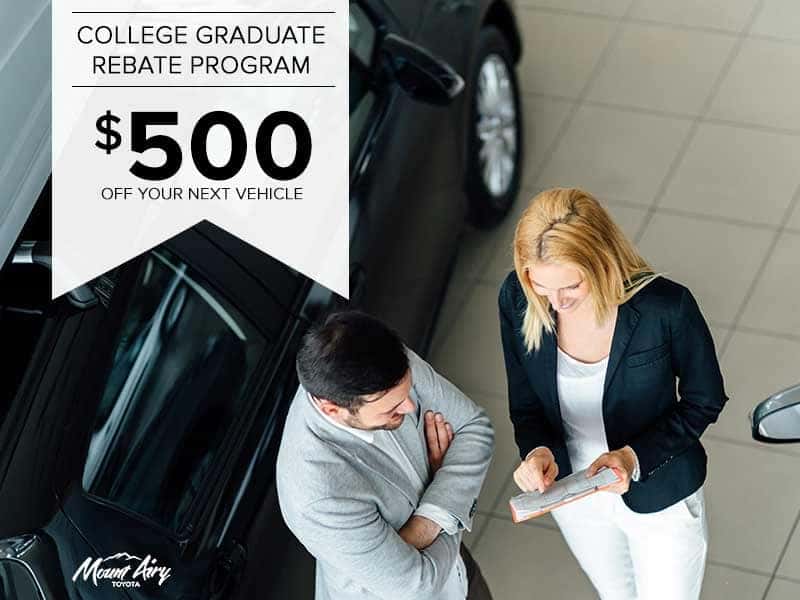 Toyota knows the pressures for recent college grads: find a new job, think about budgeting, rent an apartment, even possibly move to a new city. So what better way to celebrate the next stage in a graduate's life than to put oneself behind the wheel of a new car, and at an affordable price?
Americans have always loved their cars because we see them as indicators for successes in life. Life events like a new job, new marriage, new children, usually help us see the need for a new car. Or the way we celebrate a milestone is to buy ourselves a new car, as a way of saying "it's a whole new me!" Toyota believes in celebrating those moments with you, especially for college grads who are just starting their own journey in life.
So, if in the past two years you've recently graduated from an accredited four-year college or university—or if you will graduate in the next six months!—there's a $500 rebate with your name on it. What about if you're in an accredited two-year college or registered nursing degree program; or you are enrolled in (or a recent graduate of) graduate school? Yep, there is definitely a $500 rebate awaiting you. We want to celebrate all diplomas and degrees, because we believe in the value of an education as much as you do!
In addition to that $500 rebate, you may have little to no down payment due at purchase, or there may be no security deposit owed when you sign a lease. And what's more, monthly payments may be deferred up to three months for retail installment loans, so you can drive off the lot today and think about your first car payment a good 90 days later. And we are committed to getting you into the lowest interest rate financing we can find for you. And to top it all off, we offer ToyotaCare on all our vehicles, which means no cost maintenance in the first two years or 25,000 miles of your car's life.
So come on in to Mount Airy Toyota today, and let's get started on finding the best Toyota that suits you. And that $500 rebate? Yeah, that's yours too. Think broadly. Dream big. Invest in a Toyota.