Deals Abound on New and Recent Toyota Models!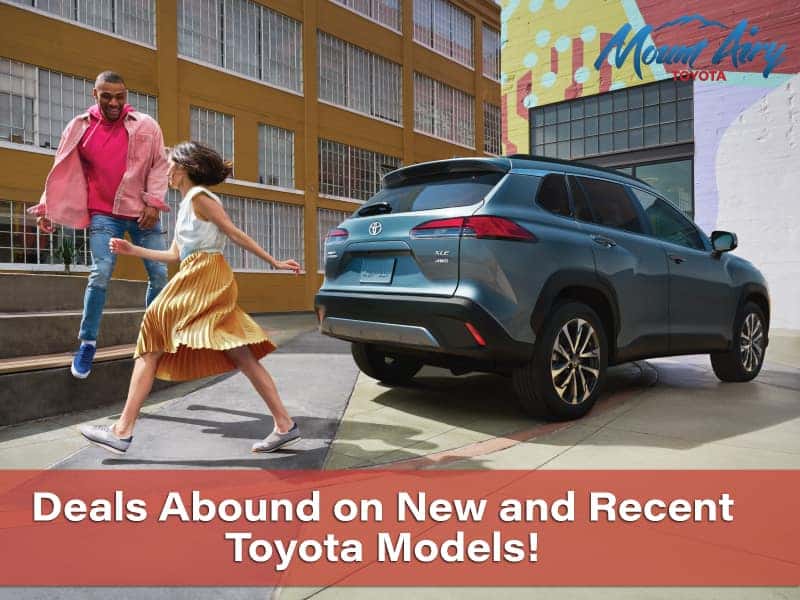 The 2022 model year is a big one for Toyota. A completely redesigned Tundra, significant updates to the Tacoma, and new trims across the lineup are getting car enthusiasts excited for what's around the corner. Some of the new offerings are already hitting dealerships while others will come later next year. But one thing is for sure: It looks to be a promising era for the automaker as the industry continues to evolve.
If you already have your eyes set on a particular Toyota model, this might be the ideal time to take the leap. Toyotathon is here, which means massive savings and incentives! Below, Mount Airy Toyota will discuss the new and recent models in Toyota's lineup, as well as some of the deals being offered in the coming weeks.
New Cars
Let's start with the special editions and upgrades we can expect to see in Toyota's newest sedans and coups:
GR 86
The Toyota GR 86 played a critical role in rekindling the automaker's reputation for sports cars. And now, this model provides even more style, responsiveness, and agility than it did before. The Toyota Gazoo Racing Team got their hands on the new GR 86 and enhanced the interior, gave it more power, and improved the handling and exterior aerodynamics.
The second-generation sports coup also has a longer wheelbase and a bigger engine than previous models. It is powered by a 2.4-liter flat-four engine that produces 228 horsepower and 184 pound-feet of torque at 3,700 rpm.
Supra A91-CF Edition
Another critical piece of Toyota's sports car lineage, the GR Supra is better than ever, and 2022 brings an all-new edition: the A91 CF. This special edition Supra is the most exclusive Mark V Supra yet, as there will only be 600 vehicles produced.
If we were to sum up the 2022 GR Supra A91-CF Edition, it would come down to style, performance, and technology. The model showcases bold carbon fiber accents to go with a duckbill spoiler. This vehicle is not going to go unnoticed, and we can expect those 600 vehicles to sell in no time!
Prius Nightshade Edition
The Toyota Prius is single-handedly responsible for turning the concept of a hybrid car into a mass-produced reality. And for 2022, Toyota is making a statement with the Nightshade Special Edition. This model features a lot of black on the exterior, including on the wheels, trim, and badges. The Prius nameplate has already become synonymous with versatility, efficacy, and practicality. The Nightshade Edition adds smart, bold accents that make the car look more confident than ever.
Consumers can get this new Prius in Midnight Black Metallic, Silver Metallic, or Super White. All exterior finishes come with black door handles, mirror caps, headlight accents, and a body-color shark fin antenna, and a rear deck spoiler. Four-wheel-drive versions sport black 17-inch alloy wheels while all-wheel-drive models ride on 15-inch wheels.
Other Cars
Toyota has also made some upgrades to some of its more conventional sedans. The 2022 Toyota Mirai, the hydrogen fuel cell vehicle, has received a new powertrain and rear-wheel-drive platform, which boosts driving range to 402 miles. The model is also longer, wider, and lower than the previous generation. The 2022 Camry will carry over its refresh from 2021, and the Corolla will remain versatile with its sedan, hatchback, Apex Edition, and hybrid versions returning.
New Crossovers and SUVs
Among other changes, 2022 sees the release of an all-new Toyota crossover and significant strides towards electrification.
Corolla Cross
The Corolla nameplate has been the essence of value, reliability, fuel efficiency, and safety for more than 50 years. Now, Toyota is expanding the Corolla lineup even further by adding the all-new Corolla Cross. Technically speaking, the Corolla Cross is separate from the Corolla and is a lineup of its own. Recently making its debut, the compact crossover is bold, smart, and practical. And it also happens to be pleasing to the eye!
Drivers can opt for AWD or FWD, and the SUV rides on the high-strength TNGA-C platform. It runs on a 2.0-liter Dynamic Force Engine that pushes 169 hp. Along with quality performance, the 2022 Corolla Cross provides a lot of passenger and cargo space to go with a comfortable ride.
Highlander Bronze Edition
The stunning new Highlander Hybrid Bronze Edition is perhaps one of Toyota's most sophisticated-looking models to date. It comes in either the Bronze Edition-exclusive Cement finish or the Wind Chill Pearl finish, the latter of which is an all-new exterior color across the Highlander lineup.
The Highlander Bronze Edition comes with 18-inch bronze wheels, bronze-colored exterior accents, illuminated bronze door seals, and bronze stitching throughout the cabin. One of the most distinctive features, however, is the Softex-trimmed upholstery with bronze stitching, which is as inspired by mid-century modern design as anything you will see in a vehicle.
4Runner TRD Sport
The Toyota 4Runner has developed a 40-year reputation as an SUV that can do pretty much anything on smooth or rough terrain. The model year 2022 sees a new TRD Sport trim that does not compromise on performance or style. The 4Runner already comes in TRD Off-Road and TRD Pro grades, both of which are designed for optimized performance on the roads less traveled. The TRD Sport brings new flair, style, and daily-commuter upgrades that set it apart from other models in the lineup.
bZ4X Concept
This year, Toyota introduced the bZ4X concept to the North American market. The automaker has long been a leader in the EV industry, and this concept model provides consumers with evidence that the company is not slowing down on its vision for electrification. Toyota has made no secret of its plans for a global lineup of battery-electric vehicles that will be sold with the "Toyota bZ" brand.
The Toyota bZ4X SUV Concept uses the automaker's new e-TNGA BEV-dedicated platform. Though it was developed alongside Subaru, this concept promises the epic quality, reliability, and durability that Toyota fans have come to expect, as well as impressive AWD capabilities.
New Trucks
The lineup additions and upgrades don't stop with Toyota's cars and SUVs. Here are some of the exciting developments for 2022 on the pickup front:
Tundra
The 2022 model year marks the first time since 2007 that the Toyota Tundra gets a redesign. And when we say redesign, we mean inside and out. The new Tundra will ride on the same body-on-platform as the Tacoma, Sequoia, and 4Runner. At a glance, the 2022 Tundra is bigger, blockier, and wider than previous versions, and it comes with three running lights in the grille.
In place of the V8 engine that has powered recent Tundra models, new versions use two twin-turbo V6 engines. More specifically, the 3.5-liter twin-turbo V6 includes a motor generator and a 10-speed automatic transmission. This engine comes standard on the TRD Pro and produces 437 hp and 583 lb-ft of torque.
Instead of the leaf springs of previous models, the new Tundra features a double-wishbone front suspension and a multi-link rear with coil springs. Air suspension and adaptive dampers are optional, as is a 14.0-inch infotainment touchscreen that is compatible with Android Auto and Apple CarPlay. A 2022 Tundra offers a maximum towing capacity of 12,000 lbs. Furthermore, the fact that this model will share a platform with its Tacoma, Sequoia, and 4Runner siblings means that we can expect those models to be redesigned by 2023.
Tacoma TRD Pro
The Tacoma TRD Pro gets several upgrades for 2022. It comes with a lift kit that raises the front suspension by 1.5 inches and the rear by 0.5 inches, upgraded control arms, 2.5-inch Fox internal bypass shocks, and 16-inch black TRD wheels with Goodyear Territory all-terrain tires. The TRD Pro comes with a standard 3.5-liter V6 that yields 278 horses and 265 lb-ft of torque; the engine can be paired with a six-speed manual or six-speed automatic transmission.
Tacoma Trail Edition
The new Tacoma Trail Edition shares many similarities with the SR5 grade and adds lockable bed storage, a 120-volt bed outlet, and rubberized floor liners. The Trail Edition also offers colored accents throughout the exterior and interior and comes standard with four-wheel drive. The front suspension is 1.1 inches higher and 0.5 inches higher in the rear than the SR5 grade. Moreover, it features 16-inch bronze wheels, a unique grille with bronze lettering, skid plates, and a rear locking differential.
Teammate Advanced Drive Backgrounder
As a new function of Toyota's Teammate advanced driver assistance technology, the Advanced Drive Backgrounder partners with drivers to improve safety and convenience on the highway. This feature enables automatic steering when activated, as well as automatic acceleration and braking (assuming you are actively supervising!). Additionally, Advanced Drive can help drivers change lanes, merge and pass other vehicles, and maintain a preset difference between vehicles.
Current Deals
It's no secret that Toyotathon means big savings and incentives. And if you come to Mount Airy Toyota this November, you won't be disappointed! We are offering financing deals with interest rates ranging from 1.9% to 2.9%. Three-year leasing terms are being offered from $200 to $360, and there are even cashback rebates being given for $500 to $1,000. Let's break these deals down in more detail:
Financing Offers
The national average for a new car loan is around 3.87% right now. You can get much lower rates by coming to our dealership this month! For example, we are offering 1.9% financing for six years on 2021 C-HR, Highlander, Highlander Hybrid, RAV4, RAV4 Hybrid, and Venza models. You can also get the 2022 Prius and 2021 Tacoma at a 2.49% rate for six years, or you could qualify for a five-year 2.9% rate on the 2022 Corolla or 2021 Corolla Hybrid.
Leasing Offers
If you are looking to lease a new vehicle, our dealership is the place to come for that too! Right now, the 2022 Corolla and Corolla Hybrid can be leased for $189 per month, while the 2022 Camry and Camry Hybrid are available for $259 and $269 per month, respectively.
Thinking about an SUV? You can drive off in a new 2021 RAV4 for $279 per month, a 2021 Venza for $309 per month, or a 2021 RAV4 Prime for $359 per month. The 2022 Highlander and 2022 Highlander Hybrid are going for $339 and $359 per month, respectively.
Cashback Rebates
If you plan to pay cash or use your own financing to purchase a new Toyota model, you may qualify for cashback rebates. For instance, the 2022 Avalon and Avalon Hybrid each come with $1,000 cashback incentives. And you can get $500 cashback on the 2022 Highlander or Highlander Hybrid, 2022 Corolla Cross, 2022 Camry or Camry Hybrid, and 2021 Sienna.
Conclusion
Toyota appears primed to remain a worldwide leader in innovation, technology, safety, reliability, and quality. With lots of new models and upgrades coming down the line, Toyota fans may have a more difficult decision than ever deciding which model to purchase next! If you are ready to get a 2021 or 2022 Toyota, look no further than Mount Airy Toyota. We would love to talk with you about deals and incentives, so give us a call or come by our dealership at any time!