Christmas List for the Car Lover in Your Life
With the holiday season approaching, people are scrambling for the best gift ideas. Six in 10 Americans say they worry about being "out-gifted" during the holidays, and 62% have the lofty ambition of being their family's best gift-giver. In other words, this season can create a lot of stress.
Those with a car lover in their family are guaranteed an even greater challenge. While car lovers are common, finding interesting gifts for them is a rarity, something self-identified car lovers will also relate to. So, whether you're looking to treat someone else or yourself, you will likely hit your share of roadblocks.
If you count yourself among those who have been searching the web for the perfect gift, look no further—the professionals at Mount Airy Toyota are ready to help you navigate the holiday season!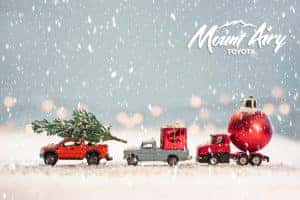 TLC and Convenience For Any Ride
When you think of a dealership during the holiday season, your mind may immediately go to a new vehicle as a seasonal gift. While Mount Airy Toyota has countless new and used vehicles that'll be certain to give the recipient the best holiday of their life, it isn't the only way you can show your appreciation for the car lover in your life. Let's look at some tried-and-tested accessories to consider:
Car Cleaning Essentials
We've all been stuck in line at a car wash, or a little hesitant to put as much trust as is required into automated car washes. Whatever the case, sometimes going to a car wash isn't ideal.
There are some pretty impressive car wash kits on the market, with multiple pieces and products that guarantee a level equal to, or above, car-wash cleaning. Some products even make waxing much easier, allowing you to treat your car at home easily instead of driving to the nearest car wash.
In the same vein as cleaning, having a car vacuum is vital if you're trying to keep your vehicle in tip-top shape. Battery-powered wireless vacuums are ideal because they allow you to reach all the nooks and crannies that need the most help. Gone are the days of parking next to a vacuum stall only to find that the machine you just put your quarters in has seen better days.
Car Camping Gear
At a glance, this might seem over-the-top, but car camping has become an increasingly common practice, and the associated products have advanced at surprising levels. Car camping isn't easy with a smaller vehicle, but if you need a gift for an SUV owner in your life, car camping products could fit the bill. SUVs like Toyota's RAV4, Highlander, Sequoia, and many more provide spacious interiors ready to be converted into a luxury camping experience!
Add-ons and gear like a trunk or truck bed tent noticeably transform any vehicle into a campsite-ready camper. Interior-tailored sleeping bags, window covers, and blankets will create a camping experience any family will remember for years to come.
Car Fresheners
Scent is one of the first things people notice when they enter their vehicle. You could opt for the classic black-ice Christmas tree freshener, or you could step it up with one of the many luxury fresheners on the market.
Sprays, vent clip-ons, candles, and diffusers are just a few ways fresheners have advanced past the typical over-the-rearview mirror freshener. Why settle for the scent everyone has when you can give a gift that's sure to please even the hardest-to-please giftee?
Remote Start System
For friends or loved ones who live in colder or hotter climates, a remote start system could be the best gift they've ever received. While some of the newer Toyota's come equipped with remote start, older models can have these systems installed.
Reaching out to a qualified dealership and asking about the model of the gifted vehicle is a great start to getting the system up and running in any Toyota. The auto brand also offers remote connect, an app for your smartphone that allows you to manage more than just starting your vehicle from afar; the app is perfect for a uniquely cold or hot day.
Tesla Charging Adaptor
It's no secret that Toyota is the leader in electric vehicles. Charging stations are growing at unprecedented rates, and it's easier for EV owners to store their vehicle chargers than ever before.
Still, some EV manufacturers have limited their chargers to only serving their vehicles. Tesla is an excellent example of that; its chargers are designed only for the brand's models. While there are far fewer Tesla stations than other EV charging stations, gaining new places to use charge is highly valuable.
Still, adaptors exist that will allow your Toyota EVs to utilize level 1 and 2 chargers. This gift will open up a whole new world of travel to your giftees. With a Tesla charging adaptor, Toyota's hybrids and EVs (the same ones available at Mount Airy Toyota), will be able to access an even wider array of charging stalls.
Tires
As the weather gets colder, new tires become a necessity. This page on Mount Airy Toyota's site explains it best!
"The right tires not only help contribute to your vehicle's handling and performance but can also impact fuel efficiency and safety as well."
Even the best, most advanced high-performing vehicle is only as good as its tires. Many Americans forgo replacing tires when needed because of the cost associated with a new set. This can lead to potentially dangerous situations, while also hampering fuel efficiency and general performance.
Mount Airy Toyota not only offers excellent tires—with a variety to fit any driver's preference, vehicle, and driving—but we have factory-trained and certified Toyota technicians who can mount new tires and balance them to fit any Toyota's specifications.
Any vehicle owner would appreciate the gift, and you'd be making your loved one's driving experience immeasurably safer. Also, remember that you're not the first person to buy new tires from Mount Airy Toyota, and you won't be the last. That means you'll receive excellent customer care and tires of the highest quality. And there are countless reviews to back up that claim, such as:
"Got a great price on my new tires. Great service, friendly and helpful staff."

– Michelle Hanks
Air Compressor Kit
This is a gift that ties together nicely with a new set of tires, though any driver would appreciate it, even if they didn't recently buy new tires from Mount Airy Toyota. Air compressor kits allow you to monitor your tires' air pressure and ensure they're always at their best, translating into a longer tire life.
Not to mention, it can correct any tire that's had a small leak. This lets a driver focus on their tires, not the nearest gas station that has an air compressor. Having an air compressor in your vehicle also makes it possible to help any friend or family member with a similar problem.
Increasing Cargo Space
Hitch cargo carriers and rooftop cargo bags are one of the best ways to expand on an already crammed trunk. People who drive regularly know how critical it is to optimize cargo space. Hitch cargo carriers and rooftop cargo bags can serve as the new trunk you've always been asking for!
A New Car!
As we said earlier, a new car isn't the only gift you can give a car lover for the holiday season, but it is the ultimate gift. Other gift ideas can improve your giftee's driving experience and provide some much-needed TLC to their everyday vehicle; still, sometimes what someone really needs is a new car altogether!
Mount Airy Toyota has countless new models available this holiday season, all of which are at the very top of the automotive industry. We also understand the need for new vehicles during the holidays and want to give car buyers the best deal possible, so everyone leaves the season feeling like a winner.
There's something for everyone on our lot. Mount Airy Toyota's digital model showroom lets you take a detailed look at the inventory, something that makes tailoring the gift of a new vehicle much easier.
While buying a new vehicle can be a heavy lift, Mount Airy Toyota's financing center has you covered. Qualified professionals at the dealership want to make the buying experience as easy as possible. After all, nobody wants to be a Grinch!
So, don't wait to get your holiday shopping done! Treat yourself, or the car lover in your life, and come out as the best gift giver this year. Consult this guide as you shop, and have a wonderful holiday season!