Celebrate Snow Days with Mount Airy Toyota Scion and Save $500 on a New Car
A snow day is a delightful unexpected treat that conjures up happy feelings, and not just for kids. The Carolina blue sky doesn't give us many snow days, but when it does we believe it's something to celebrate. Here at Mount Airy Toyota Scion we want to know how you celebrate these unpredictable days when you have new-found time on your hands. Send a photo of how you and/or your friends and family are celebrating the wonder of "down-time". Send it in digitally or bring it to us and you'll received $500.00 off any new car!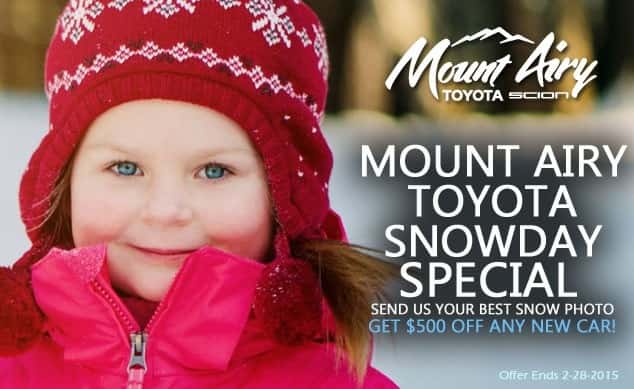 Does a cold snowy day make you want to cook your favorite comfort food, buddle up the kids for some downhill sledding or snuggle up with a good book? Maybe you never get out of your pajamas and binge watch your favorite TV sit-com. For many of us it's a free day, or a gift of time not planned. Capture how you celebrate the free time of a snow day and we'll save you $500.00 on your next new car.
There's any number ways to show off your pictures. Bring it in, drop it off, or post it using the hashtag #MountAirysnowdays on Facebook, Instagram and Twitter. The Celebrate Snow Days $500 offer is also available at our other NC Dealerships Mount Airy Chrysler Dodge Jeep Ram and Liberty Buick GMC. The Celebrate Snow Days $500 offer is available to new car buyers until Friday, February 28th.