Car Care Roadside Assistance: Yet Another Reason to Buy Toyota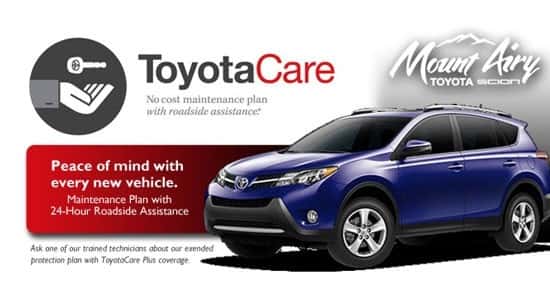 With the purchase of any new Toyota from Mount Airy Toyota comes a no-cost maintenance plan for two years or 25,000 miles. Included in this maintenance plan is 24-hour roadside assistance, which lasts for two years no matter how many miles you put on your new Toyota.
No one likes to be stranded on the road when a vehicle breaks down. Now Toyotas are not known to do this, but occasionally something might go wrong. Driving through Bristol, VA and the battery dies, a tire blows, or you are so focused on getting to your destination you run out of gas. What do you do if any of these things happen? Well that all depends on the brand of car you drive. And if you happen to be driving a Toyota that you purchased within the last two years, you have absolutely nothing to worry about.
Here is a list of what Toyota's celebrated Car Care Roadside Assistance covers:
Battery jump start. It doesn't matter if the battery is dead or simply has a bad connection. Call the toll-free number and a service provider will be there to bring your car back to life.
Lockout protection. Lock your keys in your car? No problem, it happens to all of us. And this is a simple fix for a Car Care Roadside Assistance technician.
Emergency Fuel Delivery. Ever see those people walking down the highway with a gas-can in hand? That will never be you. If you run out of gas unexpectedly, a service provider will come fill up your car and get you back on your way.
Free Towing. If, for some reason, your Toyota stops running and you don't know why, you can get towed to the nearest Toyota dealership (or a Mount Airy Toyota if you are within 25 miles) for free.
Preventative thinking combined with smart purchasing can keep you from every being stranded on the highway. Come shop at Mount Airy Toyota today and find the vehicle that suits you best.