Buying a New Family Vehicle in 2022? Here's How You Can Land the Ideal Model!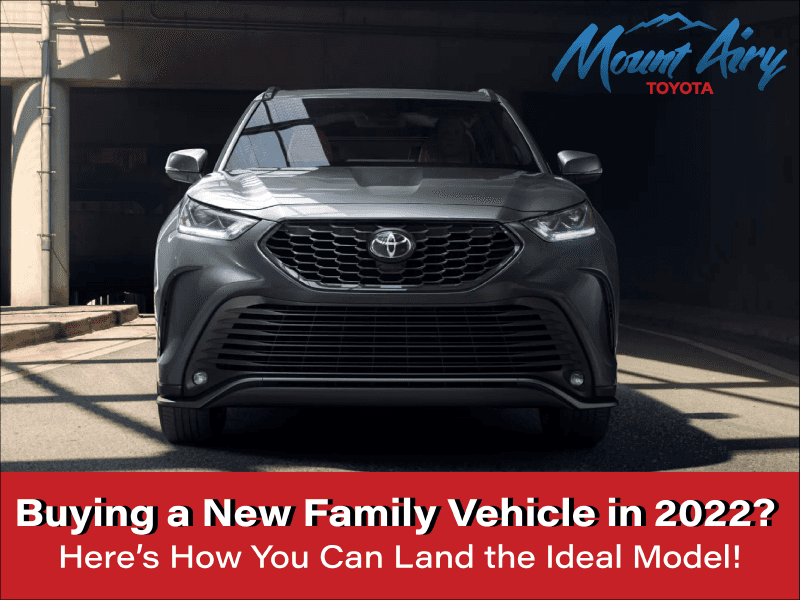 It's a new year, and you're thinking now is the time to invest in a new vehicle for your family. If you've ever bought a car before, you understand how difficult and stressful it can be. You must consider affordability, reliability, engine power, the sound system, and many other factors. 
When you have family, you have to think about their needs, which makes car buying all the more challenging. Along with ensuring everyone can ride comfortably in the vehicle, you have to prioritize safety, durability, and entertainment features (for the kiddos, of course). 
The good news is that Toyota offers more family-friendly options than any other automaker. Below, Mount Airy Toyota goes through some of the brand's top family vehicles and gives you seven tips for how to get your dream car!
Top Toyota Models for Families    
Each of these Toyota models will keep adults and kids alike safe and happy on the road. Consider the details to determine the best one for your family!
Toyota Sienna     
The Toyota Sienna is a minivan, but it has the vibe of an SUV. This van blends in with the automaker's SUVs via a flat hood, roof rack, and well-pronounced body sides. 
The Sienna comes with a hybrid powertrain, which provides above-average fuel economy. 2022 sees the new Woodland Edition, which comes with standard all-wheel drive, a 0.6-inch lift kit, and many accessories to add convenience.
Toyota Highlander
When it comes to mid-size SUVs, it's hard to find something more attractive, comfortable, and practical than the Toyota Highlander. This vehicle offers tons of features and various configurations, making it one of the most versatile three-row SUVs in its class. 
The Hybrid Bronze Edition is new for 2022 and comes in either Wind Chill Pearl or Cement exterior paint. It features 18-inch bronze wheels and many other bronze design elements. 
Toyota Venza
After a lengthy hiatus, Toyota brought back the Venza in 2021. This compact hybrid crossover will comfortably seat five people and comes standard with all-wheel drive. Aside from its sleek appeal, the Venza shines in its superb fuel economy and quiet demeanor. 
If you find the 4Runner and RAV4 a little hard-edged, you will appreciate the softly rounded and shapely body of the Venza. It also provides a luxurious cabin with premium materials.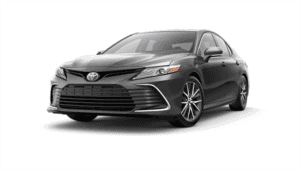 Toyota Camry 
The 2022 Toyota Camry is much more performance-based and boldly styled than its predecessors, but it remains one of the most family-family sedans on the market. It comes with a range of powertrain options so that drivers can choose the setup that meets their needs. 
Toyota slightly modified the exterior paint options for the Camry for 2022; now, non-TRD grades are available in Edge White. Additionally, Camry Hybrid buyers can now add the Nightshade appearance package.
Toyota RAV4
The Toyota RAV4 is one of—if not the—most efficient and practical compact SUVs in its segment. And its resale value is unmatched. If you have a smaller family looking for adventure, this could be the vehicle for you. 
The 2022 model year sees minor updates, such as restyled headlights and the new Calvary Blue exterior color. XLE, Premium, Limited, Adventure, and TRD Off-Road grades now come with standard LED fog lamps. 
Toyota Sequoia
As Toyota's largest SUV, the three-row Sequoia is built on the same frame as the Toyota Tundra. It provides stronger acceleration than many of its rivals and an impressive list of standard driver-assistance technologies. This is an excellent vehicle if you want lots of space for seating and cargo without going up to a minivan. 
7 Practical Steps to Acquiring Your Dream Car    
 Many of us hope to drive our dream car someday. If you think now is the time to pursue the vehicle your family has been longing for, there are things you can do to help you realize your dream. 
Even if you are not ready financially to purchase a new car, it doesn't mean you have to wait years before acquiring one. Much of it comes down to establishing a realistic goal, creating a budget, saving money, and exploring all of your options. Here are seven steps to help you prepare:
1. Set a Goal    
When trying to determine how to buy a new vehicle, your first and most crucial step will be to choose the specific model you want. That model will be your goal, and it must be a clearly defined goal if you are to obtain it.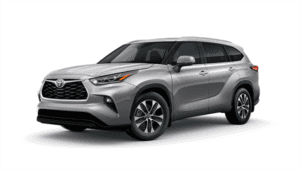 And when we say model, we mean the grade, features, and other specifics. You must have a set-in-stone price to shoot for so that you can make your plan around it. For example, the base 2022 Toyota Highlander L starts at $35,205, while the Platinum grade starts at $47,560. And if you add packages and features, it will increase the price more.
Don't be unrealistic about the amount you will be willing to spend, or you may set yourself up for failure. Consider every detail about your dream vehicle, and be realistic about your investment. All new vehicles lose value over time (unless vintage or antique), so factor in depreciation as you set your goal. 
2. Create a Budget    
Once you have decided on a specific model and grade, it's time to create a budget that will direct your steps. Consider your monthly income, expenses, and how much you are willing to put aside for a new vehicle. 
As you develop your budget, don't leave out maintenance, fuel, insurance, and other expenses. Ideally, you will leave a little padding in your budget for these costs before purchasing the vehicle. 
Once you have written out a budget that will help you achieve your goal and account for your other bills and life necessities, you will need to stick to it like glue. This will require you to practice self-discipline but will likely get easier once you get into the rhythm of saving money.
3. Cut Expenses    
One practical way to attain your dream car faster is to find expenses in your budget that you can cut. Of course, you will not want to compromise your family's health, safety, and quality of life. But you might be surprised by how you can live comfortably while eliminating specific costs. 
Also, adopt a different mindset and attitude towards spending. For example, before you make a non-essential purchase, ask yourself if you could better use the money toward your car budget. And when you're shopping for groceries, electronics, or any other types of products, put extra effort into comparing prices at various retailers.
4. Open a Savings Account    
Many families benefit from keeping a glass jar to save money because it allows you to see the money you're saving, which can motivate you to stay focused on your goals. However, it requires you only to save cash. 
Besides the jar, the bank is still a safe place to store your funds. Open a savings account at your local bank so that you can efficiently allocate money from your paychecks, transfers, and other methods. See if any account options will earn you high interest, and think about opening a passbook account that makes it more difficult to withdraw funds. 
Note that even if you already have a savings account, you can benefit from opening a separate one for your vehicle budget.
5. Start Investing    
If you already have a certain amount of money on loan, but it isn't enough to land your new vehicle, consider investing a portion of it as you carry out your budget. There are many ways to invest 10% to 20% of loaned money and receive a healthy ROI. You just want to ensure the ROI will be more than what you pay each month for the loan and interest. 
Investing can expand your horizons and multiply your money. If you play your cards right, you may even have more money than you hope for when it comes time to purchase your new car. 
6. Finance Your New Vehicle     
If you wish to buy a vehicle before having all the money saved up, you might consider financing. Mount Airy Toyota offers financing to rival any dealership in the industry. And we will go out of our way to make the process as painless as possible for you! Moreover, we always have a range of exceptional deals on our models to help you save on the final price. 
Other financing options (e.g., bank loans, pay-day loans, car title loans, etc.) are worth exploring. Know, however, that these modes often provide a fraction of the funds necessary for a vehicle purchase. And if you commit to a loan with a higher amount, you could pay high monthly interest, meaning you would need to ensure that it would not put your family in a precarious financial situation.
7. Lease Your New Vehicle     
While owning a vehicle may be your dream, leasing could allow you to get one sooner. Not only does leasing come with lower monthly payments, but you don't have to worry about repair costs, and you will save money on maintenance. 
Another perk of leasing a new vehicle is that you will be guaranteed to have the most up-to-date features because cars typically do not lease for longer than three years. And if you use the vehicle for your business, you may be able to deduct the entire lease payment from your taxes. You can also save money if you don't have a business because most states tax you on the "usage" portion of a lease rather than the total price of the vehicle.
Furthermore, dealers will lease some models with no money down. Even if there are upfront fees, they can typically be included in your monthly payment. On the other hand, most new vehicle purchases require you to make a 20% down payment to obtain a car loan with favorable rates.
 If you are interested in leasing a vehicle, we can quickly set you up at Mount Airy Toyota!
Don't Forget Maintenance    
As previously mentioned, it's critical to account for the costs of maintenance, insurance, repairs, and other expenses when buying a new vehicle. Many buyers opt for a used car because they think it will save them money. While this turns out to be accurate at times, it can end up costing you much more in car maintenance over the long haul if you get a lemon. 
Remember that you must pay for fuel, oil changes, and other recurring costs.
And if you run into significant problems with your engine, transmission, or other critical components, your maintenance costs can stack up fast. 
Many factors play into the cost of car ownership, including brand, geographic location, miles driven, and quality of repairs. Each year, AAA reports the cost of ownership for each type of new vehicle driven 15,000 miles. Here are the most recent numbers broken down by category:
• Small Sedan — $7,114
• Hybrid​— $7,736
• Electric — $8,320
• Small SUV — $8,394
• Medium Sedan — $8,643
• Minivan — $10,036
• Medium SUV — $10,265
• Large Sedan — $10,403
• Pickup​— $10,839
Conclusion     
If you are inspired to get a new vehicle for your family, you have plenty of Toyota models to choose from. Consider the models above as you seek the ideal car for your family's needs and wants. And keep the above tips in mind for setting a goal, setting a budget, saving money, and investing. 
Moreover, don't count out the prospect of financing or leasing your new vehicle. If you want more information, browse our wide selection of Toyota models, or learn about our financing and leasing opportunities, contact Mount Airy Toyota today!