2019 Toyota Land Cruiser: Why Buy More Than You Need? Simply Because You Can
1957 — the BJ-era Land Cruiser rolled into civilian life as the FJ25 Cruiser setting up Toyota to expand across foreign markets. The FJ25 had working doors, roll-down windows, and air conditioning, and its military design made it unique. It was innovative for its time, having been manufactured in such a way that it could be produced for either right- or left-hand driving. The Land Cruiser evoked the rough and tumble maneuverability and look of the all-American Jeep but appealed to those who wanted something new and different.
At Mount Airy Toyota, we can't wait for the 2019 Land Cruiser to be released. Expected to hit the market later in 2019, the Land Cruiser will be, as it has been, a classic.
If you want to strike out on a long, cross-country adventure; if you want to climb up mountains and roll over deserts; if you want to ride astride a myth, a legend of a vehicle, the Land Cruiser is what you've been searching for.
Think khaki-clad photographers stalking the elusive white rhino. Think camping in the deserts of Arizona. Think scouting trips in the Adirondacks. Think Bear Grylls. The 2019 Land Cruiser is your ticket to adventure and breath-taking views.
Or maybe you're taming the parking lot jungle, navigating soccer mom terrain, and scouting for the hottest new place to have dinner. The steering wheel is heated and wrapped in leather, the read-seat DVD entertainment system features two 11.6-inch screens, and the standard 14-speaker JBL Synthesis audio system include an 8-inch subwoofer and a 605-watt amplifier.
"Of course, nobody buys a Land Cruiser because it has a touchscreen and can cool your pants through its leather seats. There are plenty of choices that can do that while offering a more sumptuous and compliant ride," writes Kirill Ougarov for Automobile Magazine. "No, the special sauce here is the Range Rover-level capability that comes with it—highlights include full-time 4WD, crawl control, locking limited-slip center differential, the suspension's ability to disconnect the anti-roll bars, and the Multi-Terrain Select system."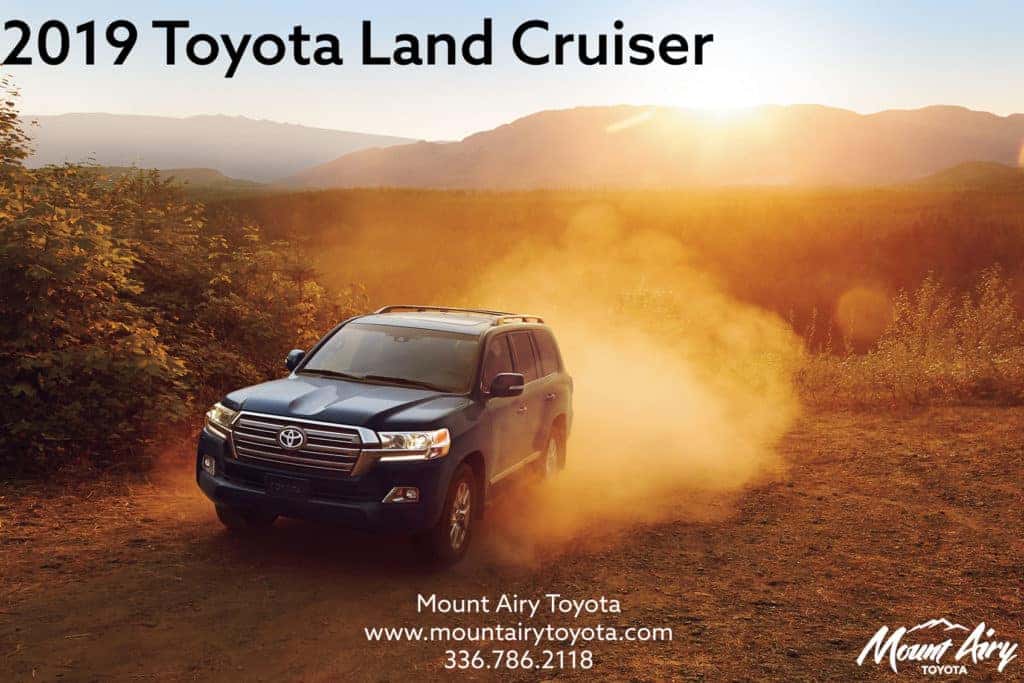 The Details
What will power all that adventure, all that thrill-seeking? A 5.7-liter, V-8 engine with 381 horsepower, driving the all-wheel drive with 8-speed automatic transmission. That includes 401 lb.-ft of torque.
Toyota has 60 years of global adventure backing its design for the 2019 Land Cruiser. The 2019 Land Cruiser has maintained its sturdy body frame from 2008, tried and true, made of a high-tensile steel ladder frame to ensure durability and reduced flex. The independent front suspension has sway bars built in, which keep the vehicle from swaying too much in tight turns or twists. In fact, the Land Cruiser has an independent double-wishbone suspension system, to ensure each wheel moves independently but in unison with the others, for maximal control. But it does not sacrifice wheel articulation in the process. Rough terrain is no match for its fantastic maneuverability and control on the road, and off.
The Land Cruiser offers Standard Crawl Control (CRAWL), which assists the driver in controlling acceleration and baking on difficult terrains. You can go off-roading and be assured you can control your Land Cruiser at low speed, on rough terrain, without fear of safety concerns. Tighter turning radiuses becomes possible, with CRAWL, when navigating rugged terrains.
And Multi-terrain Monitor helps you cut a path of adventure, cuing your Land Cruiser for whatever landscapes beckon you. That system collects the feeds from all the vehicle's exterior cameras. A simple press of a button toggles between views, so that backing-up or continuing onward doesn't come with any surprises.
Multi-terrain Select is an innovative system that controls wheelspin and brake lockup, so driving performance stays on point and remains optimal at all times. No matter the kind of surface you're driving on, Multi-terrain Select responds nicely, keeping you in control of your adventure.
Part of the safety features include powerful LED lighting, so that whether on high or low beams, you have strong and bright lights to help you guide your way into the unknown. LED fog lights will turn on in the event of unfavorable weather. You can adventure far and near without the worry of safety getting in the way.
The Land Cruiser sports features from the Toyota Safety Sense suite: pre-collision warning system, automated emergency brakes, and adaptive cruise control are some of its many offers. Off-roading on rough terrain has never been safer.
The traction control system in place can handle any terrain you put your Land Cruiser on, so get ready to push its limits. And its safety features are on point: emergency braking is standard, along with blind-spot monitors. Whether out in the wild or braving the city streets, Toyota has you covered for power, drive features, and safety.
The interior's onboard electronics and dashboard has all the bells and whistles you seek. There are several exterior cameras to aid in backing up (front, side, and rear views) and a 9-inch screen loaded with Toyota's Entune infotainment system. 14 JBL speakers immerse you in sound and the Entune App Suite along with Integrated Navigation ensure great navigation, smooth tunes, connectivity options and beautiful sound.
The interior is wrapped in leather, and heated and ventilated seats come standard. There is four-zone climate control with 28 vents throughout the cabin ensure you can keep a controlled environment. The Land Cruiser even includes Positive Temperature Coefficient, which is a system that heats air quickly in the cabin for very cold days.
"All-day seat comfort and a quiet ride are two of the Land Cruiser's strongest points. Considering its capabilities off-road, this Toyota is surprisingly comfortable on the road," reports Edmunds.com.
The dashboard sets many controls at your fingertips. A high-resolution screen and intuitive controls onboard set you up for a successful, comfortable journey. These are just some among the many other luxury touches that maintain a high-level creature comforts.
The cabin has two rear-seat DVD screens connecting the entertainment system throughout the SUV. And the entertainment can be personalized for each of passengers. The two 11.6 inch screens have great picture quality along with the latest movies, TV shows and game at your fingertips.
The tried-and-true Land Cruiser has held its field among the high-end, large-class, rough-and-ready SUVs. It rivals the Range Rover and can match the luxury of a Lexus. It brings forward a long legacy of 60 years of off-roading, adventuring abroad, and maintaining the spirit of a pioneer. That 60 year legacy will push forward into the future as the 2019 Land Cruiser revs on, blazing a trail for years to come.
Look for the Land Cruiser and other Toyota SUVs at Mount Airy Toyota. Visit us online at mountairytoyota.com or call us at 336.786.2118.