Discover the Sporty New 2019 Toyota Corolla Hatchback at Mount Airy Toyota
It's not too often the case that someone hears the words "Toyota Corolla" and thinks, "Ohhh, exciting!" Long known as an entry-point to the car-maker's reputation for reliability, the Corolla is the oldest name in Toyota's current inventory, aside from the Land Cruiser. There have been close to 45 million Corollas sold worldwide — thus it is ubiquitous exactly because it is the most popular car line in history. But what was once a quiet, innocuous little sedan has gotten a tune up.
"With the 2019 Toyota Corolla Hatchback, the carmaker fashions a substantial reminder that a small car with a rear hatch and a little attitude can be immensely appealing," writes Kelly Blue Book.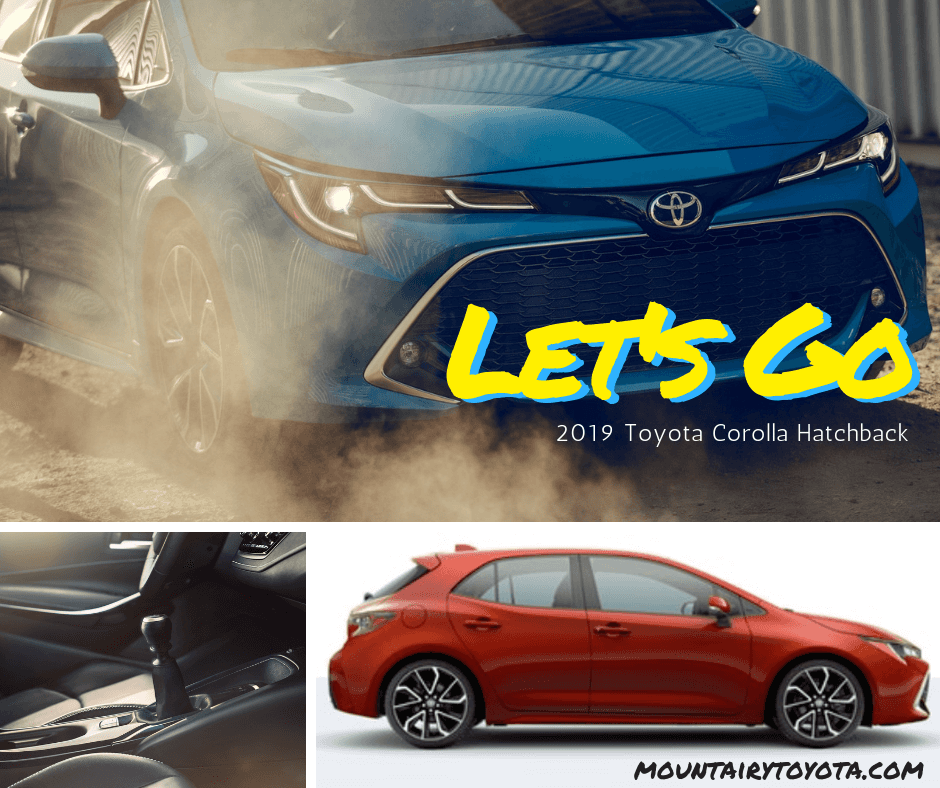 Once known as the iM, the brand new Corolla Hatchback is designed to be fun to drive. The 168 hp engine with 155 lb-ft of torque features 6-speed Intelligent Manual Transmission with close-ratio gears down low for acceleration and taller gears up top for better fuel economy. The ground-hugging body is mounted on MacPherson struts in front and a trailing-wishbone rear suspension for better control and less body roll. Disc brakes, all-season tires, and active cornering assist add punch to the overall stop and go.
A hatchback in and of itself has greater capabilities than a sedan. It's more flexible in terms of what it can carry, provided more vertical trunk space without the restrictive back window shelf of a sedan. The 2019 Corolla Hatchback has 17.8 cubic ft. of cargo volume — the standard 2018 and 2019 Corolla sedans offer only 13.0 cubic ft. and compared to SUVs on the market now the 2018 Mazda CX-3 has a cargo volume of only 12.4 cubic ft.
Another Corolla Hatchback cool factor is its wearable connectivity. Got a smartwatch? Why not use it to locate your vehicle, lock or unlock the doors, or even start the engine — features perfect for warming up the engine before work on a cold, mountain day. Of course, there are also available heated seats and an available 8-speaker, 800-watt sound system to make the ride even more fun.
"The main creature comforts of the Corolla have been admirably handled. The interior feels good, with no demerits or obviously cut corners. Road noise is commendably attenuated, and the Corolla is comfortable even for 6-foot adults with a little meat on their bones," reports Digital Trends.
Toyota doesn't sacrifice fun for function. The 2019 Corolla Hatchback comes with Toyota Safety Sense 2.0, which includes a pre-collision system with pedestrian detection, lane-departure alert, and even road sign assist, which uses an intelligent camera to detect speed limit signs, stop signs, and yield signs and display feedback on the multimedia screen.
"Overall, the 2019 hatchback model is a pleasantly surprising piece of work, roomy, premium and loaded with great features," reports AutoGuide.
The 2019 Toyota Corolla Hatchback is just rolling out to dealer lots now — late summer 2018 — but if you're eager to build your own, Mount Airy Toyota can make that happen. Give us a call at 336.786.2118 to discuss available features and, if a new car isn't quite what you're looking for, we can find the right used vehicle for you.