2022 Corolla Cross: The Newest Addition to Toyota's Versatile Lineup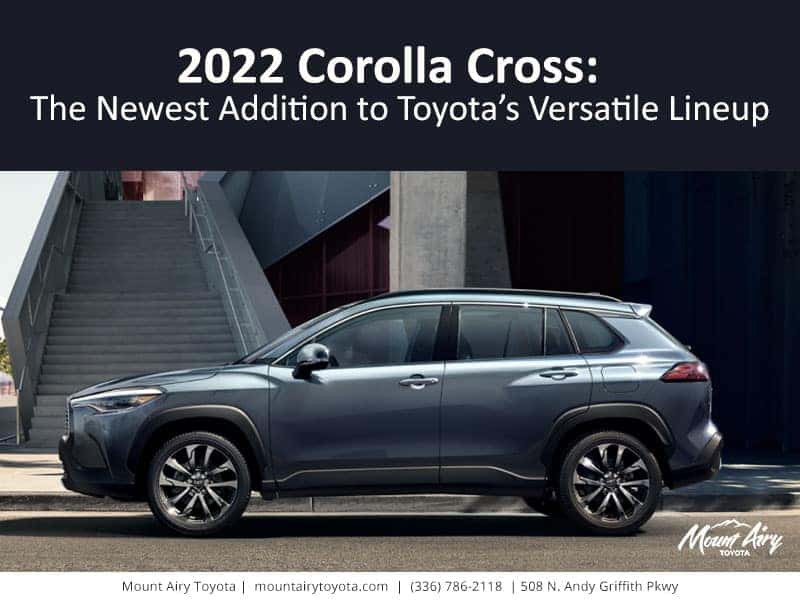 There's no doubt about it: The American crossover segment is at war, and it has been for a while now. As the world's leading automaker, Toyota has had some key players in this war, including the uber-successful compact RAV4 and subcompact C-HR. Seeing as how other automakers always seem to be playing catch-up, one would think that Toyota would be satisfied. It looks like they weren't.
Enter the 2022 Corolla Cross. This mini-SUV falls right between the RAV4 and C-HR in size, and it manages to strike a beautiful balance between novelty and familiarity—both of which are qualities eagerly sought after by consumers. As we've come to expect from all Toyota models, the Corolla Cross promises dependability, fuel efficiency, safety, and value. It looks bold yet approachable. And it just might be the most versatile vehicle ever produced by the automaker.
Just in case you're interested in learning more, we've provided some more details of the upcoming 2022 Toyota Corolla Cross:
The Novelty Factor
Toyota fans are no stranger to new model releases and drastic style upgrades to existing models. And the Cross seems to be about as natural an addition as there can be. Though it shares a platform (TNGA-C) and name with the Corolla, make no mistake—the Cross is not a variation of the Corolla sedan or hatchback. It is its own model through and through, and it offers drivers its own set of qualities and features. And it looks really good doing it too.
Though it comes in only a slightly smaller size than its bigger brother, the RAV4, the Cross has a distinct appearance. Sure, it borrows certain design aspects from the RAV4 and Corolla, especially in the interior. But from the outside, it actually resembles the mid-size Highlander more than any other model. In short, the Cross comes in a unique package while still clearly belonging to the Toyota family.
The Familiarity Factor
While distinct, the 2022 Corolla Cross has an air of familiarity to it. This is first noticed when looking at the exterior. The front end will remind you of the RAV4 and Highlander; this is intentional by Toyota, given that both of those models are fierce competitors in their segments year after year. At the same time, the Cross cannot be mistaken for any other SUV, many thanks to the uniquely shaped LED headlamps and black plastic body cladding. There's also a bold flare where the bumpers meet the wheel arches. Moreover, the taillights resemble those of the RAV4. But opposing arrows in the beltline produce a particularly wide and mature posture.
The interior of the Corolla Cross feels wonderfully familiar as well. In essence, it borrows from the general interior of the Corolla sedan. This makes sense because the Corolla's interior has often played a role in the sedan's popularity (remember—it's the best-selling passenger car of all time). Aside from the similarities in appearance, the interior of the Cross offers a similar infotainment setup, HVAC controls, storage compartments, and other features.
Furthermore, the 2022 Corolla Cross provides a familiar powertrain, fuel economy, safety ratings, and many other characteristics that we will cover in more detail later.
Competitors
No question that the Toyota Corolla Cross's segment is one of the most competitive in the market. Along with competing with its own sibling, the C-HR, the Cross faces strong rivalries with respectable subcompact SUVs in the Mazda CX-30, Honda HR-V, Hyundai Kona, Chevrolet Trailblazer, and Kia Seltos. It will also compete against the Nissan Kicks, Hyundai Venue, and Kia Soul, though it holds a distinct advantage over these models thanks to the all-wheel-drive option. Sounds just like the kind of tough competition Toyota relishes in, doesn't it?
Performance
Performance is a key player in the overall success of Toyota models. And it doesn't appear that the Corolla Cross will disappoint. Let's talk about what we expect from the upcoming SUV in terms of powertrain, ride and handling, and fuel economy:
Powertrain
Every Corolla Cross model will come with a 2.0-liter inline-four engine that's good for 169 horsepower and roughly 150 pound-feet of torque. Maximum towing capacity is expected at 1,500 pounds. This is the same engine that is optional on newer Corolla sedan models, and it's paired with a continuously variable automatic transmission (CVT). One thing that sets the Corolla Cross apart here is that there's a physical first gear, which enhances off-the-line performance.
You can get the Cross in either front- or all-wheel drive. AWD models can send 50% of the engine's torque to the rear wheels for optimized traction. When this grip isn't needed, the back wheels remain disengaged, which boosts fuel efficiency.
Ride and Handling
The 2022 Corolla Cross boasts a MacPherson strut independent front suspension and four-wheel disc brakes. With front-wheel drive, you get a torsion-beam rear suspension that includes a stabilizer bar. AWD models provide an independent multi-link rear suspension. The wheel options range from 17-inch steel to 18-inch alloy, depending on the grade. Expect a smooth ride and responsive handling from the upcoming SUV.
Fuel Economy
The front-wheel-drive Corolla Cross is in line with the segment's top competitors at 33 mpg on the highway, and it nudges out most other subcompact SUVs at 31 mpg in the city (32 mpg combined). You can expect a slight drop in efficiency when opting for AWD, which will produce 32 mpg city and 29 mpg highway (30 mpg combined).
Interior
As previously mentioned, the interior of the all-new Toyota Corolla Cross closely resembles that of the Corolla sedan, and it has plenty to offer in terms of features and cargo space.
Design
Do you like the interior design of the Corolla sedan? You know—that signature overall look that marries simplicity, practicality, and modernity? Well, you're going to like the interior of the Corolla Cross because all of those qualities are present. In fact, much of the cabin has been lifted straight out of the Corolla sedan.
All Corolla Cross models will seat up to five passengers. The L and LE models provide fabric upholstery, while the top-grade XLE comes with Toyota Softex synthetic leather seats. The two higher grades offer a leather-trimmed gear shifter and steering wheel.
Features
The Cross comes with either a 4.2-inch or seven-inch customizable display that sits in the analog instrument panel, depending on the grade. Power door locks, power windows, and heated side mirrors are standard on all models, while remote keyless entry, push-button start, and wireless charging come standard on the LE and XLE.
Lower Corolla Cross grades provide either single-zone automatic climate control or a manual system. The XLE comes with dual-zone automatic climate control to go with a 10-way power-adjustable driver's seat, heated front seats, and a rearview mirror that automatically dims. The steering wheel houses controls for the instrument panel, audio system, and advanced driver assistance features.
Cargo Space
The 2022 Corolla Cross shines when it comes to cargo carrying. It provides a sizeable hatch and a surprisingly accommodating cargo area; a power-opening hatch is also available. If you need even more space, you can easily fold down the 60/40 split seats.
In front-wheel-drive versions, you get 25.5 cubic feet of space behind the second row, while AWD models offer 24.3 cubes (the different rear suspensions are what make the difference). Either configuration puts the Cross near the top of its class for cargo room, being bested only by the Kia Seltos at 26.6 cubic feet.
Exterior
Though it shares similarities with the Corolla sedan, the Corolla Cross is unmistakably a crossover. It offers higher ground clearance, a higher beltline, and more of an upright stance than the sedan. And it also distinguishes itself from the RAV4 by replacing an overall truck appearance with a sleekness that resembles the Highlander or even the Venza.
LED lighting comes standard on all headlights and taillights, and the LE and XLE grades offer LED daytime running lights above the headlight cluster. The base (L) sports 17-inch steel wheels, while the LE and XLE ride on 17- and 18-inch alloy wheels.
The 2022 Corolla Cross uses the same TNGA-C platform as the Corolla sedan, Corolla hatchback, and C-HR. The Cross is 175.6 inches long, which is three inches longer than the C-HR, but it matches the C-HR with a 103.9-inch wheelbase. The Cross is clearly more suited for driving in all-weather and rough pavement situations than the C-HR, as it's three inches taller, one inch wider, and 5.1 inches higher off the ground.
While larger overall than the C-HR, the Corolla Cross is smaller in every dimension than the RAV4. Its wheelbase is roughly two inches shorter, and it's a couple of inches shorter overall than its bigger sibling. Moreover, the RAV4 is about an inch wider.
Safety
The 2022 Toyota Corolla Cross has yet to be tested by the Insurance Institute for Highway Safety (IIHS) or National Highway Traffic Safety Administration (NHTSA). But almost all Toyota models perform well in crash tests for each of these organizations—year after year. So, it would only make sense to expect stellar safety ratings to come soon.
Like most Toyota models, every Corolla Cross version comes with Toyota Safety Sense 2.0. This suite of advanced driver assistance and safety technologies includes adaptive cruise control, automatic emergency braking, lane-keep assist, automatic high-beam headlights, and more. LE and XLE grades get rear cross-traffic alert and blind-spot monitoring, while the XLE throws in rear parking assist and automatic rear braking. In other words, this subcompact SUV is as safe for the family as it is fun.
Infotainment/Connectivity
All 2022 Corolla Cross models include a seven-inch touchscreen multimedia display with Apple CarPlay, Android Auto, and Amazon Alexa capabilities. You can also opt for an eight-inch touchscreen. All models come with a convenient USB port in the front, while LE and XLE grades provide two USB ports as well as wireless charging.
You'll get a six-speaker audio system unless you opt for the nine-speaker JBL package. Either way, you'll receive a three-month trial subscription to SiriusXM radio.
Grades and Prices
The 2022 Toyota Corolla Cross offers three grades: L, LE, and XLE. As with any lineup, the higher you go, the more features you will get (such as the 18-inch alloy wheels, additional safety technologies, and extra storage space in the XLE). However, no matter which grade you choose, you'll get modern, high-quality features with your crossover. The automaker has yet to release official pricing for the Cross models, but we expect a budget-friendly starting MSRP of about $24,000.
Conclusion
Amid an overall decline of sedans and hatchbacks, the 2022 Toyota Corolla Cross couldn't have come at a better time. Positioned right between the C-HR and RAV4, this subcompact SUV is modern yet familiar. It offers all-wheel drive across all grades, as well as a slew of standard safety technologies. It's among the top of the class in fuel economy, and it comes with all the useful and attractive interior features you would expect from Toyota.
If you're in the market for a fun and versatile crossover, look no further. Contact us at Mount Airy Toyota to find out when you can arrange a test drive of the all-new Corolla Cross!