2016 Toyota Tundra: A New Standard in Full Size Pickups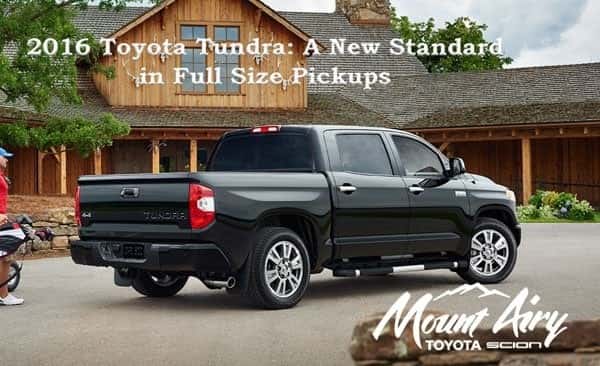 Whether you live in Mount Airy, NC or you're coming from Winston-Salem, Elkin, Galax, VA, you know you can find the best deal on a new pickup truck at Mount Airy Toyota Scion. Pickup trucks and work trucks are a necessity in the mountains, but picking out the best one for the job can be tough.
In the world of full-size pickup trucks, there are a select few with histories of continued durability and power. Among these, the 2015 Toyota Tundra proved itself as top contender. This year, the 2016 Toyota Tundra does even better.
Truck drivers shopping for a full-size pickup usually have a specific reason for such a vehicle. These types of trucks are not for the casual truck driver. They are made to work well under serious conditions, and to produce time and again. Full-size trucks can pull and haul just about anything to anywhere. And right now, at Mount Airy Toyota Scion, they know big truck drivers want nothing but the best. That's why they stocked the lot full of brand new 2016 Toyota Tundras in a variety of colors and trims.
Undoubtedly, there are those still not sure which full-size truck to drive off the lot. So, let's compare the 2016 Toyota Tundra to another stalwart member of the full-size family, the 2016 Ford F-150.
Beginning with price, the Tundra comes in first. The 2016 Tundra has a base MSRP of $28,640, while the Ford F-150 starts at $31,685. This is not an incredibly large difference in price, but any savings are worth a second look. In way of engine size and horsepower, the Tundra wins again. With a 5.7-liter, V-8 engine and 381 horsepower, the 2016 Toyota Tundra kills the 2.7-liter, V-6 engine and 325 horsepower of the F-150. What about towing capacity? You guessed it, the 2016 Toyota Tundra is better. The new Tundra has a capacity of 10,100 against the F-150's 8,100.
When you take the power, price, and presence of the 2016 Toyota Tundra and include features such as the Entune Infotainment system, and complete phone and internet connectivity, it simply can't be beaten. Visit Mount Airy Toyota Scion today and find the best Tundra for you.